TV
Cho Byeong-gyu and Kang Ki-young head-to-head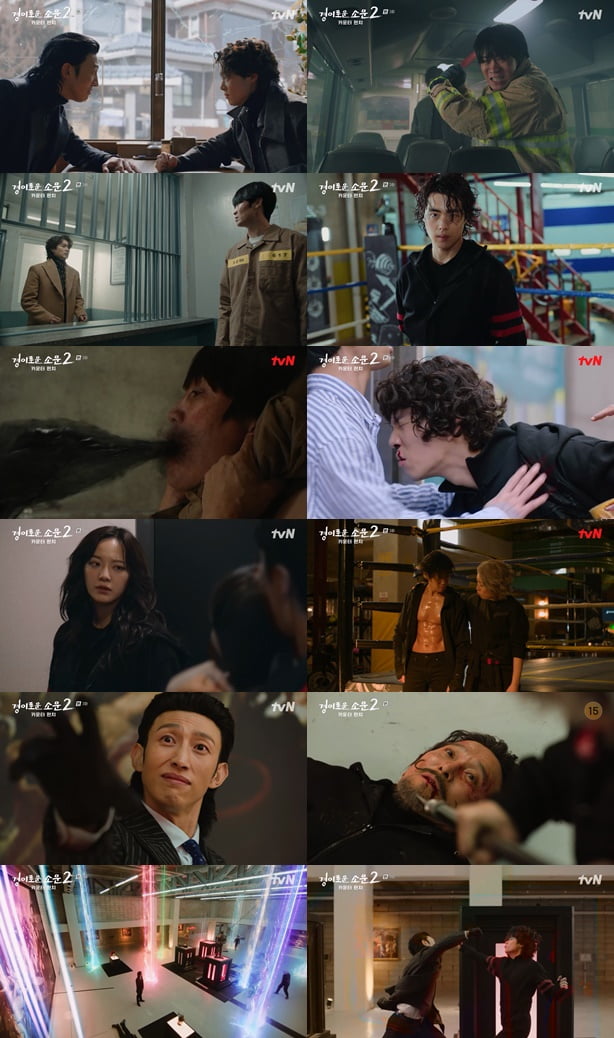 Cho Byeong-gyu and Kang Ki-young made their first matchup.
Episode 3 of tvN's Saturday and Sunday drama 'Amazing Rumors 2: Counter Punch', which aired on the 5th, is about the entrance of Counters' new hideout, where the identity of her sister's noodle restaurant was revealed to the demon Pil-gwang (played by Kang Ki-young), and the awakening of the inner demon (Jin Seon-gyu). The blackening of the role) and the first manifestation of the ability of newcomer Na Jeok-bong (Yoo In-su) were drawn excitingly.
Rumor (played by Jo Byeong-gyu) met Pil-gwang for the first time by fate, who came to visit her sister's noodle shop. The rumor sniped at Pil-gwang, who asked why they were chasing them, saying, "It's to catch and punish demons like you. That's why it's to rescue the innocent souls trapped inside you. That's our job." In particular, Pil-gwang used telekinesis as if to show it as if he was scared to say, "Did you come here because you were afraid of how strong I am?" Rumors also blocked Pil-gwang with psychokinesis and caused the ground to rise in the entire noodle restaurant.
Above all, the rumors grew more and more uneasy due to Pil-gwang's formidable psychokinesis, which he felt for the first time, and Chu Mae-ok (played by Yeom Hye-ran) said, "If you're anxious, we're anxious, and if you can do it, we can do it too. This is us. Our job is When has it ever been easy? But we will do it and we will do well," he read and cheered with a smile. Along with this, Counters, who were caught at a noodle shop by the evil spirit Pil-gwang, moved into a new hideout prepared by Choi Jang-mul (played by Ahn Seok-hwan). There, the rumor said, "You have to feel it with your body," and the team leveled up in earnest based on solid organizational skills, such as conducting special training in Counters Hell to face the mighty Akwiz.
In the midst of this, Maju-seok exploded with anger and resentment in the sadness of losing his wife and baby. Ma Ma Seok seized the 119 firefighting vehicle to kill Park Pro (played by Park Jeong-bok) and then raided the convoy he was on. Ma Ma Seok, who took out a fire axe and approached Pak Pro as if to kill him, said, "Why did you kill a woman who tried to forget everything you did and somehow live a good life again? A woman with children. I shouldn't have forgiven people like you from the beginning." He threatened Pak Pro with a desperate cry that everything collapsed, but in the end it failed.
Afterwards, Maju-seok, as if giving up everything, notified that he would pay for the crime without hiring a lawyer. To the rumor that found and comforted herself, she said coldly, "I wanted to kill that bastard that Minji and Ppomul killed a thousand and ten thousand times with my own hands, but it's scary to do it. I let go of the anger I had been suppressing.
Above all, the awakening of Mazu-seok did not come for long. Maju-seok burst into anger at the detention center inmates who stimulated him with the words, "This is why you couldn't take care of your wife and didn't kill the bastard you killed your wife." In the end, I even tried to make an extreme choice. The moment he was about to lose consciousness, he said, "I feel it. A very deep anger is calling me. Heart-breaking pain. The reason you were able to call me. You are different," waking up the evil demon in his darkness. Along with this, the blackening of the mazu stone, which turns into the eyes of an eerie demon, was drawn.
Not only that, the hidden ability of new counter Na Jeok-bong was first revealed. While training with Do Hana (played by Kim Se-jeong), Jeok-bong Na tripped over a rock and broke her nose. At the same time, he suddenly smelled a stench that stimulated his nose. Dohana was taken aback by Jeokbong's actions, but the source of the stench was soon discovered. It is the repairman's demon at the piano academy run by Dohana's first love. Along with this, Counters cheered, saying that Najeokbong's sense of smell, which detects demons that are difficult to distinguish from ordinary people, is the only way to find demons that avoid the ground.
At the end of the play, Counters chased evil spirits based on Na Jeok-bong's ability. However, there was no demon in the cattle barn following Najeokbong's sense of smell, and the moment everyone doubted Najeokbong's ability, Dohana sensed the energy of the demon felt in the art museum and the reed forest. Accordingly, Chu Mae-ok (played by Yeom Hye-ran) and Choi Jang-mul went to the art museum, where demon energy was weak, and Gamo-tak (played by Yu Jun-sang), Do Hana, and Na Jeok-bong moved to the reed forest where demon energy was strong. However, this was a trap set by the demon Pil-gwang. It was Pil-gwang and Wong (played by Kim Hyun-wook) who welcomed Chu Mae-ok and Choi Jang-mul at the art museum where there were supposed to be weak demons.
In the end, Chu Mae-ok and Choi Jang-mul had a precarious confrontation with Pil-gwang and Wong, but were helplessly overpowered. Eventually, Chu Mae-ok faced an imminent situation in which the life of the longest was threatened by the telekinesis exerted by Pil-gwang. However, at the moment of crisis, the situation was reversed as rumors appeared with Jung's land. After hearing Na Jeok-bong's words that the smell of the west is worse, he visited Chu Mae-ok and Choi Jang-mul. Rumors and Pil-gwang, who had reunited like that, said "You're over for today" and "It was a fight between you and me anyway", and fired counter punches at each other, announcing a full-scale confrontation between Counters and Akguiz.
Reporter Kang Min-kyung, Ten Asia kkk39@tenasia.co.kr