TV
Lee Jun-ho, now the Loco King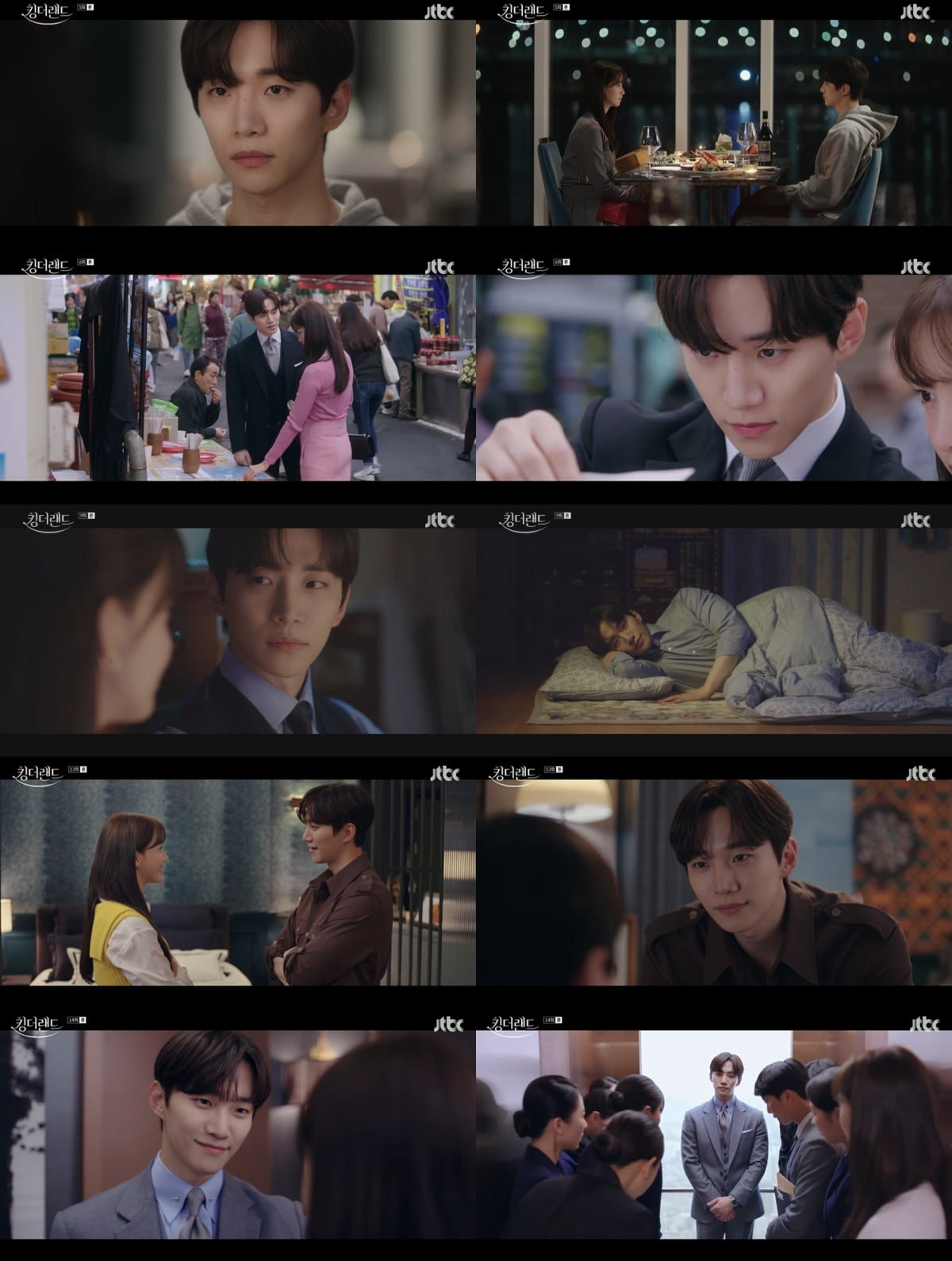 Group 2PM member and actor Lee Jun-ho stood tall as the 'King' of romantic comedy in name and reality.
In JTBC's Saturday drama 'King the Land', which is being aired, Lee Jun-ho broke down into the sweet and delicate King Hotel general manager Salvation, commanding the weekend night with a thrilling bombardment that made it impossible to sleep, including a good performance in each episode. So, I gathered the more unforgettable moments because it was Lee Jun-ho.
In episode 5, Gu-won (played by Lee Jun-ho) went to a restaurant alone to comfort Cheon-rang (played by Im Yoon-ah), who is upset over dating problems. Not knowing what she would like, he ordered a variety of food and looked at her mood and comforted her, saying, "Tell me about everything you like." This scene, in which we could see Salvation caring for and thinking of the other person's heart, was completed with Lee Jun-ho's sweet eyes and left a strong impression.
The second is the scene of the 6th market date where they are immersed in drawing the giant carp, which is their first challenge. In order to defend the giant carp taffy that seemed to be pulled out, he fired aegyo, saying "Just 1,000 won, huh?" to Cheonrang, and exploded his charm with a twist. Lee Jun-ho's skillful acting is considered the moment when he shined.
Then, in episode 9, I realized through Cha Sun-hee (played by Kim Young-ok), Cheon-rang's grandmother, that salvation sometimes requires you to know how to express your love in words. The moment when the time for just the two of them came, he directly confessed his feelings, saying, "Will you accept my heart?" and saying, "I really like you?"
The fourth episode was episode 13, when it was revealed that he kept the giant carp he picked up on his date at the market in episode 6. Angelang, who visited the mansion to fulfill the request of Chairman Koo Il-hun (played by Son Byeong-ho), was surprised to find giant carp snacks on display in the room of salvation. The delicacy of cherishing the moments we spent together stood out in the appearance of salvation, saying, "It's our memories. It's our first date." In particular, it was a scene where Lee Jun-ho's kind eyes and hands tickled even the hearts of the viewers.
The last episode is episode 14, when a misunderstanding arose as the third-generation conglomerate scandal broke out and it was revealed that Cheonrang was the target, he said "I liked it first" in front of the staff. Salvation's trustworthiness to think of and protect loved ones first in the midst of a crisis shined, and I could feel the true love of salvation that gave me faith and confidence even in the midst of hardship.
In this way, after realizing the feeling of love, Ku-won showed a more mature emotion by repeating growth every time to protect the other person. In addition, the ability to express emotions without hesitation in front of love and convey one's heart led to the birth of numerous famous scenes. Above all, Lee Jun-ho's acting with wings not only raised the charm of the character, but also completed the formula of 'romantic comedy is Lee Jun-ho'. With only two episodes left until the end, expectations are high on what faces Lee Jun-ho will make the heart shake until the end.
Reporter Kang Min-kyung, Ten Asia kkk39@tenasia.co.kr