TV
Lee Chan-won was amazed at 'Land of Fire' and admired it, saying, "It's great"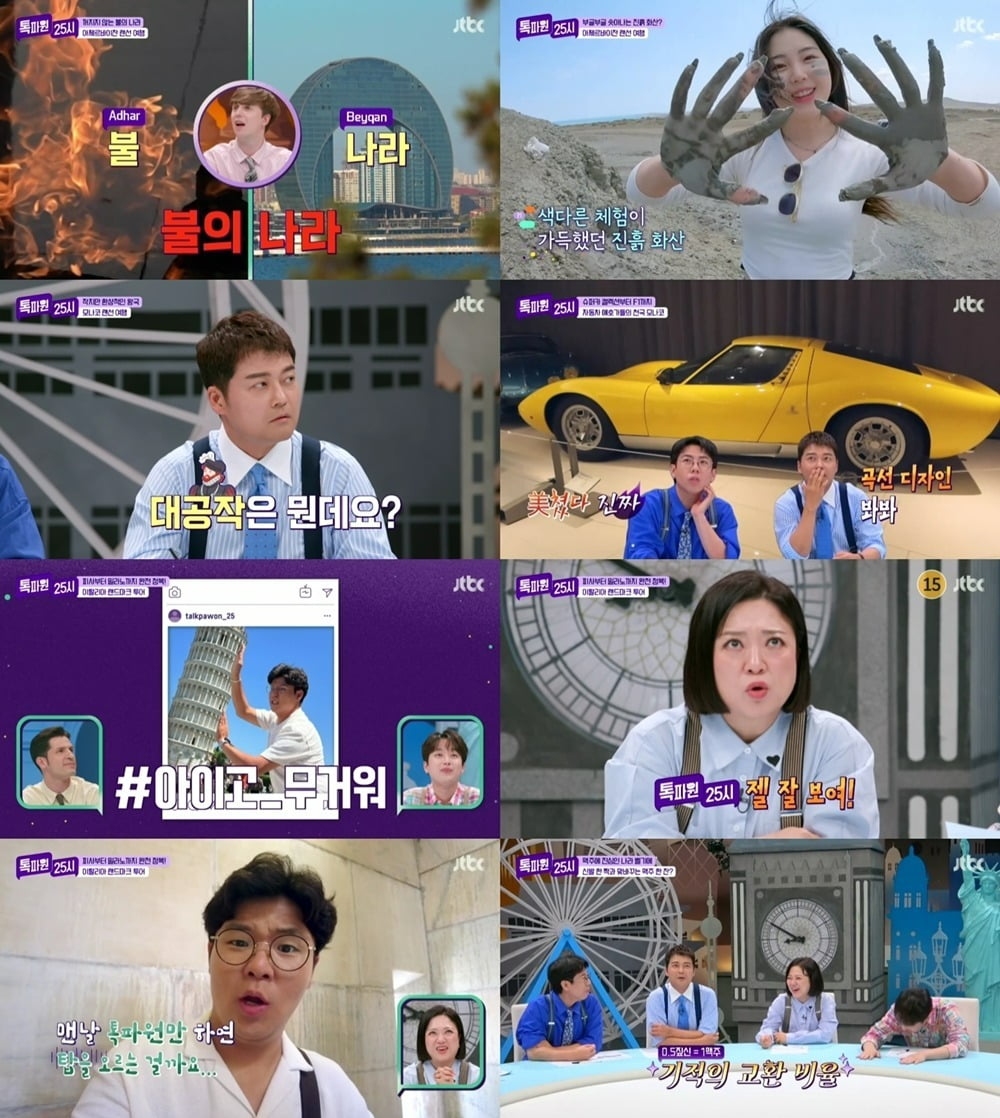 'Talk Pawon 25 O'Clock' dug out in 4 European countries.
JTBC's 'Talk Pawon 25 O'Clock', which aired on the 31st, recorded 4.0%, and 1.4% in the 2049 target audience rating, ranking first in the same time slot (based on Nielsen Korea's paid households in the metropolitan area).
On this day's broadcast, online trips filled with the charms of each country unfolded, from Azerbaijan, the country of fire, to Monaco, the world's second smallest country, to Italian landmarks, and to Ghent, Belgium, where the past and present coexist.
Azerbaijan's 'TALK' pawon introduced exotic landscapes, starting with Shirvanshah Palace, the most iconic place in Baku, the capital city, Yanardag, the hill of unquenchable fire, and mysterious Gobustan, which seemed to have traveled back in time to the Stone Age.
MC Lee Chan-won shouted, "It's a jackpot," and Yanardag was surprised by the fact that a huge amount of natural gas was buried, and the flames burned without stopping. In Gobustan, you can see petroglyphs and mud volcanoes carved from the Paleolithic Age, adding to the fun of seeing them.
Next, the world's top 1% net worth left for Monaco, the largest distribution. In Monaco, the sacred interior of Monaco Cathedral, where Grace Kelly and Prince Rainier III's wedding and funeral took place, and the interesting story related to their marriage drew attention. In addition, the SAS car collection caught the attention of many old cars and racing cars of Rainier III, who was a car maniac.
In Italy, I enjoyed the beauty of the representative landmarks, the Leaning Tower of Pisa and Milan Cathedral. 'Talk' Pawon took a certified photo at the leaning tower of Pisa and then went up to the top to enjoy the view.
In Milan Cathedral, following the interior where you can feel the wonders such as huge pillars and stained glass, I went up to the roof and watched the majestic spire in front of my eyes. When a close-up video of the tallest and most important spire of Madonna out of the 135 spiers came out, MC Kim Sook, who had been there, said that it was difficult to see properly even from the roof, and said, "'Talk Pawon 25 O'Clock' is the best view."
The atmosphere of the Middle Ages was conveyed intact during the trip to Ghent, a small Belgian city that Julian from Belgium had been waiting for. Gravensteen Castle, a medieval castle in the middle of the city, was able to see the appearance of the time, including various weapons of the Middle Ages, as well as a dungeon and toilets where prisoners were imprisoned. In addition, 'Tok' Pawon also experienced the beer culture of Belgium, a country that is serious about beer.
Reporter Kim Ji-won, Ten Asia bella@tenasia.co.kr