TV
Transgender PUNGJA "more than 5 plastic surgeries" self-exposure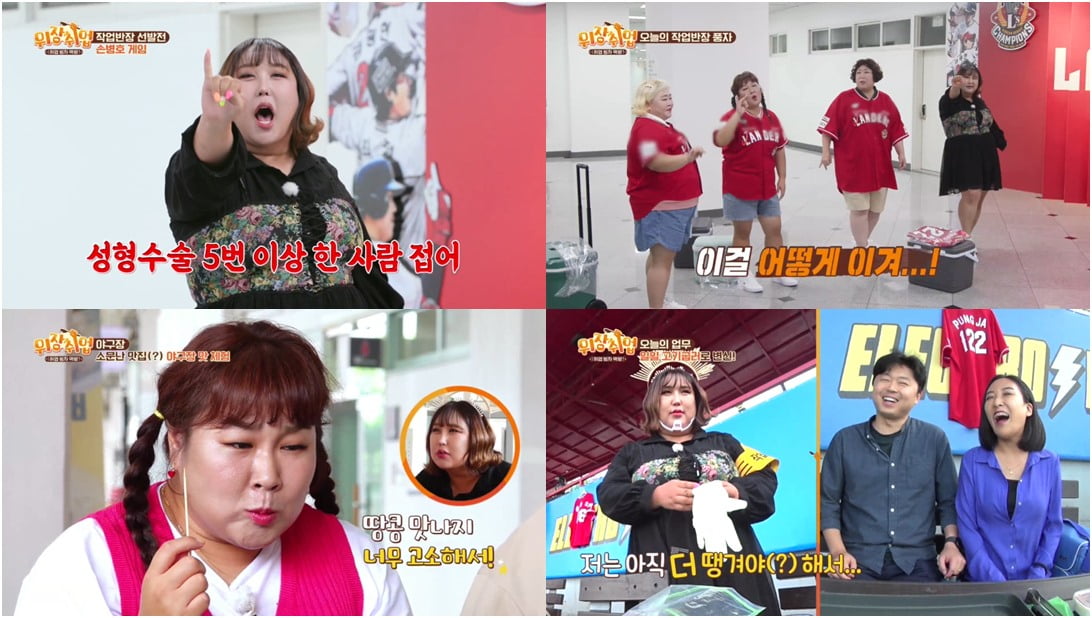 PUNGJA gives a big laugh with the 'Son Byeong-ho game' that has been overused even 'plastic surgery TMI'.
In the 8th episode of 'Disguise Employment', which will be broadcast on the 2nd, Kim Min-kyung, Mirage, Hong Yun-hwa, and PUNGJA will visit the Incheon SSG Landers home stadium and transform into 'professional meat grillers' for the fans.
The four people who arrived at the baseball field that day received a 'specially made' uniform as a gift from their employer, the baseball team's PR team employee, and immediately changed their minds and burned their 'will to work hard'. Those who became members of SSG Landers for a day enthusiastically cheered at the employer's announcement that "Today's work leader will be given a ballpark canteen free pass law car" and immediately decided to elect the work leader through the 'Son Byeong-ho game'.
At this time, the 'eldest sister' Kim Min-gyeong starts self-exposure, saying, "Fold the mother-of-a-kind solo~" and Mirage bursts into laughter by saying, "Is that a boast?" Not to be outdone by this, Hong Yun-hwa also said, "Give up the person who kissed her husband in the morning." Meanwhile, when PUNGJA is about to win, he overuses Maramat TMI, saying, "A person who has undergone more than 5 plastic surgeries has been folded." In the face of overheated self-disclosure, attention is focused on who will win the 'Son Byeong-ho game' and become the work manager.
For the baseball fans who came to see them on this day, the four members transformed into 'daily meat grillers' and served hearty meals. Here, the PUNGJA greets the newlyweds fans who are 'newlyweds', and as soon as they see the two, they say, "It would be nice (to get married)" and envy them. In response, the newlyweds "strongly recommend" marriage, saying, "Your sister should go too," but PUNGJA said, "I can't go. I still have to crave more," he replied coolly, causing laughter. Then, the newlyweds say, "From the time we open our eyes in the morning until we close our eyes at night, we only see PUNGJA unnie," making PUNGJA happy with their fan spirit of "Pungsaengpungsa."
You can check out the baseball stadium open run mukbang and special meeting with fans in the 8th episode of 'Disguised Employment', which airs at 8 pm on the same day.
Reporter Tae Yuna, Ten Asia youyou@tenasia.co.kr