TV
Singer Cho Young-nam "Ex-wife actress Yoon Yeo-jung kicked me out and became a world-class actress"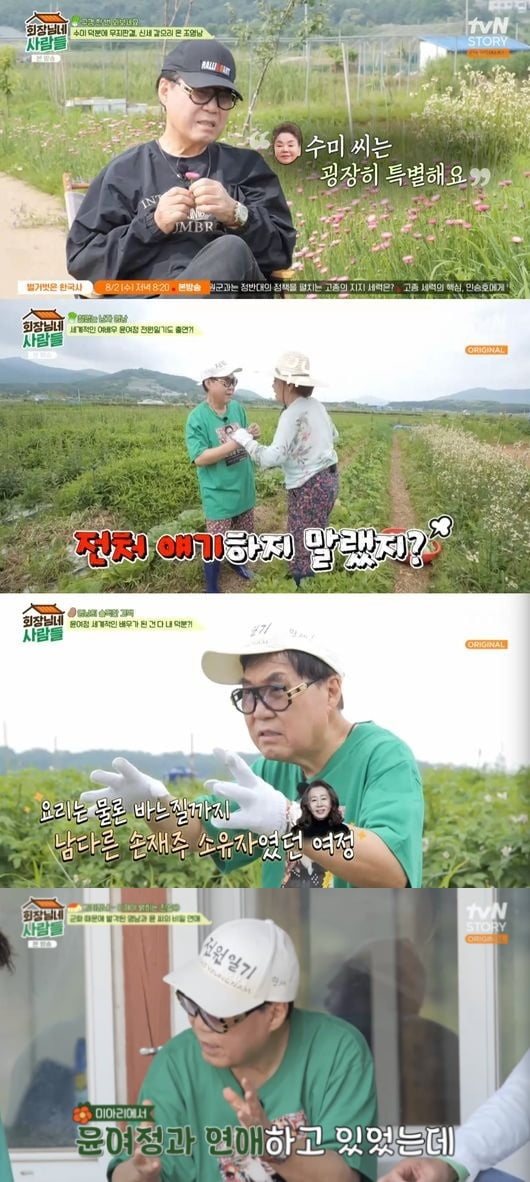 Singer Cho Young-nam mentioned ex-wife Yoon Yeo-jung.
On the tvN STORY 'Chairman's People', which aired on the 31st, Cecibong's Cho Young-nam appeared as a guest.
Cho Young-nam, who appeared as a guest on this day and greeted Kim Soo-mi, said, "Sumi is very special. I took care of it," he said, attracting attention.
On this day, Cho Young-nam appeared in the field where Kim Soo-mi was working. Kim Soo-mi welcomed Jo Young-nam's appearance, saying, "Oh, I can't live. Brother. Oh, what's going on?"
Cho Young-nam asked Kim Soo-mi, "Why did you become so pretty?" Kim Soo-mi said, "I quit drinking and smoking," and coolly talked about each other's current situation. Cho Young-nam continued, and Jo Young-nam said, "Are you living alone? Do you have a husband and children? I am single," he appealed, and Kim Soo-mi said, "I asked if I lived alone to work, right? do you want to die? If you live with me, you will be beaten to death."
Cho Young-nam, who changed into work clothes for work, commented, "When I looked at 'The Country Diary', there were no actors who didn't appear. Except for Yoon Yeo-jung." In response, Kim Soo-mi said, "Yeo-jeong's sister also came out. I told you not to tell me about your ex-wife," he shouted, clenching his fists and pushing them out toward Jo Young-nam.
Cho Young-nam also conveyed his feelings after the suspicion of 'painting masterpiece' in the past. Cho Young-nam said, "These days, I am Hwayang and Yeonhwa. the happiest I work with my daughter and my nephew cooks," he said, conveying the current situation of his daughter who changed her job as a manager. He said, "When I was convicted in the first trial during the art trial, my daughter said, 'Dad, let's appeal because I will work from now on,' so I became a manager from then on." revealed
Also, Cho Young-nam was worried, saying, "I hate talking about myself on TV," and Kim Soo-mi said, "My kids are like that too. Young kids hate it." Next, Kim Soo-mi said, "It took me a long time to figure out this brother's personality, but people who don't know what to say, but he's a really pure person." "I know. It has no iron. Mental age is 22 years old" and defended him.
Then Cho Young-nam said, "I'm not even 22 years old. About 2nd year of middle school," Kim Su-mi said, "Isn't it ironic after going through such a big thing in life?" In response, Jo Young-nam said, "That's right. Acknowledging that I am getting old because I am old," Kim Soo-mi said, "Didn't my brother live a normal life except for the divorce?" After marrying Yoon Yeo-jeong in 1974, Cho Young-nam had two sons, but divorced in 1987 after 13 years of marriage.
Cho Young-nam said, "Being kicked out by Yeo-jeong made me go to the path of an artist, and Yeo-jeong worked to make a living and became a world-class actor. He recalled that he worked to feed his children and became global."
Kim Soo-mi also said, "My sister was like that too. He said, "I came to Seoul and worked to make a living." I don't do acting like a textbook, I'm the type to ad-lib, but this older sister reads the script accurately thousands of times."
Cho Young-nam said, "(Yoon Yeo-jeong) has very good hair. And he said that being good at food is for smart people, but cooking is also an art. He did a genius job, and he was also good at sewing. I even made my own shirts and suits. I should have brought it out, but I couldn't bring it out," he recalled. Then, Kim Soo-mi said, "I didn't know that," but emphasized once again, "Don't talk too much about Yeo-yeon on the air." In response, Jo Young-nam said, "This is it. I did it because the talk came out," he said shyly.
After finishing the work, Cho Young-nam and Kim Soo-mi met and greeted the family members. Kim Yong-gun said, "Coming to think of it, the relationship between me and Yeong-nam has been over 60 years." I saw what was underneath. Is that true," he said, referring to his secret love affair with Yoon Yeo-jung.
Kim Yong-gun said, "At that time, it was time to do an MBC drama together (with Yeo-jeong). I rented a car and went to Yeo-yeon's house to go to the broadcasting station together. But when I went, there were military boots. (Jo Young-nam) came out on vacation and went on a date there." When I went to work there, I called him, so in the end I went to the broadcasting station alone. After that, there was an article about the two of them in a weekly magazine, and if I had talked about it at the time, I would have written an article."
Lee Gye-in, who heard this, praised him, saying, "You have to understand how heavy your brother is," and Jo Young-nam also couldn't hide his laughter as he recalled the time.
'Chairman's people' is broadcast every Monday at 8:20 pm on tvN STORY.
Reporter Kim Se-ah, Ten Asia haesmik@tenasia.co.kr