TV
"200 million won for divorce litigation" Domestic Violence·Affair, Confession of Reasons for Divorce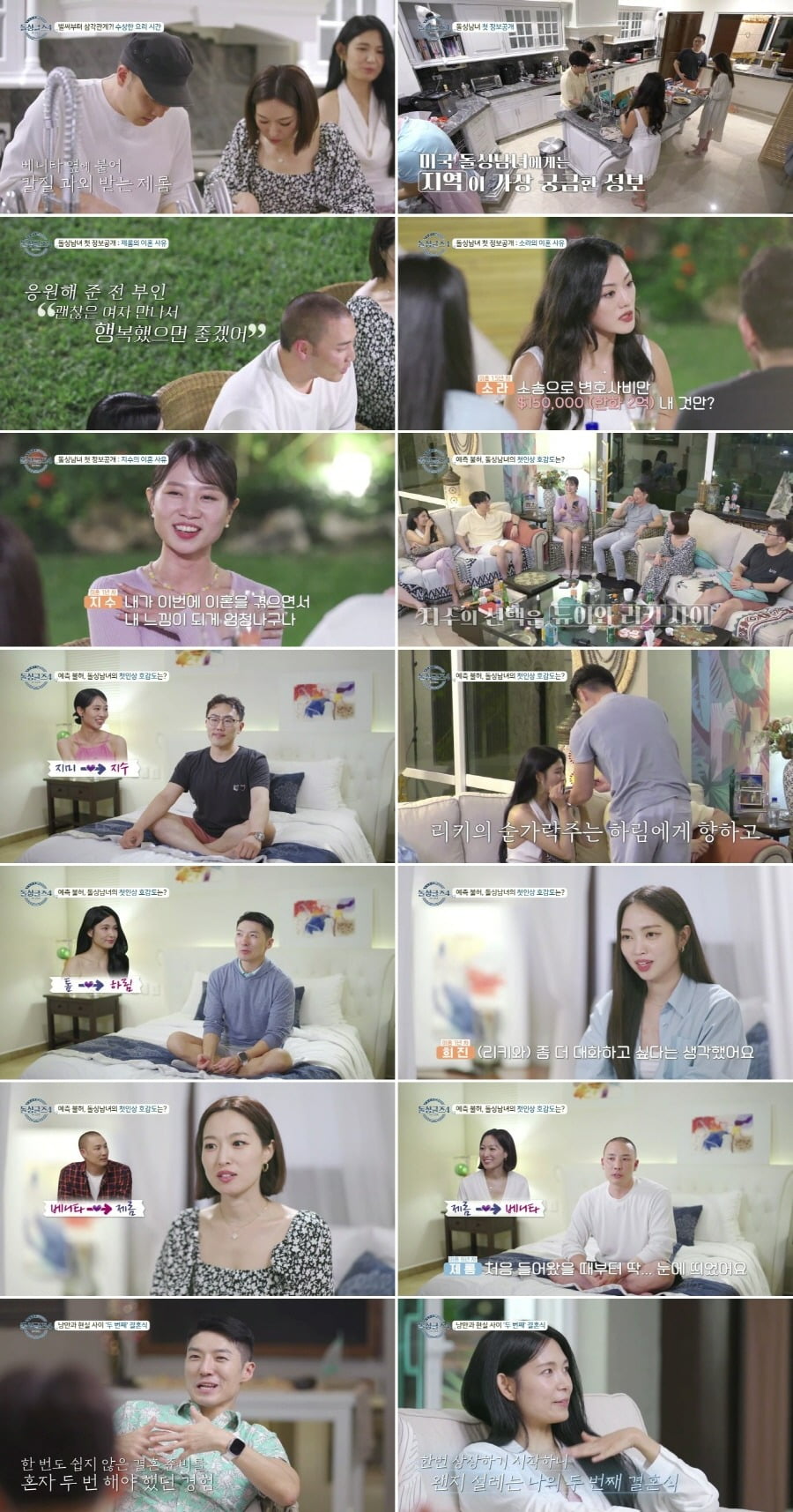 From the first night of MBN's 'Love After Divorce4', information on the 'reason for divorce' of the Dolsings was revealed, as well as a thrilling after-party scene unfolding, providing a sense of immersion that could not be taken off for a moment.
Episode 2 of 'Love After Divorce4', which aired on the 30th, recorded a viewership rating of 3.1%. American dolsing man and woman Dewey - Ricky - Benita - Sora - Jerome - Jimmy - Jisoo - Tom - Harim - Heejin, who met for the first time at the 'Dolsing House' prepared in Cancun, Mexico, had their first meal together. They shared the reason for the divorce and had time to get to know each other more deeply. On the morning of the second day, the male and female idols who quickly became close, such as sharing the romance of a 'remarriage', continued.
The American dolsing men and women, who had previously been divided into 'mart team' and 'cooking team' and started preparing dinner, made food together under the leadership of the cooking team when the mart team returned after enjoying a two-on-two date. At this time, Jerome of the mart team intentionally entered the kitchen to help Benita, while Harim, who was watching Benita and Ricky's friendly conversation, intervened between the two and actively talked to Ricky, causing a 'notice fight'. Then, they sat across from each other and had dinner together. Jerome, who had a 'pink mood' with Heejin at the mart, made the 'big mistake' of forgetting Heejin's name twice, disappointing Heejin.
After the meal, the first information disclosure of the dollsings and the time to reveal their 'reasons for divorce' were held. Here, Tom said, "At some point, we broke up because our dispositions were so different," and Harim said calmly, "There was a conflict over the religion of the former in-laws." Jerome said, "I got divorced due to differences in personality, but my ex-wife remarried and I had to get permission to appear in 'Love After Divorce4'" and "After much consideration, I contacted her and I received support saying that I would like to meet a really good woman and be happy." Everyone applauded. received
Benita said, "I lived only in the US and got married in Korea, so there was a cultural difference," and Heejin confessed, "I married an immigrant family, and there was a lot of conflict between my parents." In response, studio MCs such as Lee Hye-young, Yoo Se-yoon, Lee Ji-hye, Eun Ji-won, and Austin Kang expressed sympathy, saying, "In the case of immigrant families who have settled in other places, they must have thought that their families should come together more closely."
Next, Jimmy said, "I married my girlfriend, who was my first love, when I was in college, but when my girlfriend took a leave of absence without consulting me, it was burdensome for me to depend on me." I lost," continued Ricky's confession. Sora confessed, "I filed a lawsuit due to my spouse's continued domestic violence, and I paid about 200 million Korean won for my lawyer's fees." Dewey said, "It was my first relationship and marriage, but there were many conflicts due to communication problems." Lastly, Jisoo stopped everyone from speaking with a shocking remark, "As I got divorced at my husband's request, we exchanged credit card statements, and there was a flight ticket and hotel usage history with the person I suspected."
After clearing up the story in their hearts, they soon congratulated each other with happy smiles, saying, "Since the hard work is over, there is only one thing left to do to go up," and "After the divorce, my stress has decreased and my health has improved." did. Then, inside the 'Dolsing House', an after party was held on the first night, and they performed missions such as 'move to the seat next to the person they like' and 'give a spoonful of wine to a friend they want to give' through a random game on their mobile phone. The atmosphere was heated up.
In the first night's favorability survey, which was held with an after party, both Jimmy and Dewey picked Jisoo first. Jisoo, who became the main character of a love triangle, chose Jimmy, saying, "I had a delicate manner that I fell for my ex-husband." While Jisoo and Jimmy were first matched in terms of first impressions, Ricky, who expressed his feelings in a straight line with 'Spoon Wine', and Harim, who started 'flirting' toward Ricky from the time they were cooking, also considered each other as ideal types in their first impressions. Picked up. Tom, who picked Harim as his first impression, expressed his regret by holding onto his heart while watching Ricky and Harim's 'Spark' scene at the after-party.
Heejin said, "At first, I was interested in Jerome, but after forgetting my name twice, my interest cooled. I have a crush on Ricky, who has a calm atmosphere." Benita confessed, "I am attracted to Tom and Jerome, who have different atmospheres, but I like Jerome more." A total of three couples were born. Lastly, Sora, whom Jerome picked as his second crush, said, "It feels similar to my ex-wife," and said, "He quietly emptied my drinking glass," and ranked Jimmy as the number one favorite.
On the morning of the second day, Dolsings helped each other cook and exercised, giving off a friendly atmosphere. After breakfast, they reminisced about their first wedding. At this time, Jisoo said, "We couldn't hold the wedding ceremony because the wedding hall was on fire," causing the MCs' 'steamy reaction', saying, "It was a signal not to get married." Tom and Sora revealed their romance for their second wedding, saying, "My wife is from Taiwan, so it was difficult to prepare in both countries." Right after that, a full-fledged 'date mission' message was delivered to the dolsings, who smiled while imagining their own 'remarriage', and the episode of the day ended in an exciting atmosphere.
'Love After Divorce4 in USA' airs every Sunday at 10 PM.
Reporter Tae Yuna, Ten Asia youyou@tenasia.co.kr