TV
Singer Cheon Doong proposes to ♥ Mimi after 4 years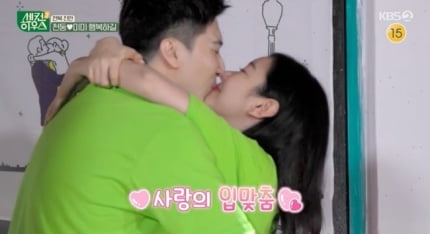 Singer Cheon Doong proposed to his girlfriend Mimi.
On the KBS 2TV entertainment program 'Second House 2', which aired on the 27th, the couple Cheondung and Mimi made a promise to get married and gave a touching impression.
On this day, after doing various jobs such as Cheondung, Mimi, Choi Soo-jong, and Ha Hee-ra, they took care of themselves by making and eating 'Octopus in Samgyetang' food. Mimi made her mouth water even more when she said, "I think it tastes better when I eat it after working. I think I'll remember it when I go home."
After dinner, Cheondung and Choi Soo-jong began to conspire without Ha Hee-ra and Mimi. What they prepared was a surprise proposal for Mimi of Thunder.
Choi Soo-jong said that you can make the most of what you have at home, and replaced the beam projector screen with a regular cloth, and created an emotional atmosphere with led candles and led tulips.
Mimi shed tears from the moment she entered the surprise event prepared by the two men, and Chun Doong showed a tearful expression as she sincerely sang a song just for Mimi along with a video of memories of the past 4 years.
Choi Soo-jong and Ha Hee-ra also shed tears at the heartfelt song of thunder and the sight of Mimi crying.
Thunder said, "I hope my sincerity is conveyed. I love you so much. Let's get married."
Thunder and Mimi hugged and confirmed their feelings once again. Looking at the 'La La Land' poster hanging on the wall, Choi Soo-jong said, "I want you to do that pose", and the couple reenacted the 'La La Land' couple and showed a beautiful couple.
Reporter Ryu Ye-ji and Ten Asia ryuperstar@tenasia.co.kr