TV
Na-rae Park, who ate too much, took off his microphone belt and lay down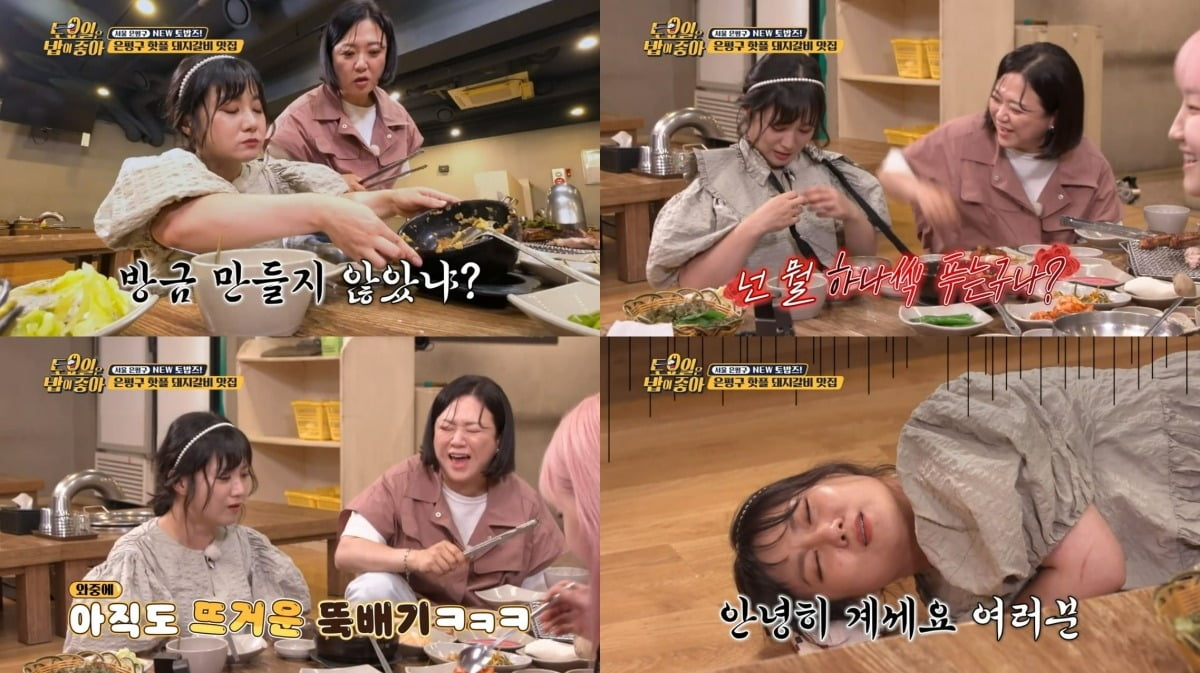 Comedian Narae Park complains of pain from overeating.
On the 29th, 'I like to eat on Saturday', which will be broadcast on the T-Cast E channel, shows Kim Sook and Park Na-rae having a ceremony with pork ribs at their first meeting.
Hyun Joo-yeop arrives at a meat restaurant in Seoul in advance and waits for the two. He picks up the tongs with a solemn expression when producer Lee Young-shik says, "Do you know what the most delicious meat is?
Kim Sook and Park Na-rae, who had filled their stomachs to some extent with meat grilled by Hyun Joo-yeop, ordered Cheonggukjang and cold noodles for dessert, followed by 5 servings of seasoned ribs and Hibab, the youngest member of Tobabs.
The two people, whose stomachs are already full to the tip of their chins, are unable to eat at the speed of Hi-Bap and just admire it. Na-rae Park puts rice in Cheonggukjang for hibab, slices Cheongyang pepper, and rolls miso rice directly and enjoys a meal.
Hibab, who loves 'rice' the most in the world, picks up two bowls of cheong-gukjang rice made by Dr. Park Na-rae, who saw this scene, couldn't hide her surprise, saying, "No, why is there no rice again? The earthen pot is still hot."
In the mukbang of Hibab, who joined late, Narae Park unfastened the microphone belt, unfastened the bib costume he was wearing, and then lay down on the floor. Even Kim Sook, who was keeping her seat, fell backwards and announced that she would give up, raising expectations.
The first mukbang journey of the four people can be found in 'I like to eat on Saturday', which airs at 5 pm on the 29th.
Reporter Tae Yuna, Ten Asia youyou@tenasia.co.kr