TV
The Painful Confession of Kim So-Hye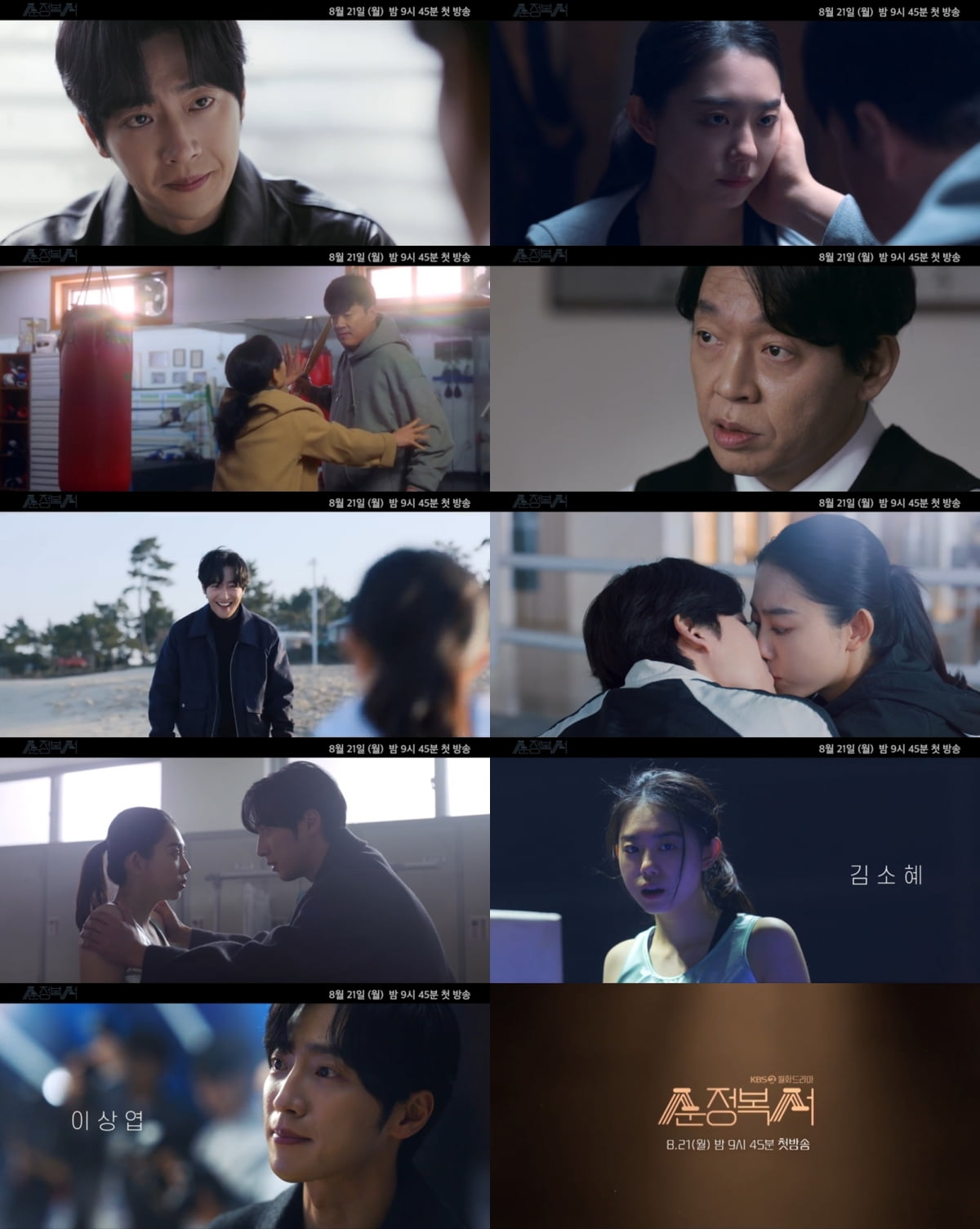 'Pure Boxer' released the 3rd teaser video and caught the attention of prospective viewers at once.
KBS 2TV's new Monday-Tuesday drama 'Innocent Boxer' (script Kim Min-joo / director Choi Sang-yeol, Hong Eun-mi / production Acemaker Movie Works, Cornerstone, Blade ENT) scheduled to be broadcasted at 9:45 pm on Monday, August 21 is a Kyobo bookstore story. Based on the 2nd prize winner of the contest, author Choo Jong-nam's novel 'Pure Boxer', this drama is about a match-fixing escape between genius boxer Lee Kwon-sook and cold-blooded agent Kim Tae-young.
The third teaser video, released today (27th), begins with the painful confession of genius boxer Lee Kwon-sook (Kim So-hye), who fell asleep ahead of the Grand Slam.
Kwon Sook, who emerged as a boxing star at once by knocking out boxing legend Estomata at a young age, was depicted as a fierce player, along with the scene of her father Lee Cheol-yong (played by Kim Hyung-mook), who severely trained his daughter Kwon-suk with his fatherly love. Captivate.
On the other hand, match fixer Kim Oh-bok (played by Park Ji-hwan) brings Tae-young into the world of match-fixing with the devil's whisper, "The best match-fixing is a sport that is out of sight, like boxing."
After her mother's death, Tae-yeong puts her life and death on Kwon-sook's decision not to box, but after persistent persuasion, she succeeds in changing her mind, and the mood changes dramatically.
Kwon Sook, who decided to say goodbye to boxing forever, said to Taeyoung, "I'm trying to trust you. If you hit betrayal, it's death in my hands," hinting at a comeback and stimulating their interest.
Meanwhile, returning to the ring, she predicts a romance with her first love, Han Jae-min (played by Kim Jin-woo), causing excitement. In particular, Taeyoung's meaningful expression as he watches the two kissing gives a strange sense of tension and amplifies curiosity about the intertwined relationship between the three.
At the end of the video, Taeyoung told Kwonsook that she would listen to anything she said, and Kwonsook promised Taeyoung victory, saying, "I'll win today", raising expectations for the main broadcast whether the match-fixing escape between the two will be successful.
KBS 2TV's new Monday-Tuesday drama 'Pure Boxer' is scheduled to premiere on August 21st (Mon) at 9:45 pm following 'My Heart Beats'.
Reporter Ryu Ye-ji and Ten Asia ryuperstar@tenasia.co.kr