TV
The 16th season of 'I'm Solo', It's the best love story ever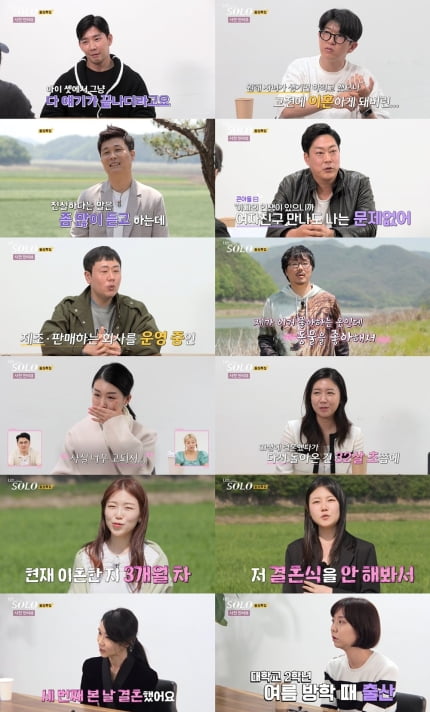 The romance of the 16th generation of 'I'm SOLO' is also expected to be intense.
In the real dating program 'I'm SOLO' of ENA and SBS PLUS, which aired on the 26th (Wednesday), the 16th class of solo men and women, both visually and story-wise, entered 'Solo Nara 16'.
Before the full-scale start of 'Solo Nara 16,' the 'great fantasy romance' to unfold in advance took off the veil. In 'Solo Nara 16', which opened with the words 'entangled and top-notch lovemaking', there were solo men who went straight ahead saying "let's date, let's just start," to solo men declaring "I'll go and get it". Even with the 16th solo males fighting for love here and there in 'Solo Nara 16,' saying, "Shall we open the tape?" said, "Everyone, a big one is coming," and said, "It's Cheongyang pepper, it's spicy and spicy."
'Solo Nara 16' was prepared in Andong. Youngsu, who first entered 'Solo Nara 16,' drew 3MC's admiration, saying, "Feels like a soldier!" Young-soo confesses, "I don't hide the fact that I have three children, but if I talk about this, it will all be over." Then, he honestly confesses, "My ideal type is a style like the eldest daughter-in-law in Cheongdam-dong."
Next, Youngho, who appeared with a 'nerd-like' look, said, "We used to be a married couple at S Electronics, but we broke up. I heard that my ex-wife left the company," and "I didn't even register my marriage. I was going to do it when I had children, but we broke up before that," he revealed the reason for the divorce. He said, "I expressed my desire to meet a caring woman.
Young-sik, who has a naive appearance, appealed to herself, saying, "I seem to be untainted and naive," and announced that she is raising a 13-year-old daughter and an 11-year-old son. In particular, Young-shik surprised 3 MCs, including Defconn, Lee Yi-kyung, and Song Hae-na, by revealing that he decided to appear on 'I'm SOLO' at the recommendation of his son, "I want to meet someone new." Youngchul drew attention from the first appearance with his masculine appearance resembling Cho Jin-woong, and appealed to his confidence in appearance by saying, "When I was young, I was told that I looked like So Ji-sub." Youngchul, who is raising two sons in elementary school and middle school, said, "It's not the style to pull back. If there's someone I like, I'll throw a fastball."
Gwangsoo was from L Electronics and was running a company that manufactures and sells idea products. As long as you like someone, it doesn't matter if you have children. When I look at people, I try to see them without prejudice, so money doesn't matter." The last solo man, Kwang-soo, revealed his unique history as a former Michigan University athletics representative and the younger brother of Sang-cheol, a 'mate' in Seattle's 4th Honam. . Subsequently, contrary to the saying, "The wife does all the kitchen work," the appearance of doing all sorts of chores in the kitchen was revealed, foreshadowing the charm of the reversal.
Young-sook, who appeared first among the 6 single women following the 6 solo men, shed tears right away as she set foot in 'Solo Country 16' due to her water phobia. Young-sook, who barely crossed the river and arrived at the first meeting place, received the attention of single men with her innocent appearance. After a while, Youngsuk said, "I had a short date with a man I met while drinking with my older sister, and we slept together just once, and we had a baby. After that, I cut ties with my family and got married, but eventually divorced." He said, "It would be a lie if I said I wasn't afraid of meeting someone else," and said, "I want to meet a man who has become human."
Jung-sook married at the age of 31 and revealed the story of how she got divorced in one year. I want to find a man with whom I can enjoy."
Soon-ja, who has a youthful appearance, was shocked by the fact that she entered 'Solo Nara 16' after 3 months of divorce. Then, while reflecting on her married life of raising a 12-month-old daughter without receiving support for living expenses from her ex-husband, she said, "I am a victim, and I cannot remain sad. I will live well as if to show off," he expressed his determination. Young-ja expressed her resentment of not being able to get married and hold a ceremony due to premarital pregnancy, and shed tears as she remembered her 7-year-old daughter, who had matured more than her peers due to her parents' divorce. Furthermore, Young-ja appealed that she was a 'straight lover', saying, "I meet someone I like rather than someone who likes me."
Oksoon appeared in a doll-like appearance in a supercar and destroyed 'Solo Nara 16'. Oksoon, a Western painter, revealed a movie-like marriage and divorce story in which her ex-husband and her family pushed her to get married on the third day she saw her. Lastly, Hyunsook gave birth to a daughter in her second year of college and has a 14-year-old daughter at the age of 34." Then, he expressed his desire to find a 'eternal mate', saying, "I'm an honest and fun person," and "I hope the end will be a grave."
The selection of first impressions in the 16th class was started by single women. When a single man he liked passed by, a single woman followed him. Here, Youngsook and Sunja chose Youngsu, and Hyeonsuk chose Youngsik. Even Oksoon, who was trying to choose Youngsoo over Jeongsuk and Youngja, chose Youngchul, and Youngchul became the '16th popular man'. Young-shik said, "I thought it was 0 votes, but it's reversed!", sweeping his chest, while Young-ho, Kwang-soo, and Sang-cheol stayed with '0 votes'. Sang-cheol said, "A fresh shock? I was in a bad mood," he hardened his expression, and Kwang-soo said, "It was as expected," and said, "From now on, you have to let me know!"
On the other hand, while attention is focused on the 16th 'messy romance' to be developed in earnest next week, 'I'm SOLO' will be broadcast on ENA and SBS PLUS at 10:30 pm on Wednesday, August 2nd.
Reporter Ryu Ye-ji and Ten Asia ryuperstar@tenasia.co.kr