MUSIC
NCT 127 becomes one with fans and completes third tour 'UNITY'
NCT127 holds third tour for 6 days at KSPO DOME
Doyoung "The sound of shouting penetrates through the in-ears"
Haechan jokes, "I think you've grown a lot."
Taeyong "I've grown to the point where I can only chat during note time after the performance."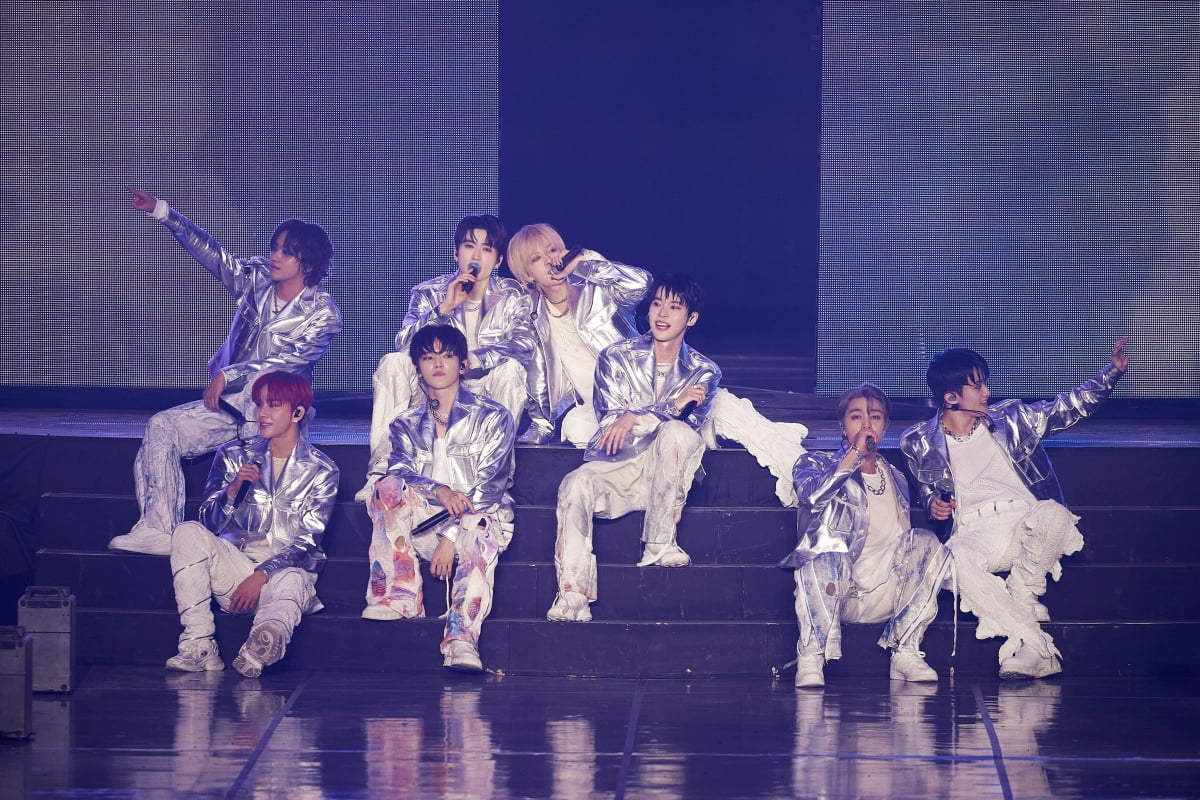 NCT127 filled KSPO DOME. From a stage with strong energy to a stage with impressive sweet vocals, NCT 127 made the audience happy with a variety of performances that reflected their identity that they had built up over the past 7 years.
On the 19th, the third day of NCT127's third tour 'NEO CITY: SEOUL – THE UNITY' was held at KSPO DOME in Seoul Olympic Park.
This performance is a new domestic solo concert that NCT 127 will hold one year and one month after its performance at Jamsil Main Stadium in Seoul in October last year. As soon as tickets were opened, not only were all tickets for the 6th performance sold out, recording 4.86 million concurrent traffic, but even the additional limited-view seats were sold out in an instant. This concert is meant to be a stage where NCT 127, who have become completely one with their fans after going through their first tour 'THE ORIGIN' and second tour 'THE LINK', move on to a new chapter.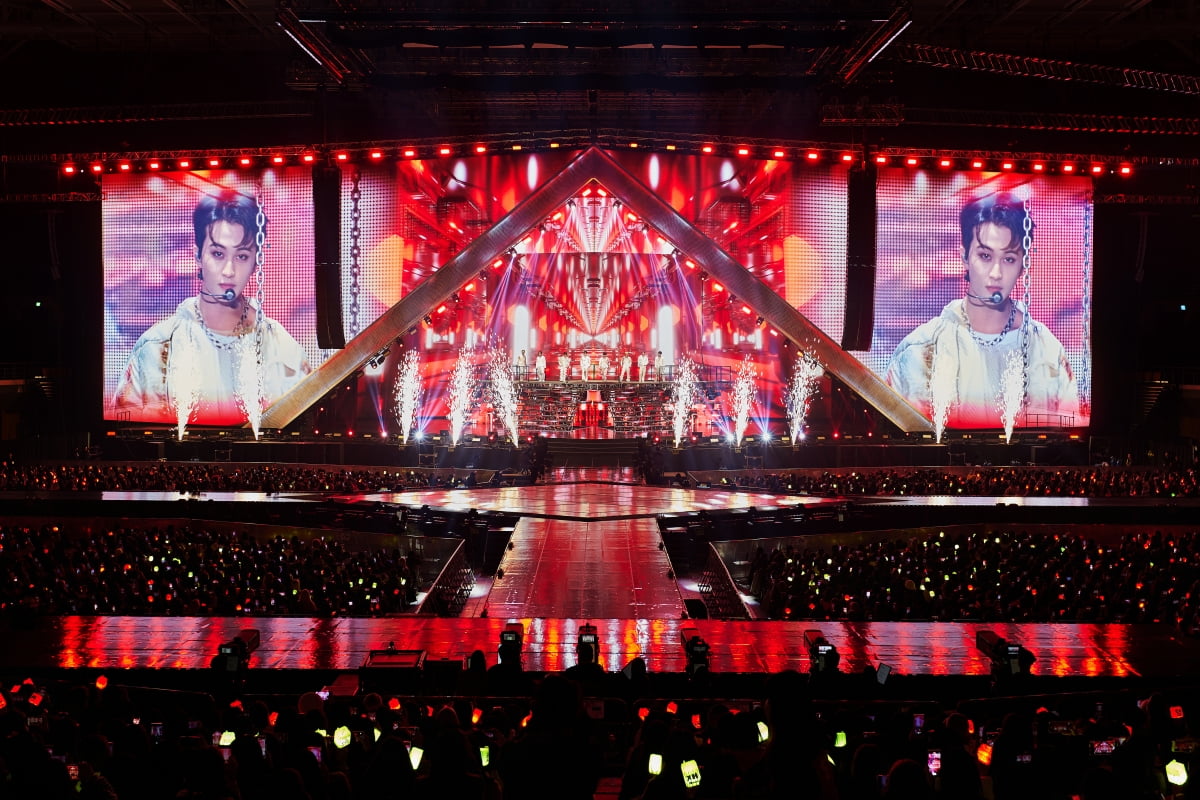 NCT 127 opened with 'Punch' and instantly heated up the concert hall. During the 'Ay-yo' stage that followed 'Superhuman', fans repeatedly shouted for 'NCT127'. The early stage, with its powerful performance, immediately immersed fans in it.
NCT 127 members, who appeared on the protruding stage in the middle, stood in front of standing masks and passionately sang 'Crash Landing On You.' The groovy rhythm and sweet voice heated up the atmosphere even more. The members then sang 'Weightless' and scattered throughout the protruding stage to get closer to the fans. 'Time Lapse', which stands out for its languid performance, and 'Skyscraper', which has an attractive powerful beat, drew cheers from fans.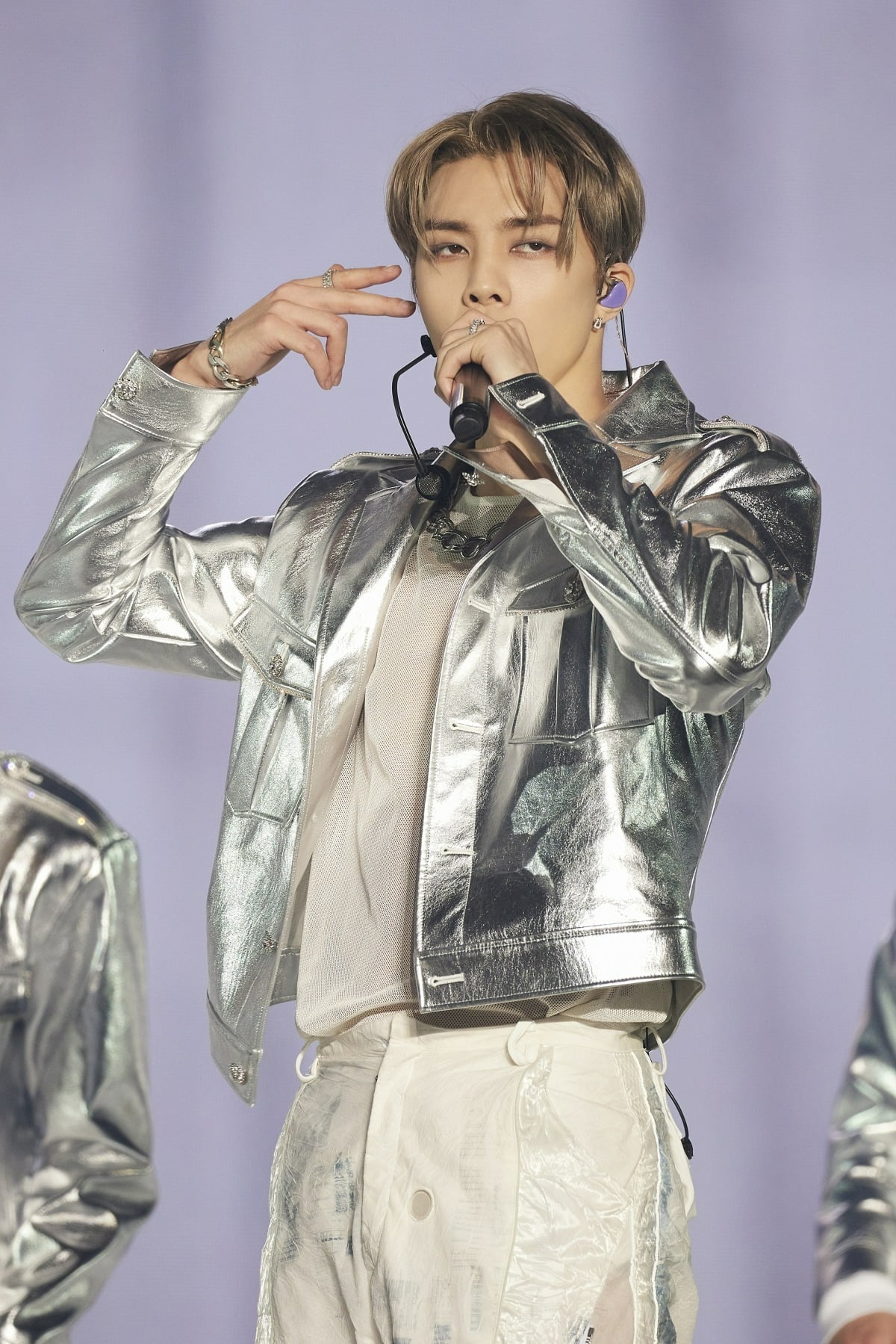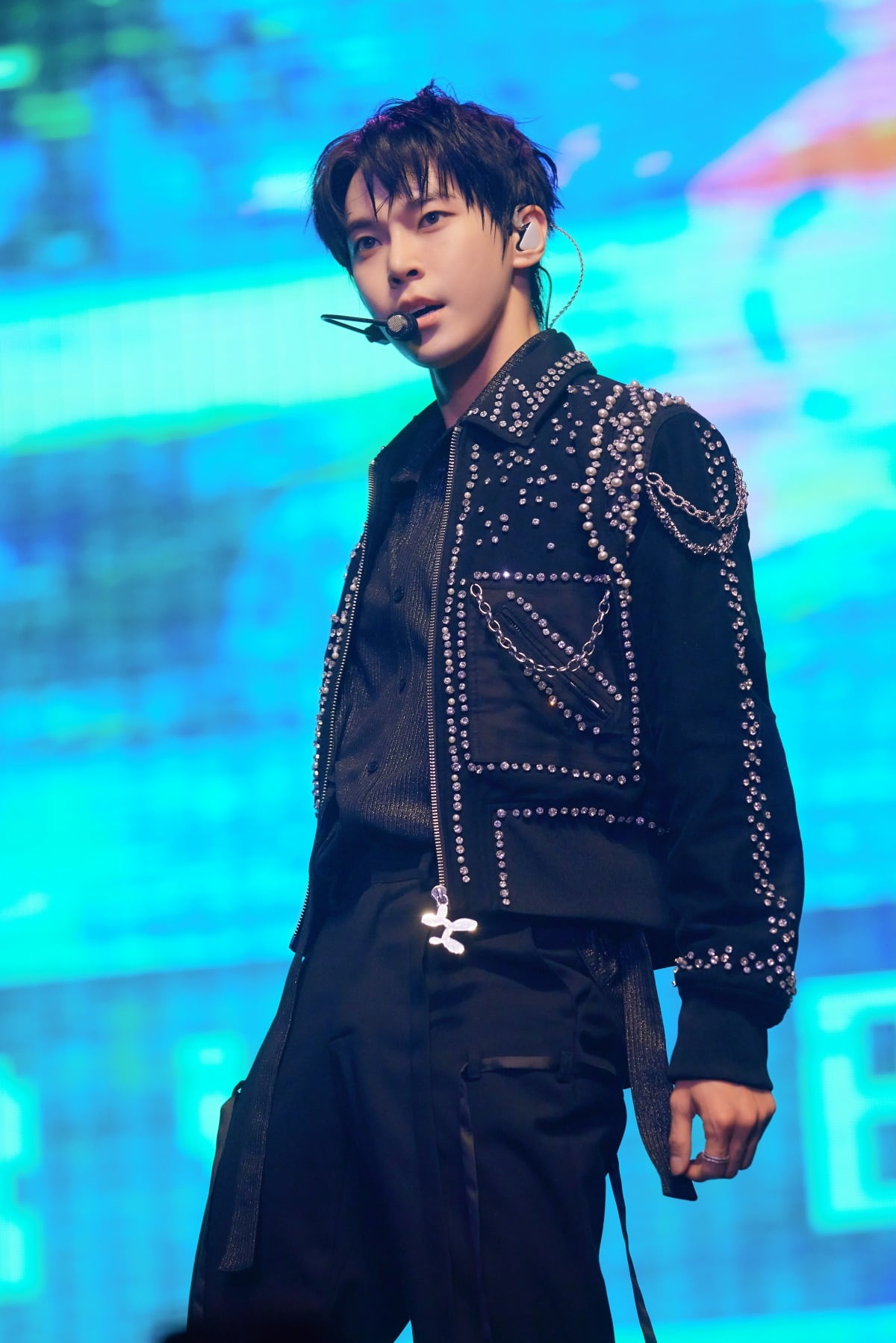 Johnny elicited a positive response, saying, "The cheers are louder today than on the first or second day." Haechan showed his motivation, saying, "I will have a rest of about 4 days after today, so I will run until the end today." Mark said, "Although we may sweat more, this performance is not just for us. The performance is complete only if we have fun."
Jaehyun said, "You can feel the energy of Czennie (fandom name) at the beginning, but as it is the third day, the energy is even hotter. I hope you have fun with this energy until the end." Taeyong said, "As the members said, the energy is just as hot as the first and second days. As I said on the first day, we will keep going. Everyone, please don't miss out and play until the end."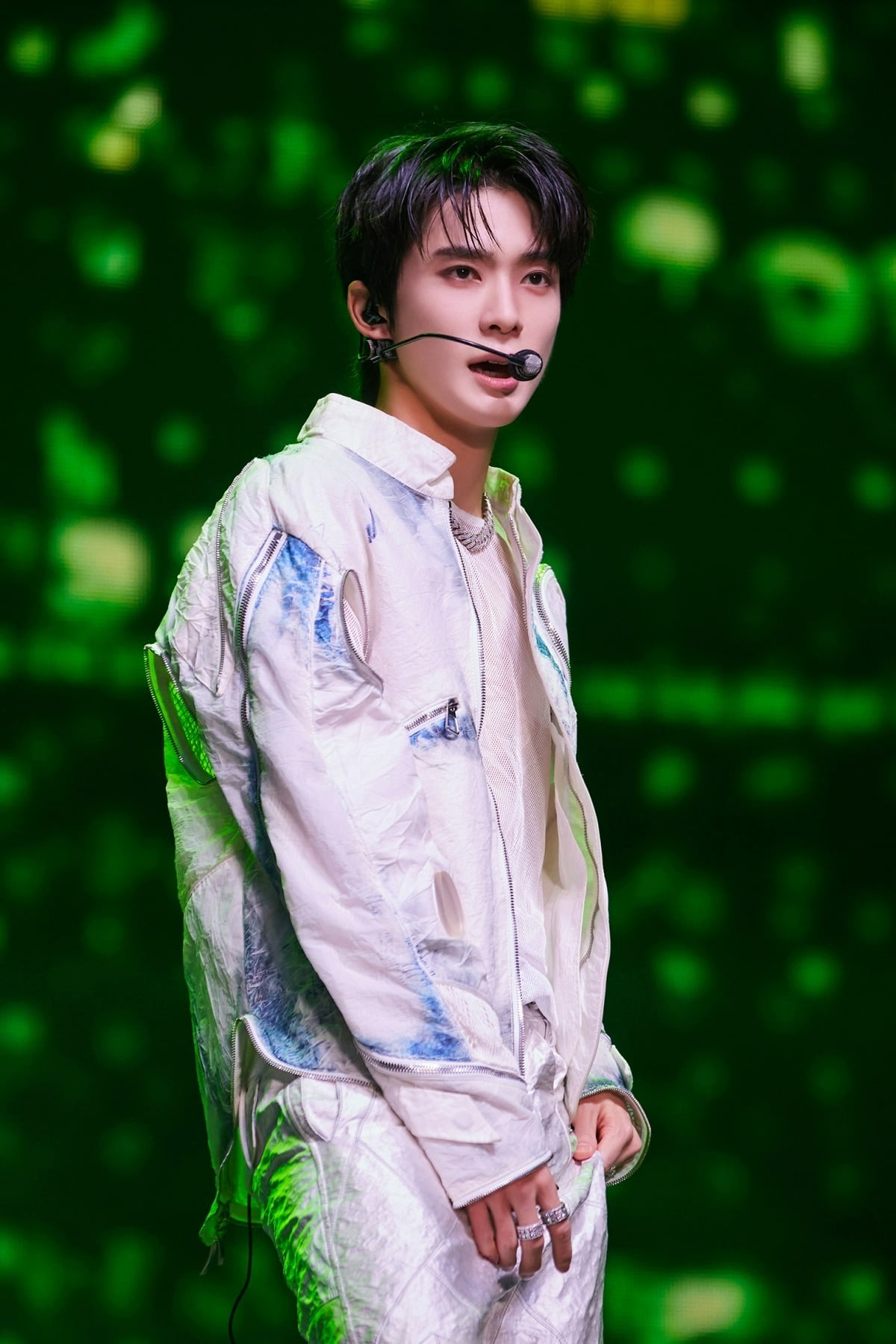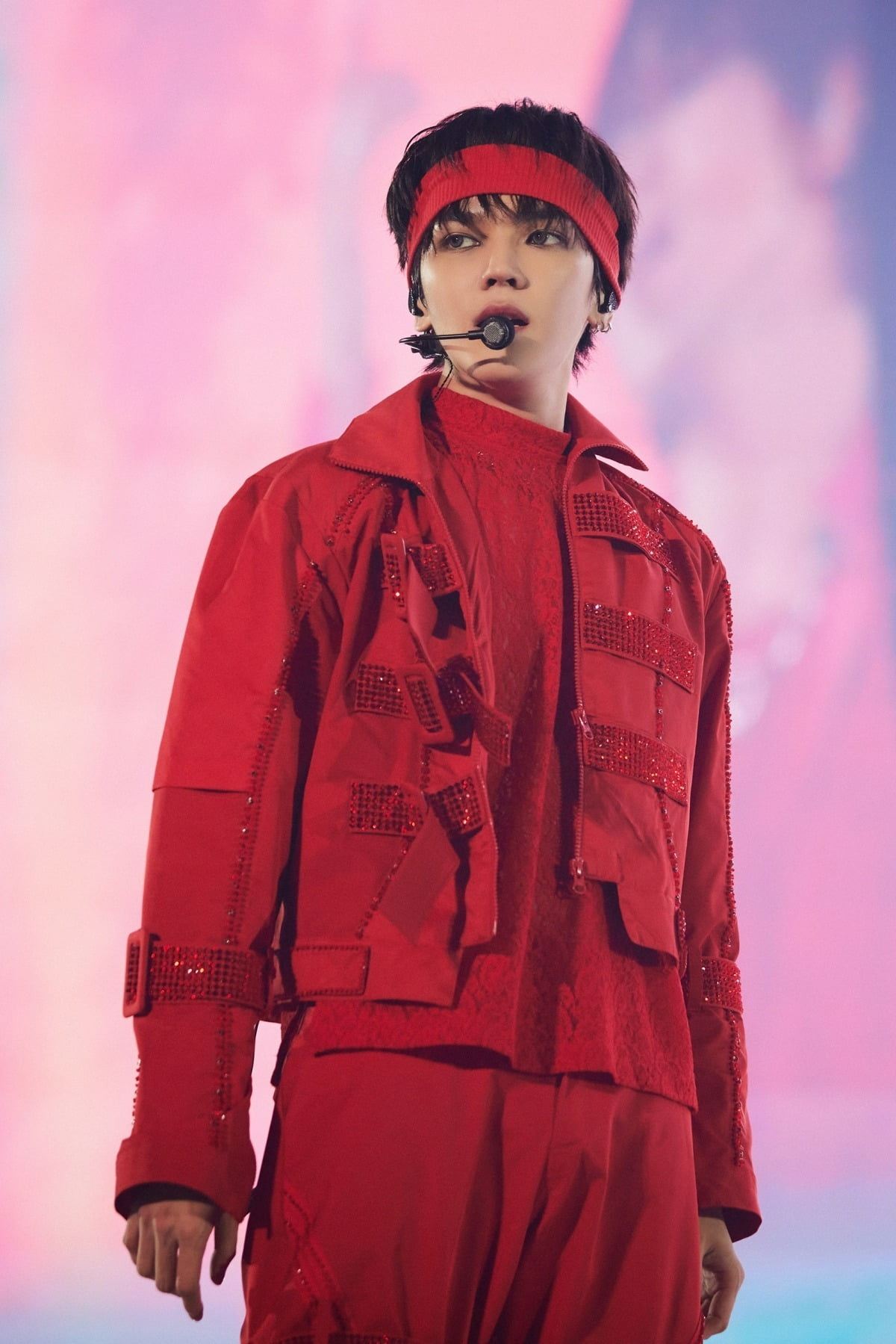 Yuta said, "Isn't a concert a freedom? If you want to scream, you can scream, and if you want to sit, you can sit. All that aside, this should be the hottest place in Korea today. Let's show our strength. Can you do it? Scream." drew cheers from the crowd. Jungwoo said, "This is my first concert. I prepared hard, and I hope this space will be on fire again today. Please enjoy it until the end."
Doyoung said, "The last day of the first week has come. When I was preparing, I thought it wouldn't come, but it came. I don't feel more or less nervous than any other day. Even though it's the third day, I'm still nervous." He then said, "It's the third day, but I'm telling you in case there are people who don't know. We prepared snacks, Shine Muscat, etc. We're having a hard time so please understand if we take one pill at a time," making everyone laugh. Taeyong said, "For our third tour, 'Neo City,' we prepared something inspired by The Matrix. Everyone, please follow us."
The members also introduced invited guests. NCT DREAM members, NCT NEW TEAM members and Jonathan came. The audience cheered and welcomed.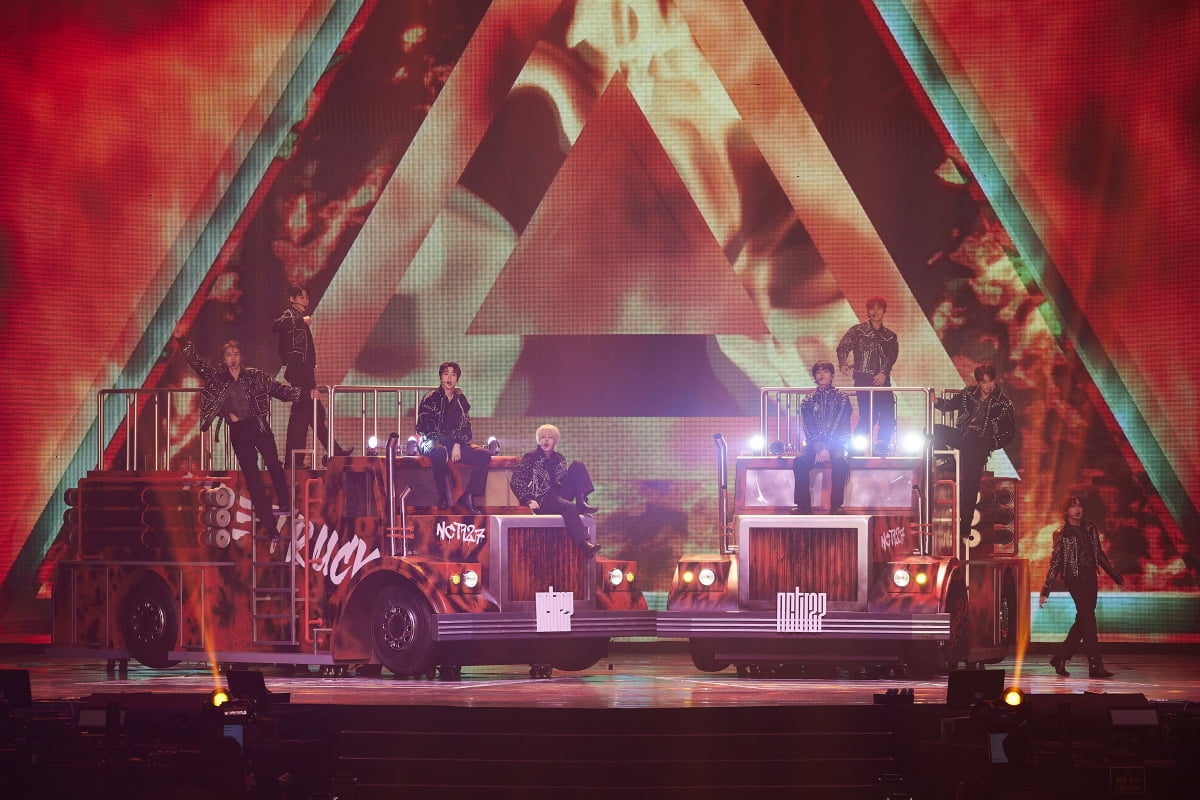 NCT 127 members changed their silver jackets on stage. Doyoung introduced, "We prepared a stage that matches the sparkly clothes we are wearing." The next stage was 'Parade'. In response to NCT 127's request to 'let your voice be heard', fans shouted 'Say' to the lyrics. The lively and energetic stage continued with 'DJ', 'Yacht', and 'Je Ne Sais Quoi'.
NCT 127, who changed into black outfits full of sparkling bead decorations, continued their performance with their debut song 'Fire Truck'. In line with the song's title, they came out on a fire truck set and performed as if putting out a fire. The stages that continued with 'Sit Down!', 'Chain', and 'Cherry Bomb' made fans go wild.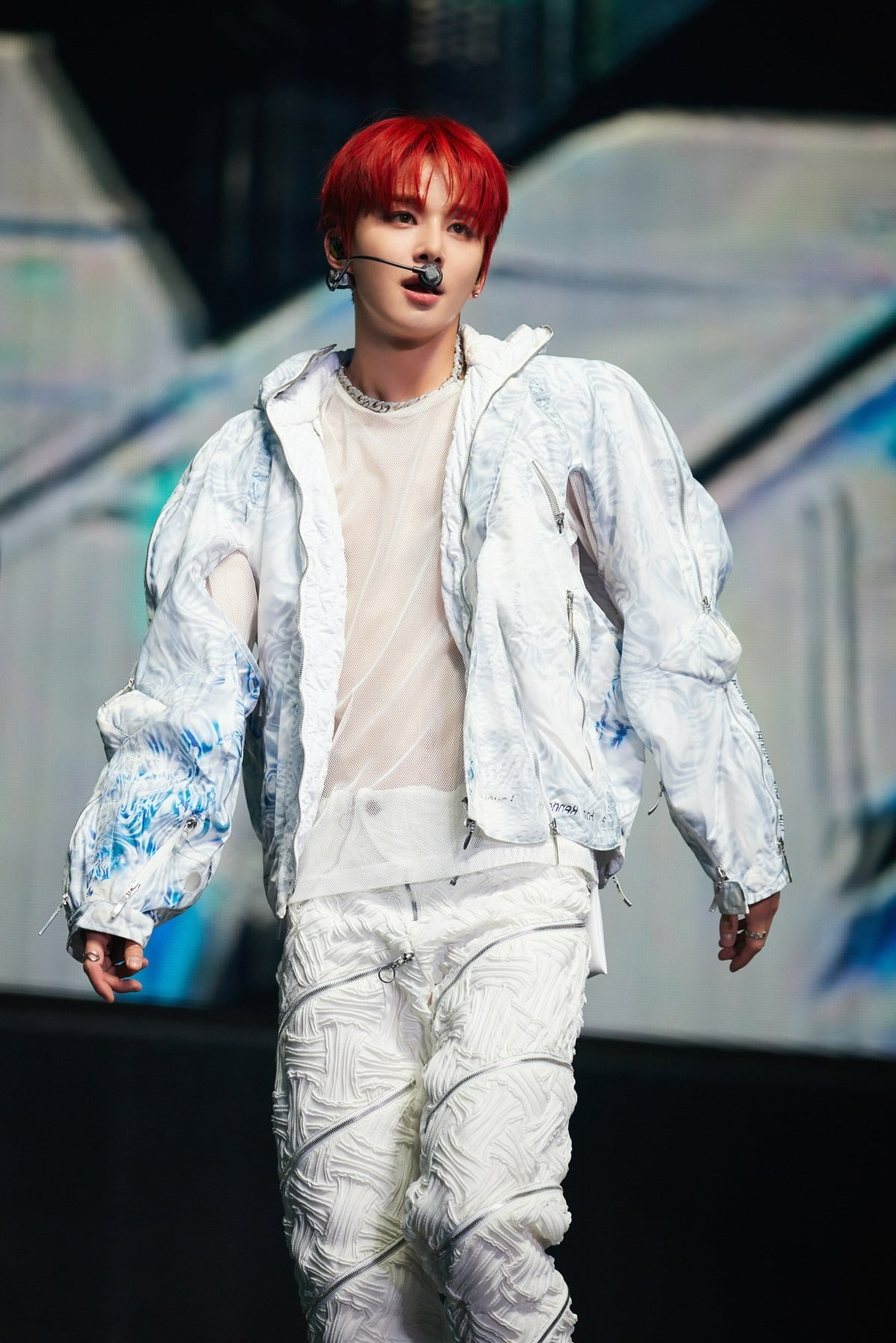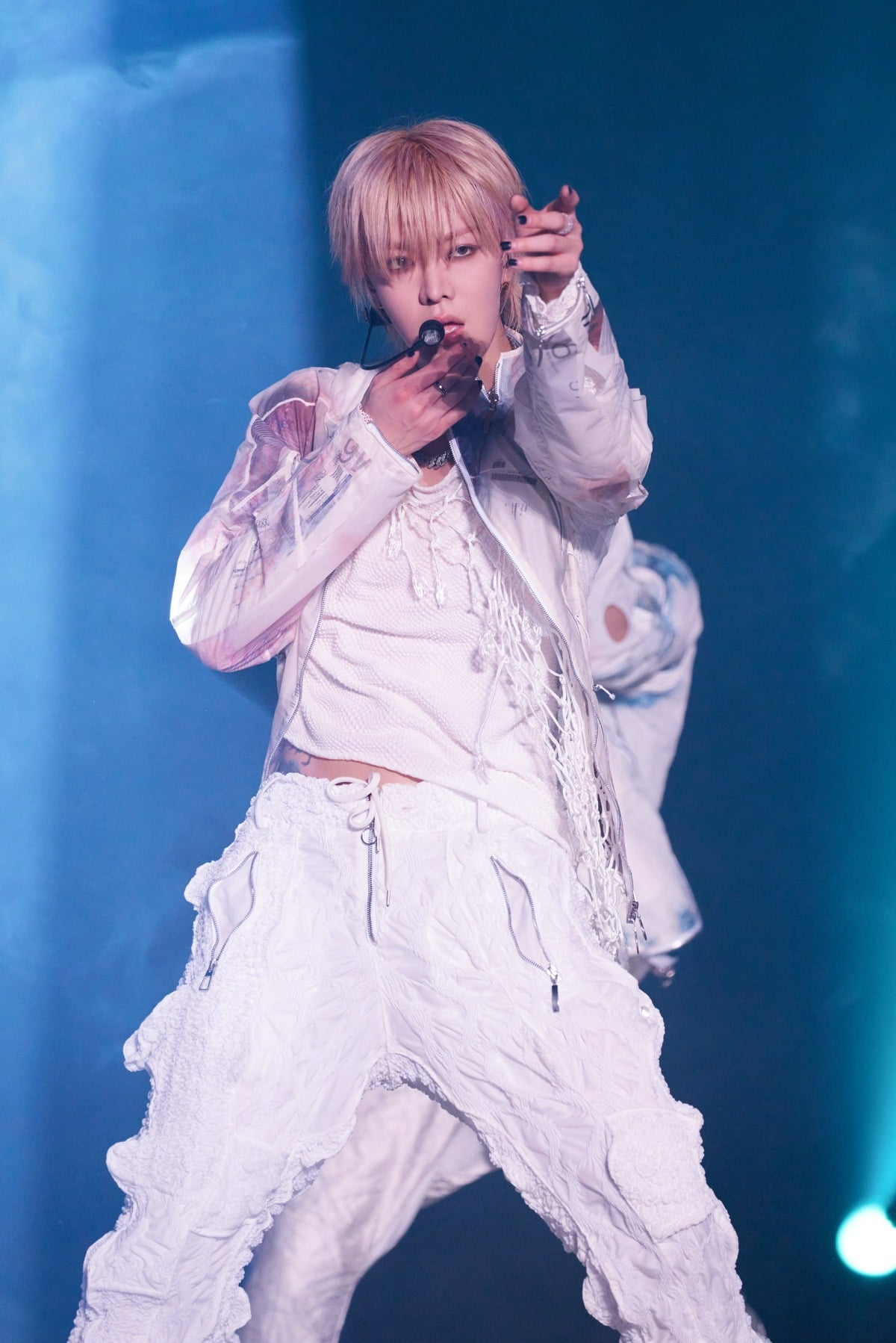 Doyoung exclaimed, "I usually sweat a lot, but today I sweat even more. The heat is hot. When I'm wearing in-ears, most sounds don't penetrate the in-ears, but today they came through the in-ears."
When asked about the episode preparing for the performance, Mark replied, "There were a lot of new things while preparing. There were many parts that we felt anxious and worried about unless we saw them in person, but there were many things that we felt 'it would be cool' to see them in person. The same goes for the opening."
Taeyong said, "While I was practicing, I ate at a restaurant that Jungwoo had been going to since he was young. He seemed very proud of me cooking and serving it to him. I was excited. I ate the food and it was delicious." Jeongwoo was happy and said, "Let's go again next time." Johnny laughed, saying, "After we finished practicing, I smelled the special meat (it wasn't a joke)."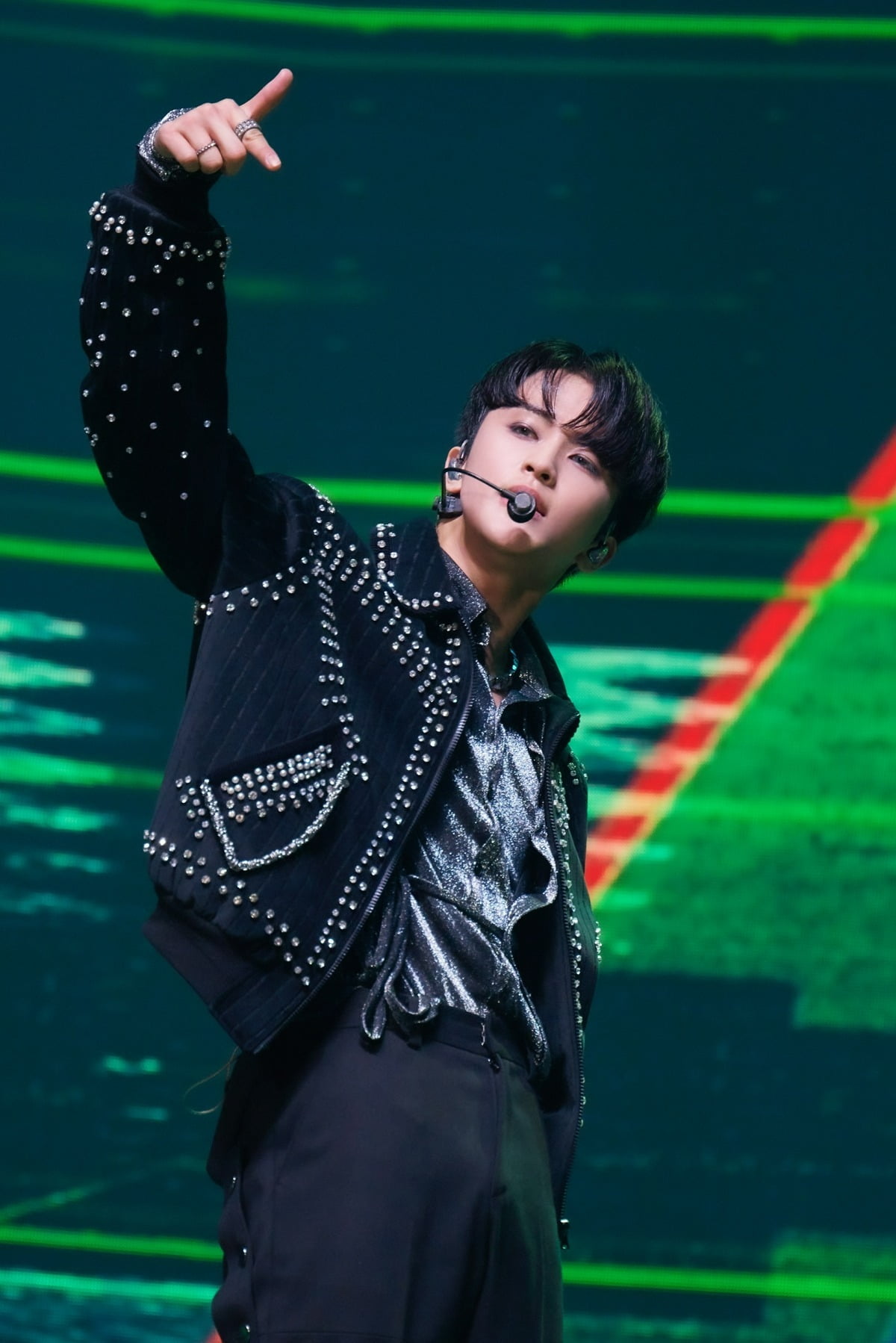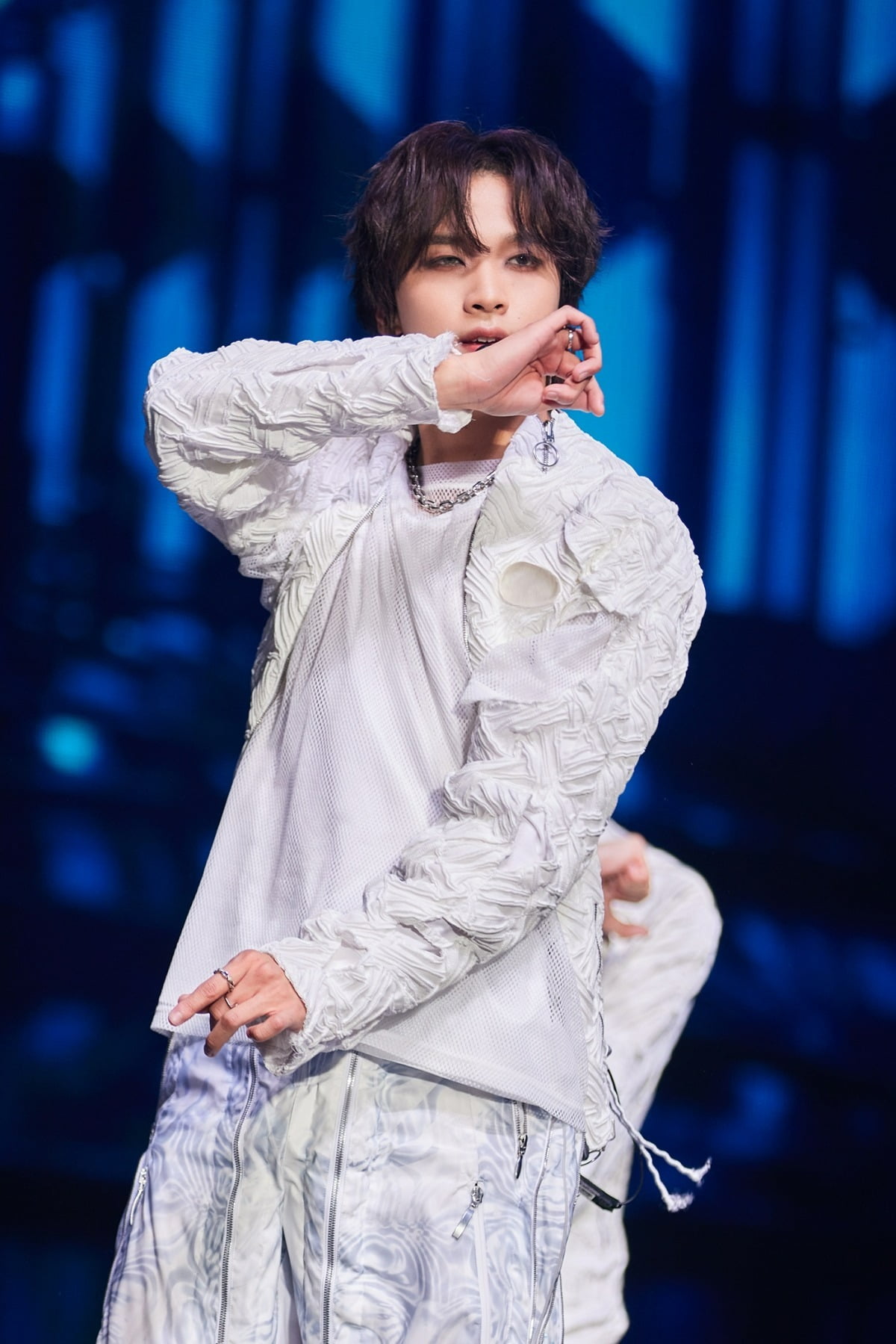 Doyoung said, "There will be a group karaoke session at the end of the day," and asked, "Did you guys come after hearing the rumors?" He then elicited a positive response, saying, "Today's fans' cheers make us look forward to that time. Are you ready to enjoy it properly?" "Before coming up, Johnny hyung told me to take my in-ears out at all costs during that time," he said.
The members also reminisced about their first tour 'The Origin'. Mark asked, "Haechan didn't dance back then. Isn't this his first time performing a concert here while dancing?" Haechan made people laugh by joking, "It was unfortunate that I couldn't perform on stage because I was injured, so I deliberately didn't show up. I was only in the main show. But when I came and saw it this time, I thought, 'I've grown up a lot.'" He continued, "It was two days back then, but it's meaningful because it's six days this time."
Doyoung introduced the next stage, saying, "I will show you what a male choir is like. It is a calm stage." The members, who were lined up on the lift stage and moving stage, performed emotional performances including 'Yunseul', 'Mirage', 'Shower', and 'Star Poetry'. Fans praised their performance with applause.
The members, who changed into red outfits, turned the atmosphere around on stage with 'Simon Says'. Next, in line with the title, 'Tasty', a performance that resembled tasting something while sitting on a chair, drew cheers. 'Favorite', arranged in an orchestral version, also further increased immersion in the performance.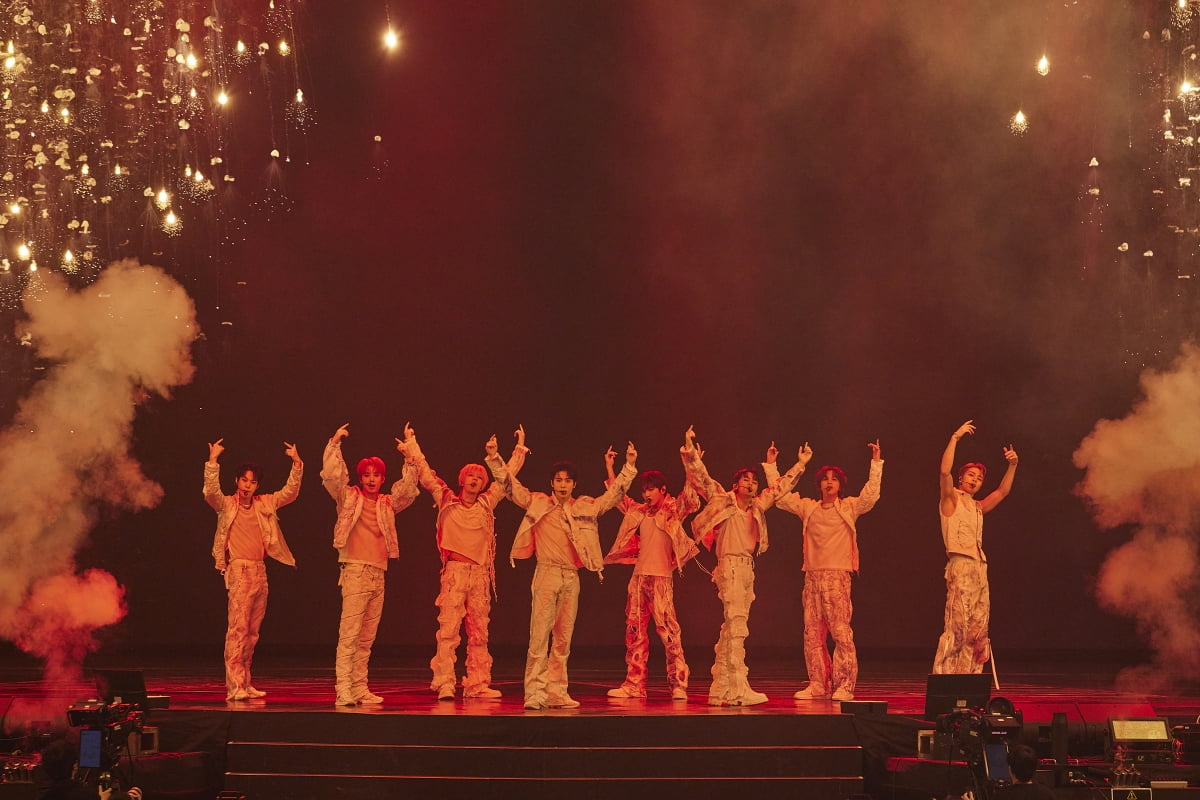 Doyoung said, "While we were talking among ourselves, the question came up about who among us is the most old-fashioned. Haechan said he thinks he has the old-fashioned temperament. He said that sometimes he feels uncomfortable when Chenle from NCT DREAM calls him 'Haechan.' But then Johnny hyung said, When he came, he said, 'Hey~ Johnny Walker.' Isn't that a complete contradiction?" he said, causing laughter. He continued, "Haechan only teases people until they don't get angry."
Yuta added laughter by saying, "Try living with Haechan for just one year." He continued, "Doyoung said he was a cute old man." The members asked fans about their clothing preferences. As everyone cheered, Jungwoo promised, "We are working hard to meet your needs. We will work hard until the day we satisfy everyone."
The performance got hotter towards the finale. The members encouraged people to sing along with 'Hero', 'Running', and 'Fact Check'. All the fans stood up and shouted.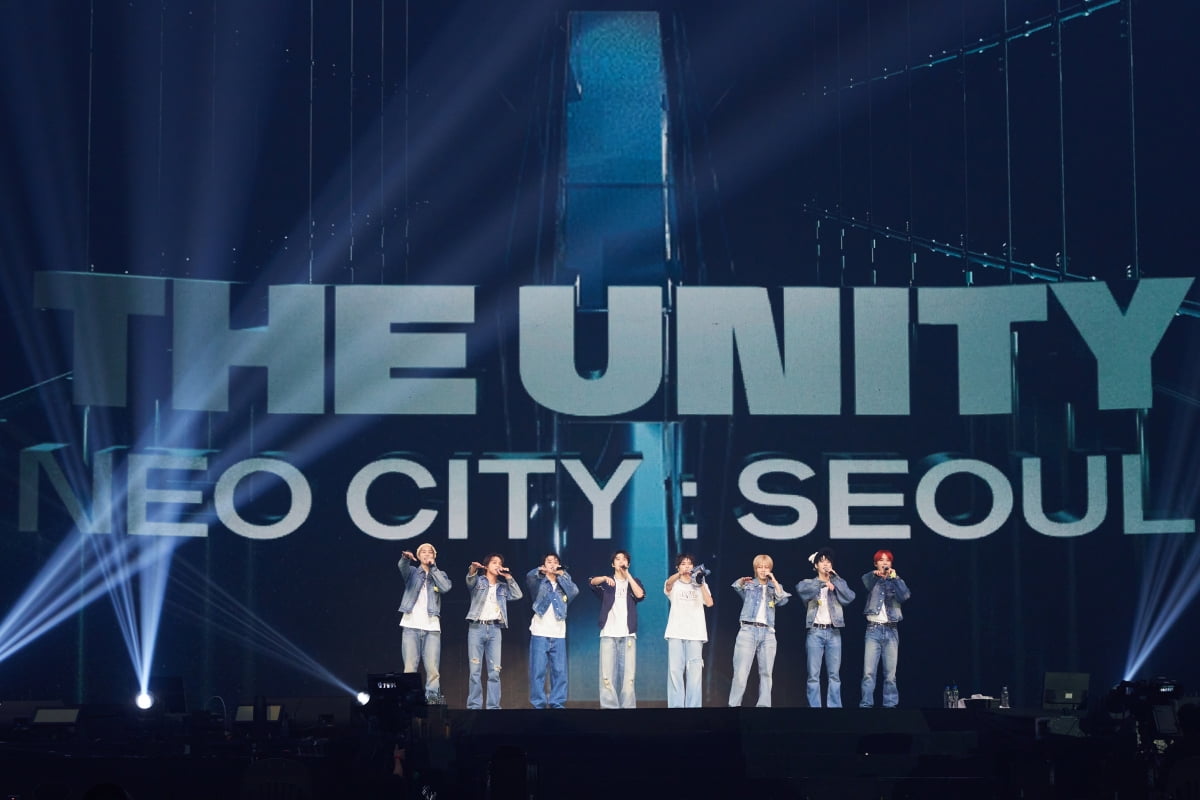 After NCt127 left the stage, requests for an 'encore' followed immediately from the audience. Fans waited for NCt127, chanting 'NCT127' and 'Our Chill'. Not long after, the NCT127 members changed into white and denim outfits and came back on stage to show off their refreshing look.
They moved around the protruding stage and sang 'Angel Eyes' and 'Nap' passionately. After the performance, the members had time to take photos and videos with fans. Johnny made everyone laugh with a witty comment, saying, "I described yesterday's performance as 'binge eating'. Did you guys 'binge eat'? I did binge eat."
NCt127 also gave a spoiler for the album that will be released in the winter. The members harmonized and briefly sang the lyrics 'Cozy Hug'. Taeyong said, "Aren't you looking forward to what the next lyrics will be?"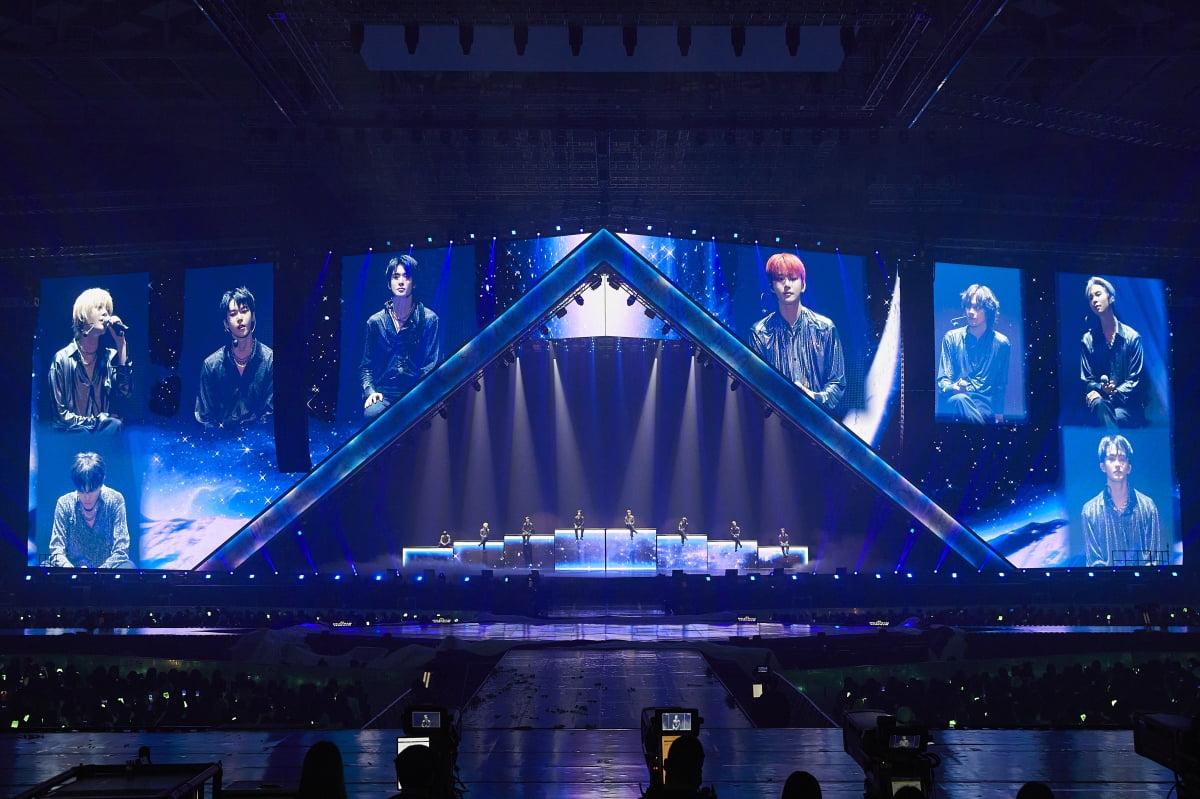 Doyoung said, "If it's a regular concert, wouldn't today be the last day? It's been two weeks, so today isn't the last day, but I'm personally happy that the members and the staff who prepared it are completing these three days safely. Please give us a round of applause. "I want to tell you that you worked hard," he said. He continued, "Personally, yesterday's performance was a little disappointing. I felt a little more determined going into today's performance." As the audience cheered, he said, "I accept the praise. Thank you." He also asked, "The fact that we are able to hold a 6-day concert is thanks to Czennie's love for us. We will gather our gratitude every day and show you how well prepared we are until the end. Please stay with us until the end."
Jungwoo joked, "I'm glad we were able to finish the first concert safely. Are you confident that we can wait until next week? Should we do it tomorrow? Should we do it later? We want to do that too, but we need to take time to reorganize." He then expressed his affection for the fans, saying, "I think it's nice to be able to see each person up close at the gymnastics stadium. When I look at their eyes, I feel like I'm falling in love with them." Yuta said, "Out of the 6 episodes, 3 have already ended. Taeil couldn't come. We also felt how big his presence was. The 8 of us created this stage while thinking about how we could fill that hole. For the 8 of us. "Please applaud. Haechan in particular worked very hard," he said, taking care of the members. He continued, "I could hear your voices all the time from 'Hero' to 'Fact Check'. It gave me strength and I felt like I could do the remaining three days. The first week of the concert is over, but any moment or anything is okay. I hope everyone keeps this in their hearts." "I hope this moment remains in your hearts." When he asked the audience, "Are there any left?" the fans responded with cheers. Yuta said proudly, "Then it was successful."
Taeyong said, "It's TMI, and if you take notes after the performance, you have to listen to us talk about our shortcomings for 30 minutes. We're not scolded, but we talk about what we did wrong, missed timing, etc. for a better performance. Yesterday, we took notes, but we only chatted. "There was nothing to take notes on. I felt that our team had grown a lot since I first started here," he said proudly. He then said, "I want to say thank you and love to the members who have worked hard to come this far. We are shy when we are alone, so we can't do it. We will do it here." Jaehyun said, "I still had strength left on the way back before the last section to the point where I thought it was already over. I think I gained that strength thanks to you all. Time really went by quickly." He added, "Please continue to send me fun placards. When you shine from behind, We can see it, and I felt proud and happy because I felt like I was preparing when I came to see the concert. When the performance started today, I took vitamins, stretched, and did warm-up exercises, but I didn't have much strength. But there was a person dancing along on the protrusion. "When I saw that, my body suddenly relaxed. I hope you remember that our Czennies are of great help to me. Thank you to each and every one of you for filling this space today as well," he said.
Mark said, "Everyone's necks were in good condition today. It's all the same, but I think it would have been a big problem if we hadn't performed six times. If today was the last time, I think I would have regrets. I hope to see you again next week. We will perform alone during the opening remarks. I said no, but especially during the last section, we were one. Thank you for completing our performance perfectly and well today. I also want to tell the members that they worked hard. Thank you to everyone who made the performance. Thank you to each and every one of you. "Let's meet again soon," he said. Haechan said, "I seriously thought to myself while saying such a touching story. What should I eat for a late-night snack? Because the day before yesterday, I also recommended a late-night snack. What should I recommend to connect with the excitement of the concert? Today's performance will take a few days off, so I will have chicken and beer. "It is planned. Please upload a proof photo of chicken and beer together." When the members said that this performance was for ages 7 and older, they corrected the performance by saying it was 'Chicken and McCall', causing laughter. He also said, "It's cold, so I hope you all dress warmly. We played a lot today, so I hope you go home, take a warm shower, and sleep."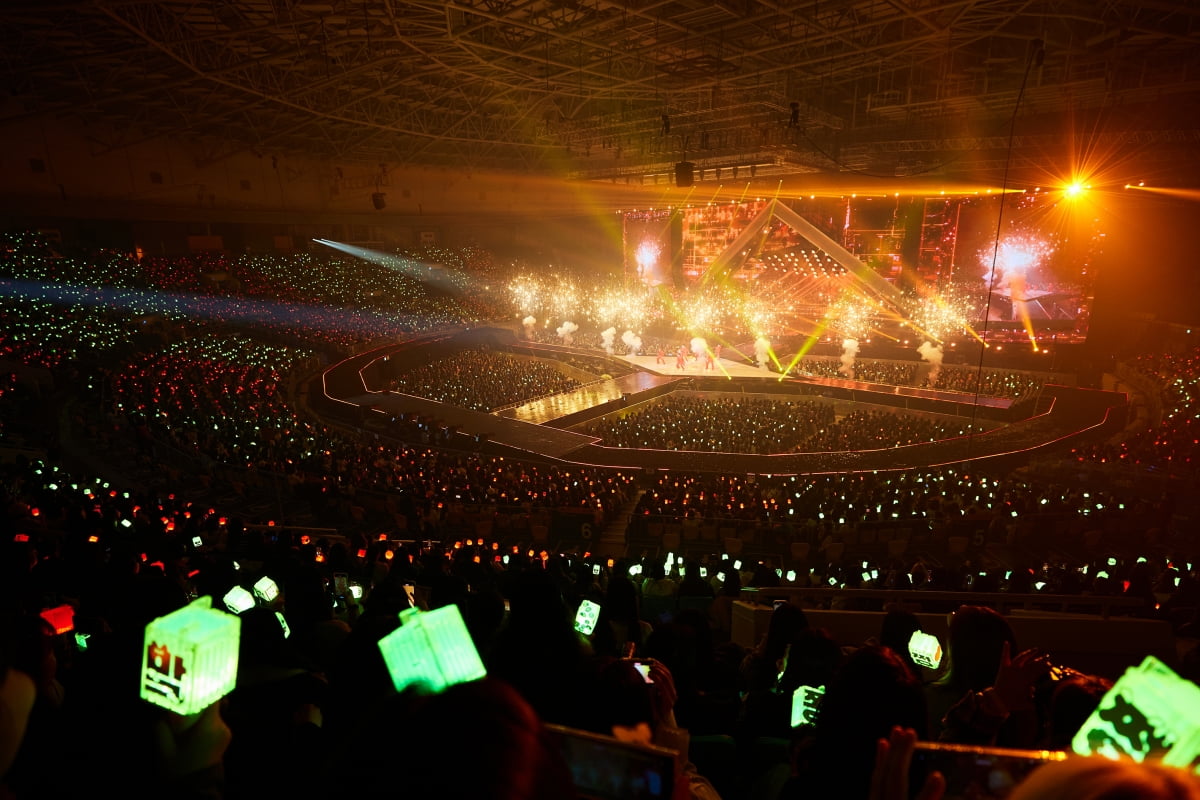 Johnny said, "When I was in school, on Wednesdays I would say, 'There are only a few days left.' But aren't I happy that the performance is the opposite?" He then said, "Thank you for coming. We will run next week as well." The members announced that the set list for next week's performance will change. Johnny said, "I think the most memorable moment in life is when I was having the hardest time. That's why I do my best every day until the end. I hope that today will remain in my memory. I performed with that mindset and saw you enjoying it. "We are happy too. Isn't it difficult for you all to cheer on us? Let's persevere. The more difficult it is, the more memorable the day becomes." Taeyong said, "Isn't the difficulty related to how hard you worked?", but Johnny made people laugh by saying, "No, it's hard."
Jaehyun introduced the last stage, saying, "It's a shame, but I also want to tell you 'The Day We Meet Again'." NCT 127 sang 'The Day We Meet Again' as the last song and promised the next one.
NCT 127 will begin its third tour starting in January with a performance in Seoul, followed by a Japanese dome tour to Tokyo, Osaka, and Nagoya, followed by Jakarta, Bulacan, Bangkok, and Macau.
Kim Ji-won, Ten Asia reporter bella@tenasia.co.kr