MUSIC
Enhyphen releases second teaser for 'Sweet Venom' MV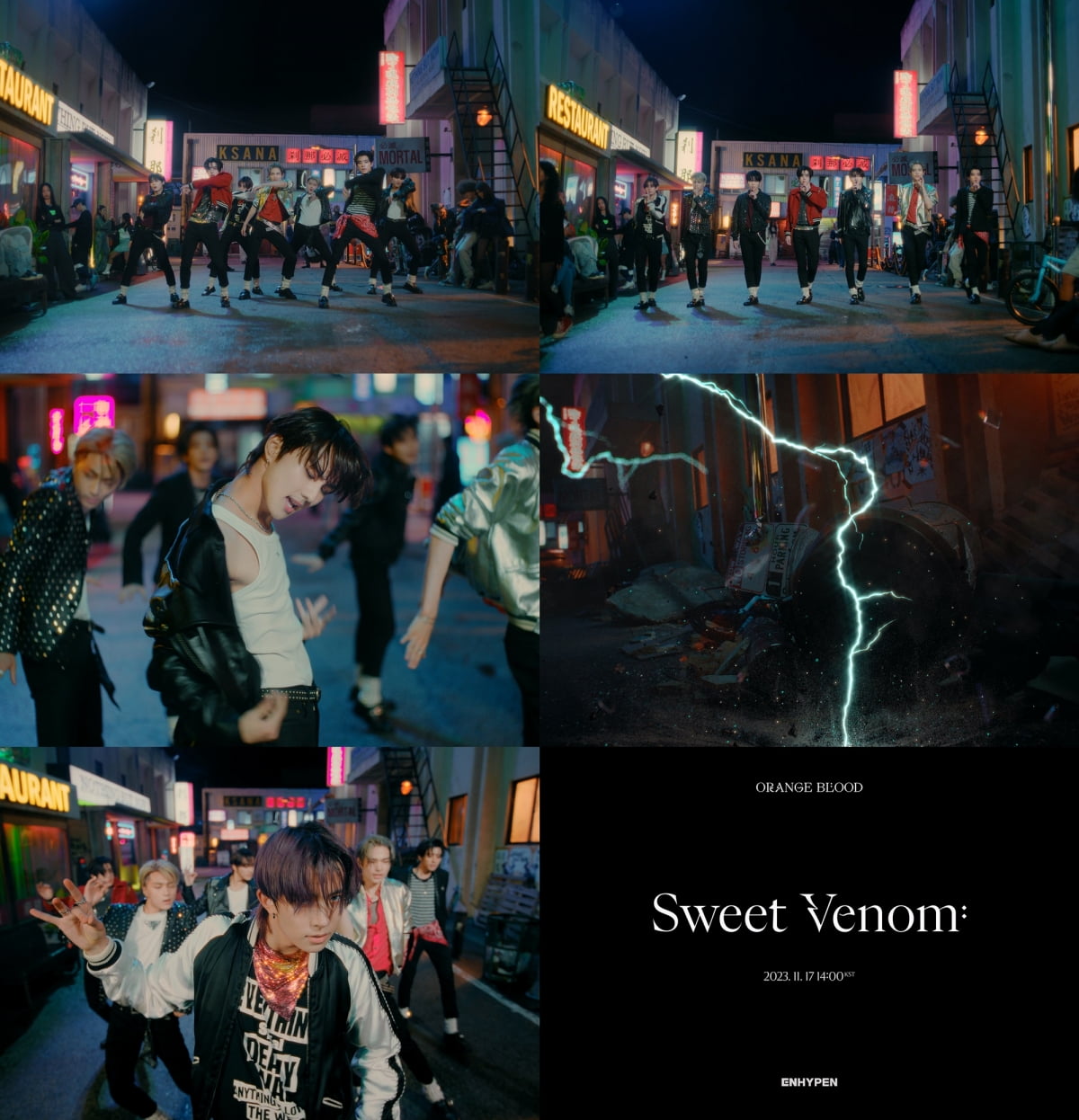 Group ENHYPEN returns with a performance that maximizes visuals.
Enhypen (Jungwon, Heeseung, Jay, Jake, Seonghoon, Sunwoo, Nikki) released the second music video for the title song 'Sweet Venom' of their 5th mini album 'ORANGE BLOOD' through the team's official SNS at midnight on the 16th (hereinafter Korean time). A teaser was released. They released their first visual-focused teaser on the 14th, and this time they raised expectations by briefly exposing part of the 'Sweet Venom' performance.
The 'Sweet Venom' performance centered on an atmosphere of subtle sexiness and sensitivity, expressing 'me' (enhyphen) in love with sweet charm. In the second teaser video, Enhyphen performed a coordinated group dance to a rhythmic melody and captured attention with sensuous yet addictive choreography.
In addition, the seven members created a vintage yet sophisticated mood with retro fashion accented with colorful jackets, striped T-shirts, and scarves, and the colorful neon sign background added to the fun.
'Sweet Venom' is a groovy bassline-based funk and pop song that tells the story of a promise to stay by 'you' even if poison spreads throughout the body. The poison of 'you' is sweet and it expresses the boy's feelings in a playful and rhythmical way that makes him realize that he is alive. Member Jay participated in writing the lyrics, heralding a song in which Enhyphen's colors are more deeply reflected.
Meanwhile, Enhypen will simultaneously release its 5th mini album 'ORANGE BLOOD' worldwide at 2 PM on the 17th.
Reporter Junho Yoon, Ten Asia delo410@tenasia.co.kr