MUSIC
'Tvarotti' Kim Ho-jung, XR concert 'TRAVELER' ends successfully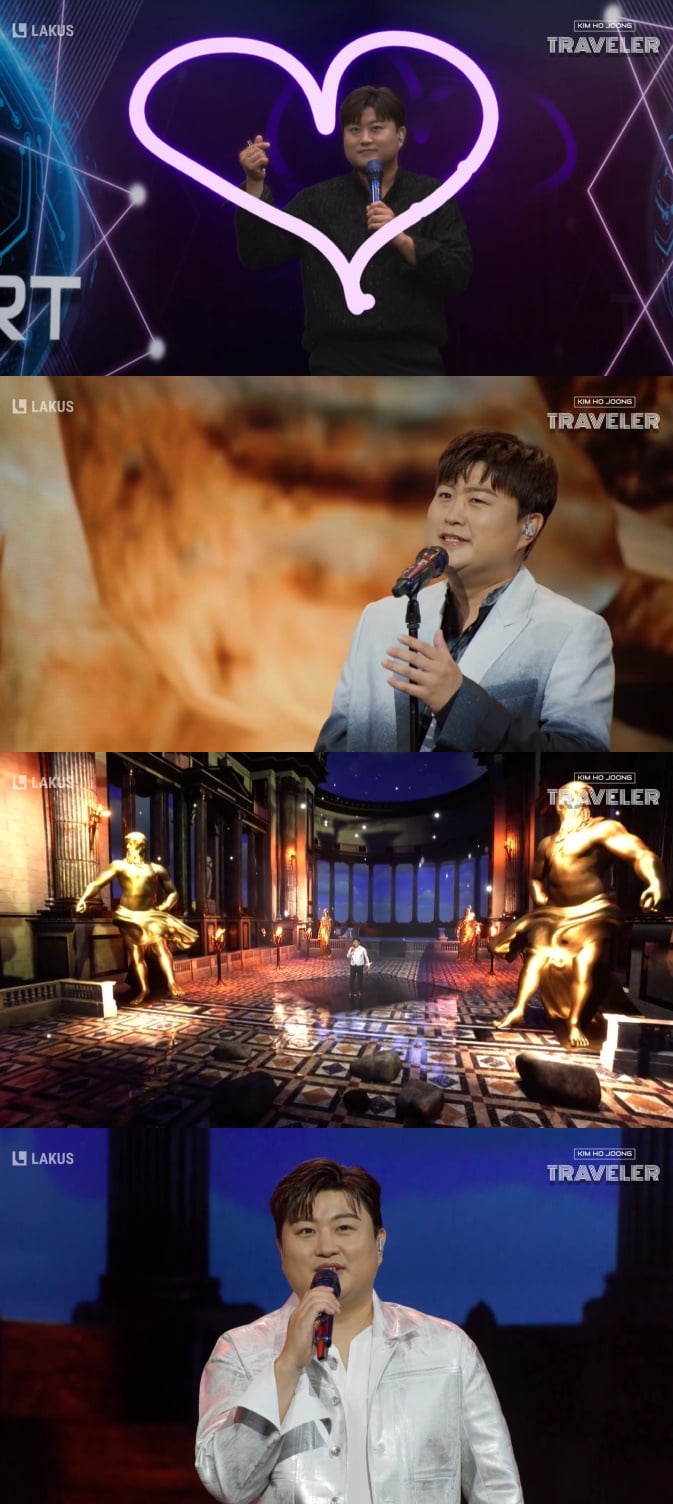 Singer Kim Ho-joong presented a stage that transcended time and space through a concert combining virtual reality and augmented reality.
Kim Ho-joong appeared at the XR concert 'TRAVELER' through LiveConnect's online platform LAKUS from 6 PM on the 4th, completing a new concept performance that transcends time and space, opening a new chapter in performance.
On this day, Kim Ho-joong greeted fans through 'The Shining Person' on a stage set up in outer space where stars were floating. Kim Ho-joong, who set up a stage of overwhelming scale from the beginning, expressed his expectations, saying, "I think I will be challenging something new with you all, so I expect to make good memories today as well."
He then explained the reason for holding the online concert, saying, "I decided to hold an online performance in the hope that the people who always come to see me can enjoy it in the most comfortable place today," giving a glimpse into Kim Ho-joong's warm heart toward Aris. Meanwhile, Kim Ho-joong, who moved to a place full of Korean sentiments, performed 'A Letter' and 'On the Way Home from Work'.
Afterwards, the concert hall quickly transformed from Korea to a night street in New York, USA. In addition, Kim Ho-joong presented a variety of emotions by performing the movie 'The Godfather' OST, 'Brucia La terra', as well as 'Full Bloom'.
The trip with Kim Ho-jung continued afterwards. In Rome, Italy, they sing 'Adoro' and 'Love In Portofino', in Iceland they sing 'Il Mare Calmo Della Sera', and in Greece they sing 'Tess type! ' Kim Ho-joong led the audience and traveled around the world, while also adding a live stage to provide an even more amazing experience.
Kim Ho-joong, who returned to Korea, said, "We went to many places together, and I don't know if you were healed. "I will continue to live my life while taking on challenges," he said, ending the performance with 'My Own Path'.
'TRAVELER' is a performance that applies XR (eXtended Reality) technology, which combines virtual phenomenon (AR) and augmented reality (VR). Korea's first Object Tracking technology has been applied, giving audiences the experience of traveling around the world.
Meanwhile, Kim Ho-jung plans to meet the public through various activities.
Ryu Yae-ji, Ten Asia Reporter ryuperstar@tenasia.co.kr