MUSIC
Group Weekly, title song is 'VROOM VROOM'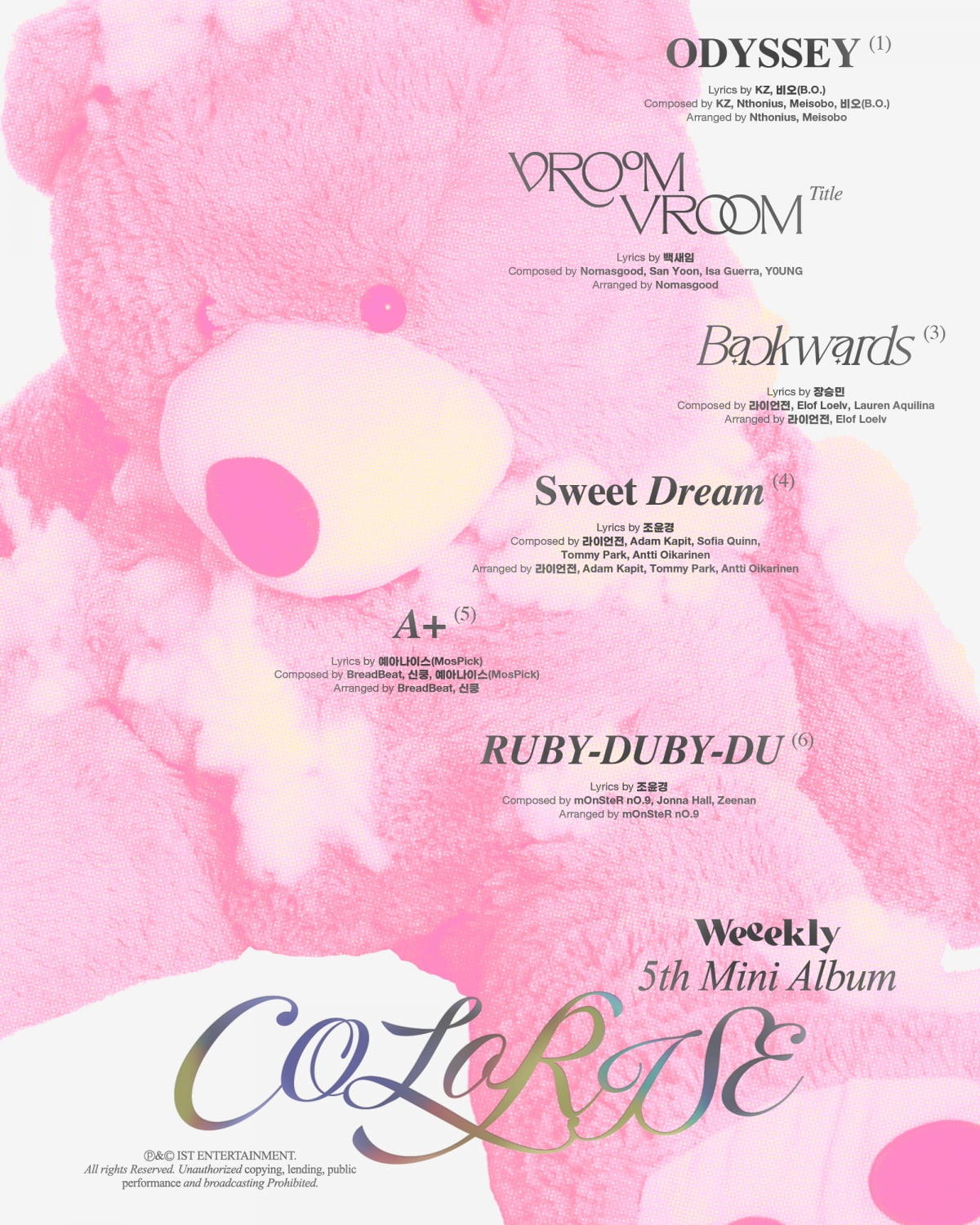 Group Weekly joins hands with a group of prominent producers.
Weekly released the tracklist image for their 5th mini album 'ColoRise' through their official channels at 9 PM on the 18th.
The 5th mini album 'Colorize' consists of a total of 6 tracks, and as befits the album's name, it is expected to contain Weekly's musical colors in a wider range of genres than usual. In particular, a large group of prominent producers such as BO, KZ, Jo Yoon-kyung, BreadBeat, and Ryan Jeon participated in this album, helping to build Weekly's new color.
Weekly's title song 'VROOM VROOM' is a song with a retro arrangement, sophisticated vocals, and a chorus top line, and it captures Weeekly's confidence in inviting you to a world where everything you dream of comes true.
In addition, this album is expected to contain a variety of track colors, including the members' unit songs for the first time since their debut, adding to the persuasiveness of the name 'Colorize'. In 'Sweet Dream' by Sujin, Monday, Soeun, and Joa, you can see the dreamy vocal colors of the four members, and in the unit song 'A+' by 'Jaehee and Jihan', which consists of the youngest line, the confident and confident vocals of the two members that you can't help but be fascinated by. It conveys a lovely charm.
In addition, the names of new albums such as ODYSSEY, 'Backwards', 'Sweet Dream', and 'RUBY-DUBY-DU' were all revealed, and the upcoming 1st album Global K-pop fans are focusing their attention on how the 'Colorize' album, which will be released on Sunday, will be unveiled.
Meanwhile, Weekly will begin pre-orders for 'ColoRise' at 2pm today (19th).
Kim Se-ah, Ten Asia reporter haesmik@tenasia.co.kr