MUSIC
Siwon Choi and Doojoon Yoon confirmed as MCs for 'KCON SAUDI ARABIA 2023'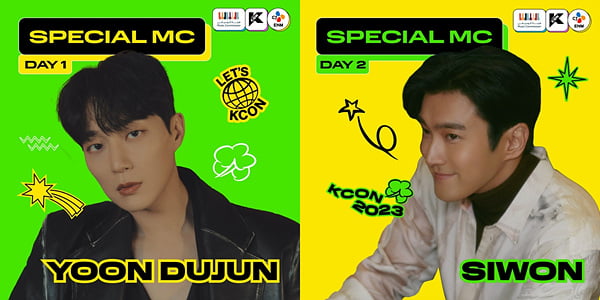 Super Junior's Choi Si-won and Highlight's Yoon Doo-jun were selected as MCs for 'KCON SAUDI ARABIA 2023' in Riyadh.
First, SUPER JUNIOR and Highlight will be active in various fields. First, Highlight's Yoon Doo-jun will take the microphone as the special MC for the first day of the show, and on the second day, Super Junior's Choi Si-won will appear and decorate the finale. The news of the two MCs is receiving enthusiastic support from local fans on related social media.
Legendary artists are also waiting to perform their debut song 'Hi My First', which will make fans immerse themselves in memories. In particular, Super Junior is an idol group so loved locally that they were selected as the world's first promotional ambassadors for the Saudi Tourism Agency, so amazing synergy with the audience is expected. Highlight is also the protagonist of many hit songs that dominated the 2010s. Expectations are rising to see what kind of debut song performance they will perform.
The performances of global super rookies have also finished warming up. Starting with NewJeans last year, KCON has been planning a show to introduce this year's super rookies to Saudi Arabian fans and show the global K-POP trend.
This year in Saudi Arabia, RIIZE, who emerged as K-POP rookies with a hot debut, as well as EL7Z UP and EVNNE, will deliver their first greetings to Middle Eastern fans through KCON. They are expected to make a mark on fans around the world through KCON and become representative artists of K-culture in name and reality.
The first pre-show stage to open KCON will be performed by Tareq Al-Harbi, a star artist from Saudi Arabia.
Starting with the last KCON LA 2023, KCON has solidified its status as a global K-culture festival by consistently presenting performances by popular local artists. This time, we plan to perform on stage with Tarek Al Harbi and provide a fresh experience to local audiences.
In addition, ▲Dreamcatcher ▲EVERGLOW ▲HYOLYN ▲KARD ▲OH MY GIRL ▲SUPER JUNIOR-D&E ▲TEMPEST ▲The New Six (THE NEW SIX (TNX)) ▲Global K-POP artists such as 8TURN meet the audience with performances with a variety of charms.
KCON SAUDI ARABIA 2023 will be held on Friday, October 6th and Saturday, October 7th at The Boulevard Riyadh City, Saudi Arabia.
Kim Se-ah, Ten Asia reporter haesmik@tenasia.co.kr