MUSIC
Unite reveals track list for new album 'Light: BIT Part 2'… The title song is 'I've Decided'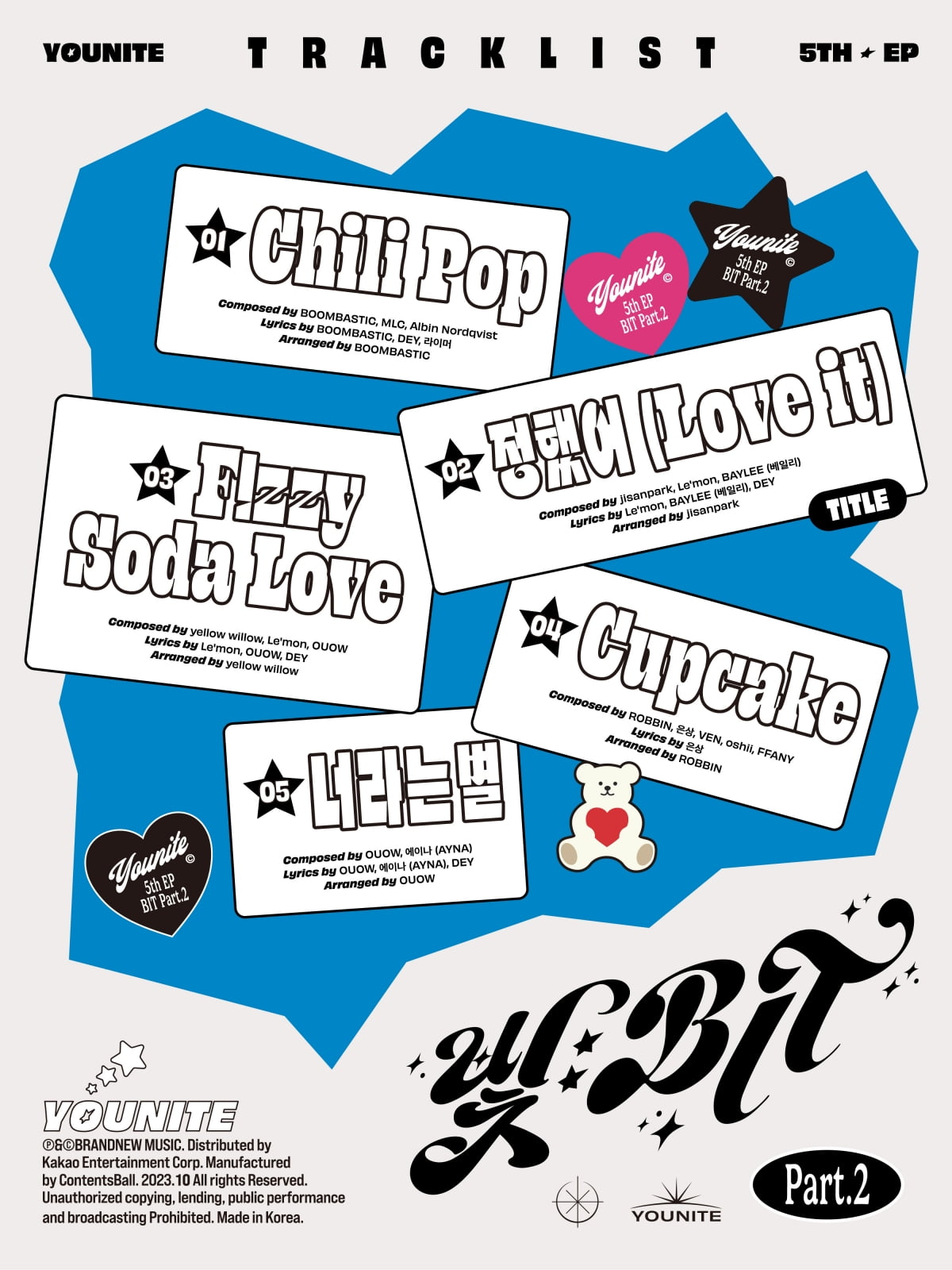 Brand New Music's representative refreshing idol YOUNITE has released a tracklist image for their new album 'Light: BIT Part 2', which will be released on the 17th.
At 00:00 today (5th), Unite attracted attention by releasing the track list of the new album 'Light: BIT Part 2', which stands out for its kitschy yet cute design, through official SNS channels. According to the released image, this album has the title A total of 5 songs are included, including 'Love It', 'Chili Pop', 'F!zzy Soda Love', 'Cupcake', and 'A Star Called You'.
The title song of this new album, 'Love It', is a refreshing and unique song that tells the story of nine boys who cutely begged people to choose them in Unite's debut title song '1 of 9', but now grow up and boldly shout out, 'I have decided'. It is a song with one sound, and Unite, which has established itself as K-pop's representative refreshing idol since its debut in April last year, plans to once again capture the hearts of global fans with a cute and refreshing concept.
In addition, among the five tracks filled with Unite's trustworthy and listenable music, in particular, the fourth track, 'Cupcake', is said to have been well-captured by Unite's sophisticated and energetic charm through leader Eunsang's direct participation in writing and composing the lyrics. .
Meanwhile, Unite's 5TH EP 'Light: BIT Part 2', which raised expectations for a comeback by releasing the track list, will be released at 6 PM on the 17th, and will be followed by busking in Seoul on the 9th and Busan on the 15th. Starting off, they plan to continue communicating with fans by holding various events before the album release, such as School Attack for middle and high school students who are tired of exams.
Reporter Junho Yoon, Ten Asia delo410@tenasia.co.kr