MUSIC
AB6IX captivated Thai fans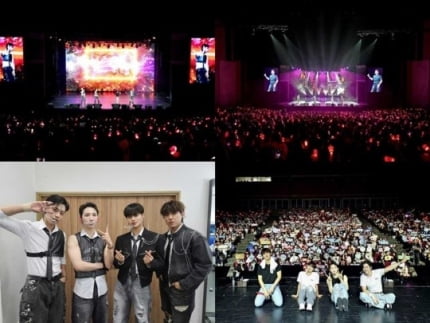 Group AB6IX held the world tour concert 'THE FUTURE' IN BANGKOK at 'SHOW DC ULTRA ARENA' located in Bangkok, Thailand on the 16th and had a happy time with local fans.
AB6IX, who appeared amid enthusiastic cheers from fans, opened the show with a spectacular performance with 'Resonance', 'SAVIOR', and 'ABSOLUTE (complete body)'.
AB6IX, who greeted fans in Thai after the opening stage, heated up the atmosphere with 'BLOOM' and 'CLOSE', and then presented a bright and exciting stage with 'EINSTEIN', making fans go crazy.
In addition, the title songs 'Sugarcoat', 'THE ANSWER', and 'LOSER', which were loved by fans, as well as the emotional 'A LONG WINTER' and 'The Reason We Broke Up Part.2' The performance was enriched with a variety of performances of the songs, including the captivating 'Crow' and 'Complicated'.
In particular, a surprise birthday party prepared by fans was held for member Kim Dong-hyun, whose birthday was one day away. The moment they were about to make a wish and express their gratitude to the cake that appeared along with a happy birthday song, fans added to the emotion by singing AB6IX's 'SHINING STARS'.
At the end of the concert, AB6IX presented powerful performances of 'RED UP' and 'BE THERE' as an encore stage, and said to the fans who gave enthusiastic cheers, "It's been a long time since I came to Thailand, and thank you for waiting for me and making unforgettable memories. I think we need to work harder to repay our gratitude. We will show you a lot of AB6IX's growth in the future, so please walk with us. "I love you," he said.
AB6IX then successfully concluded their meeting with fans by showing perfect stage manners by getting closer to fans and actively communicating with them through the performance of the ending song '1, 2, 3'.
Meanwhile, AB6IX plans to continue its world tour in the Americas starting in November, making more memories with global fans in Chicago on November 3rd, Jersey City on the 5th, Atlanta on the 7th, Dallas on the 9th, San Francisco on the 11th, and Los Angeles on the 12th. We plan to build up.
Ryu Yae-ji, Ten Asia Reporter ryuperstar@tenasia.co.kr