MUSIC
Yoon Tae-hwa, a singing ability that touched the heart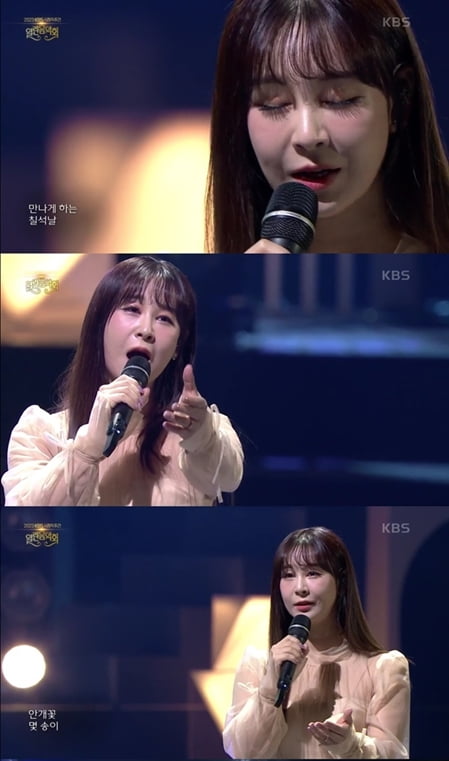 Singer Yoon Tae-hwa presented 'Open Concert' viewers with his impressive singing skills.
The 1445th episode of KBS1's 'Open Concert', which aired on the 3rd, was a 'Viewer's Weekly' episode featuring various singers including Hyung-ju Yoon, Se-hwan Kim, Tae-hwa Yoon, Seung-tae Shin, Yang Kim, Chae-hoon Yoo, Young-nam Jo, and New Wisdom Harmony. In particular, on this day's broadcast, Yoon Tae-hwa passionately sang 'Bury You Next to the Corn Field', drawing viewers' attention.
'Bury You Next to the Corn Field' is a trot song composed by Jeong Eui-song, a representative singer-songwriter in the trot world, based on poet Do Jong-hwan's poem of the same name. This song, sung by Yoon Tae-hwa at the TV Chosun 'Miss Trot 2' talk concert, brought great emotion to viewers at the time, bringing tears to their eyes.
Yoon Tae-hwa, who appeared with a calm yet feminine appearance in a dress in a soft beige tone, presented a touching singing performance with 'Bury You Next to the Corn Field', which combines lyrical melody and deep emotions with lyrics that tell the heartbreaking story of losing a loved one. did.
Yoon Tae-hwa's outstanding sensitivity and sorrowful vocals in the original song, which contains heartbreaking regret, touched the hearts of viewers, as was the nickname 'Emotional Trot Diva'. The video, which was uploaded immediately after the broadcast, also received favorable reviews, such as "It's really touching," and "I once again felt the same sincerity I felt when I first heard it."
Choi Ji-ye, Ten Asia Reporter wisdomart@tenasia.co.kr