MUSIC
Espa Giselle, a special meeting with Fan... "Succeed and see you again"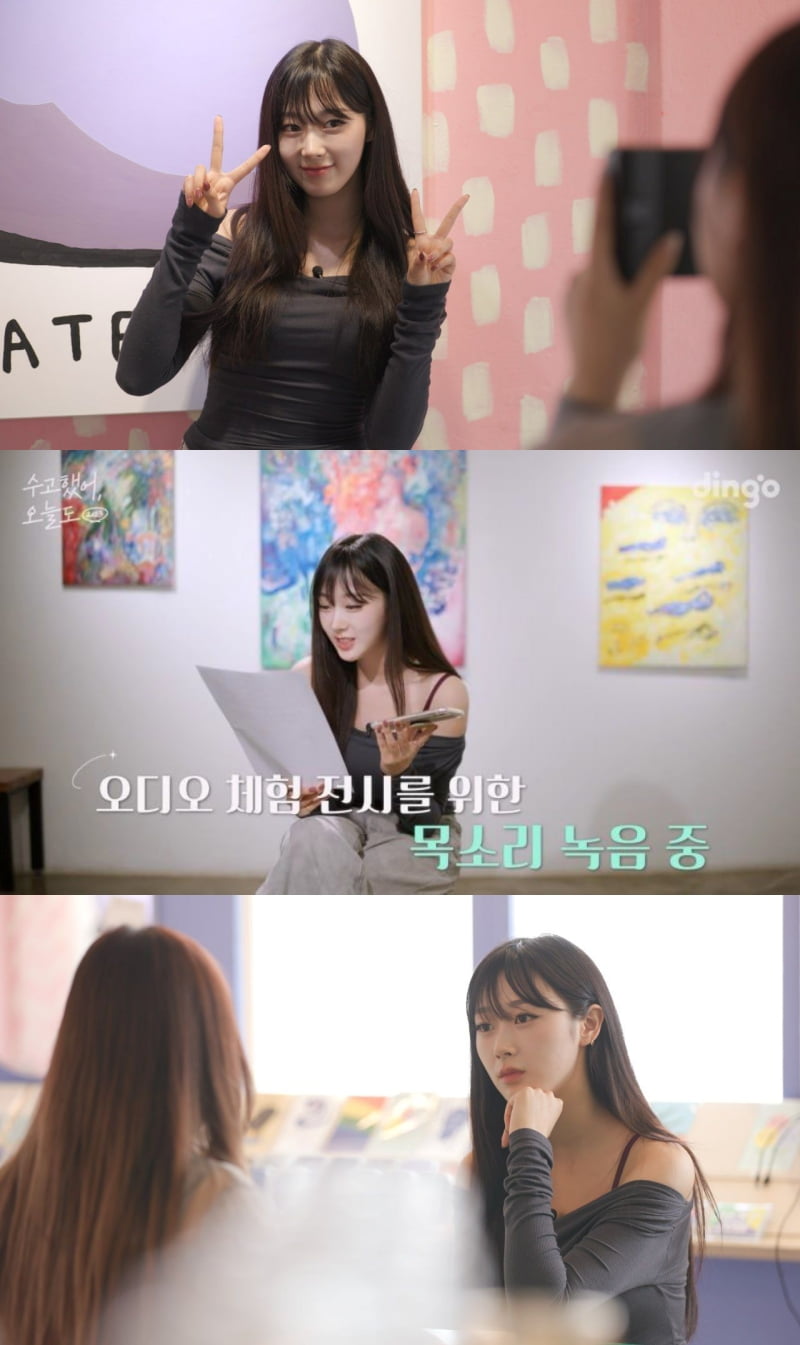 Group Aespa's Giselle had a special meeting with an avid fan.
Digital media channel Dingo released episode 19 of 'Good job today 2023' with Giselle on the official YouTube channel of Dingo Story at 6 pm on the 25th.
'Good job today' is Dingo's killer content that has been produced since 2016. It is a reality program in which a star who has achieved his dream visits the daily life of a fan who is running towards his dream and conveys support and hope.
In this video, Gisele met Eugene, a young Korean youth who is trying to find her dream by taking a leave of absence from university and working part-time. After recording an audio guide for an exhibition for Yujin, whose hobby is art viewing, Giselle made a surprise appearance and said, "I had a lot of trouble getting to Seoul."
Gisele visited a cafe with Yujin, who said she likes hip cafes, and sat across from him to share delicious desserts. Eugene said, "This time is so sweet that Cropple doesn't feel very sweet," showing off his fan spirit, while Gisele cheerfully responded, "Why are you such a cutie?" and "I keep feeling your charm." He praised his bright personality and continued a friendly atmosphere.
After hearing Eugene's dream that "the ultimate goal is to have a cosmetics brand that I created," Giselle praised, "Somehow, the makeup is so pretty." Eugene made Giselle laugh with a strong determination, saying, "I want to create a global brand that can also sponsor (to Gisele)."
Eugene confessed her worries, "I entered the French department with the goal of studying in France. It was not a department I liked, but a department I learned to do what I liked, so it was very difficult because it didn't fit." Giselle, who is fluent in four languages, including Korean, Japanese, English and French, said, "I learned French for the same reason. I thought, 'By speaking this language, information can be broadened.' I think it's good," and encouraged him by comparing it to his past experience.
Gisele made the audience more impressed by delivering an instant film camera, a surprise gift prepared for Eugene, who loves photography. Not only that, they took a commemorative photo together and decorated the photo, giving them special memories that they will never forget for the rest of their lives.
Lastly, towards Giselle, who presented a CD containing a long message of support and an autograph, Eugene expressed her emotion, saying, "It is a kindness that makes you fall in love without hesitation." They hugged him warmly together. The broadcast ended with the two people's touching promise, "Let's succeed and meet again," leaving a pleasant aftertaste.
'Good job today 2023', which has been upgraded and returned thanks to the enthusiastic response of viewers, goes beyond empathy and comfort for tired daily life, and gives a deep impression with a message of support for dreams and motivation for a new start.
Meanwhile, Espa is successfully continuing its first solo concert world tour 'aespa LIVE TOUR 2023 'SYNK: HYPER LINE', and on the 18th, the English single 'Better Things' )' and is getting a good response.
Reporter Yoon Jun-ho, Ten Asia delo410@tenasia.co.kr