MOVIE
'Level Moon: Part 1 Child of Fire' Bae Doo-na, "The simple and clear theme of fighting against oppression"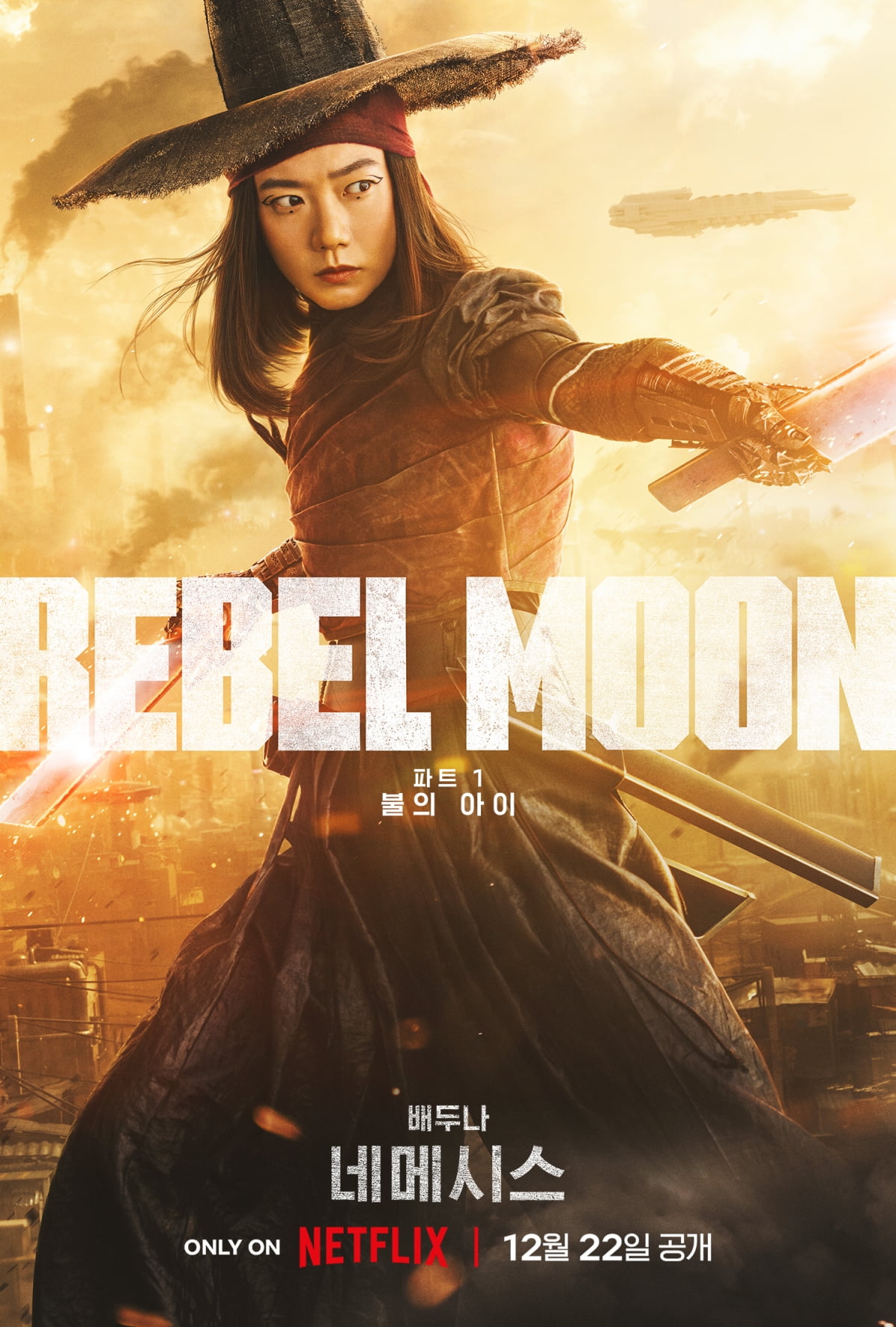 Netflix released character posters for director Zack Snyder's film 'Rebel Moon: Part 1: Child of Fire'.
'Level Moon: Part 1 Child of Fire' is a story about a peaceful border planet being threatened by a legion of ruling forces, and Korra, a stranger who lived quietly in the village hiding her identity, and outsider warriors from several planets gather to fight for the fate of the galaxy. A movie that tells a story.
The character poster shows 11 characters who will make a huge impact in the galaxy. Sofia Boutella, who plays Korra, who is looking for a warrior to stand up to the vicious Mother World, is from Algeria, moved to France to escape the civil war, and then moved to Los Angeles in the U.S. Based on her experience, she was able to empathize with Korra's fear and her feelings of wanting to protect her village. It was also revealed. 'Shazam!' Titus, played by Djimon Unsu of the series A Quiet Place 2, was once a legendary commander but now lives as a gladiator in the Colosseum, but heads to the battlefield for the innocent and oppressed.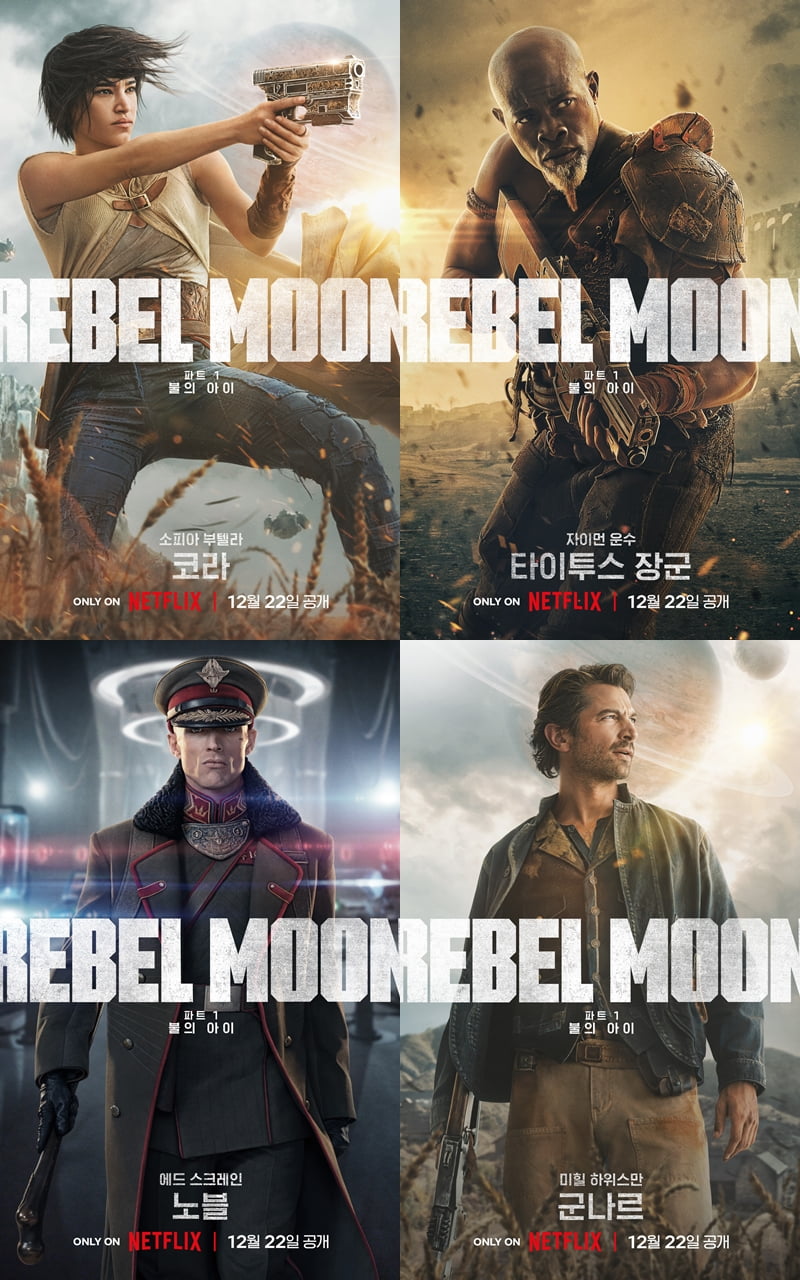 Ed Skrein of 'Deadpool' and 'Game of Thrones 3' plays Mother World's cruel general Noble. Noble, who is tracking down the traitor group Bloodaxe, is the one who comes to Korra's planet with an army and threatens everyone. Michiel Huisman of the 'Game of Thrones' series and 'World War Z' plays Gunnar, a farmer who naively believed that a deal with Mother World would be possible, but was betrayed and joins Korra's journey to protect her village.
Bae Doo-na from the 'Next Sohee' and 'Kingdom' series plays the swordsman Nemesis. Bae Doo-na commented, "It has a simple and clear theme of fighting against oppression. Although it is set in space, it is a story of what we have experienced as humans." Ray Fisher of the 'Justice League' series played the role of Darian. A person who leads the rebel Blood Axe together with Debra and believes that revolution is something that people should see and feel.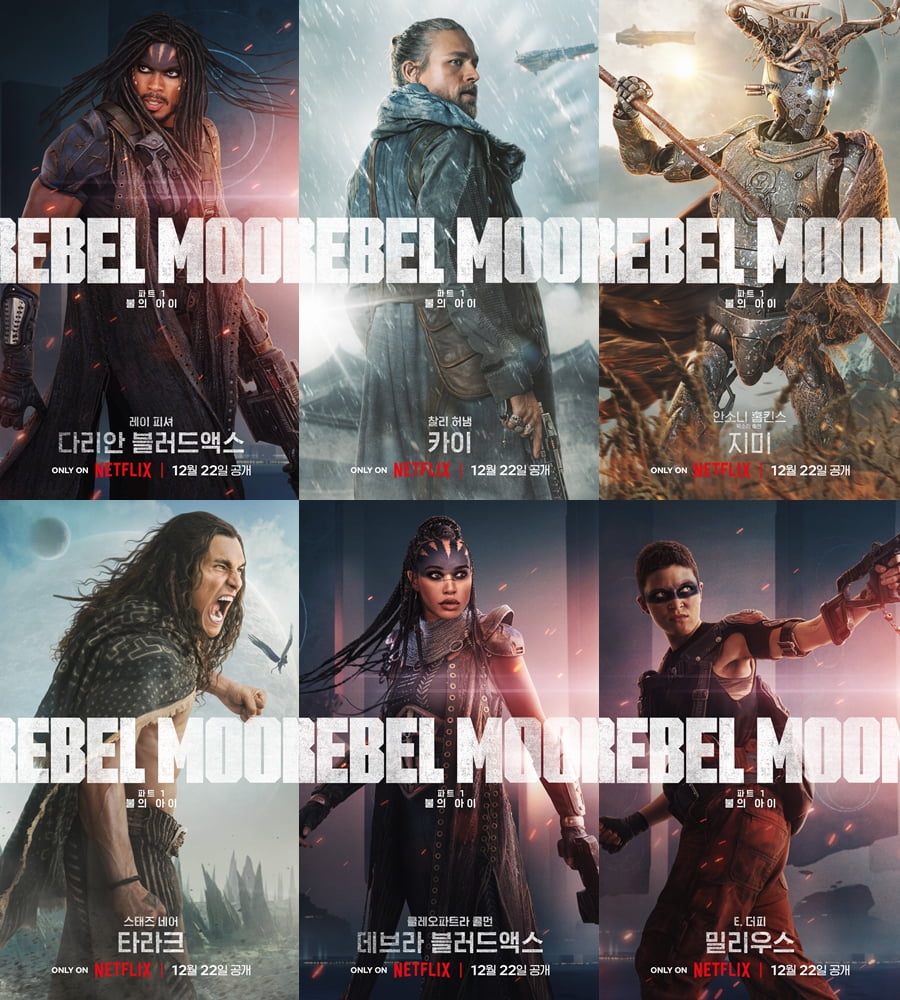 Kai, played by Charlie Hunnam of 'Papillon' and 'King Arthur: The Sword of the King', is a pilot who provides a spaceship to Cora and Gunnar, who were fascinated from their first meeting. Anthony Hopkins of 'The Two Popes' and 'The Father' played the voice of Jimmy. Jimmy is an ancient mechanical soldier programmed to protect the royal family and lands on Korra's planet with Noble. 'Supergirl' star Staz Nair plays Tarak, a man who must obey a rancher to repay his debts but has a special ability to communicate with mythical creatures.
Debra, played by Cleopatra Coleman in 'Moon Shadow', shows leadership as the leader of the rebel group Bloodaxe, who is being hunted by Mother World on charges of treason and rebellion. E. Duffy played the role of Milius, a Blood Ax soldier.
The movie 'Level Moon: Part 1: Child of Fire' will be released exclusively on Netflix on December 22nd.
Reporter Ha-neul Lee, Ten Asia greenworld@tenasia.co.kr