MOVIE
'12.12: THE DAY' director Kim Seong-su reveals why Hwang Jung-min and Jung Woo-sung?
Interview with director Kim Seong-su of '12.12: THE DAY'
Released on November 22nd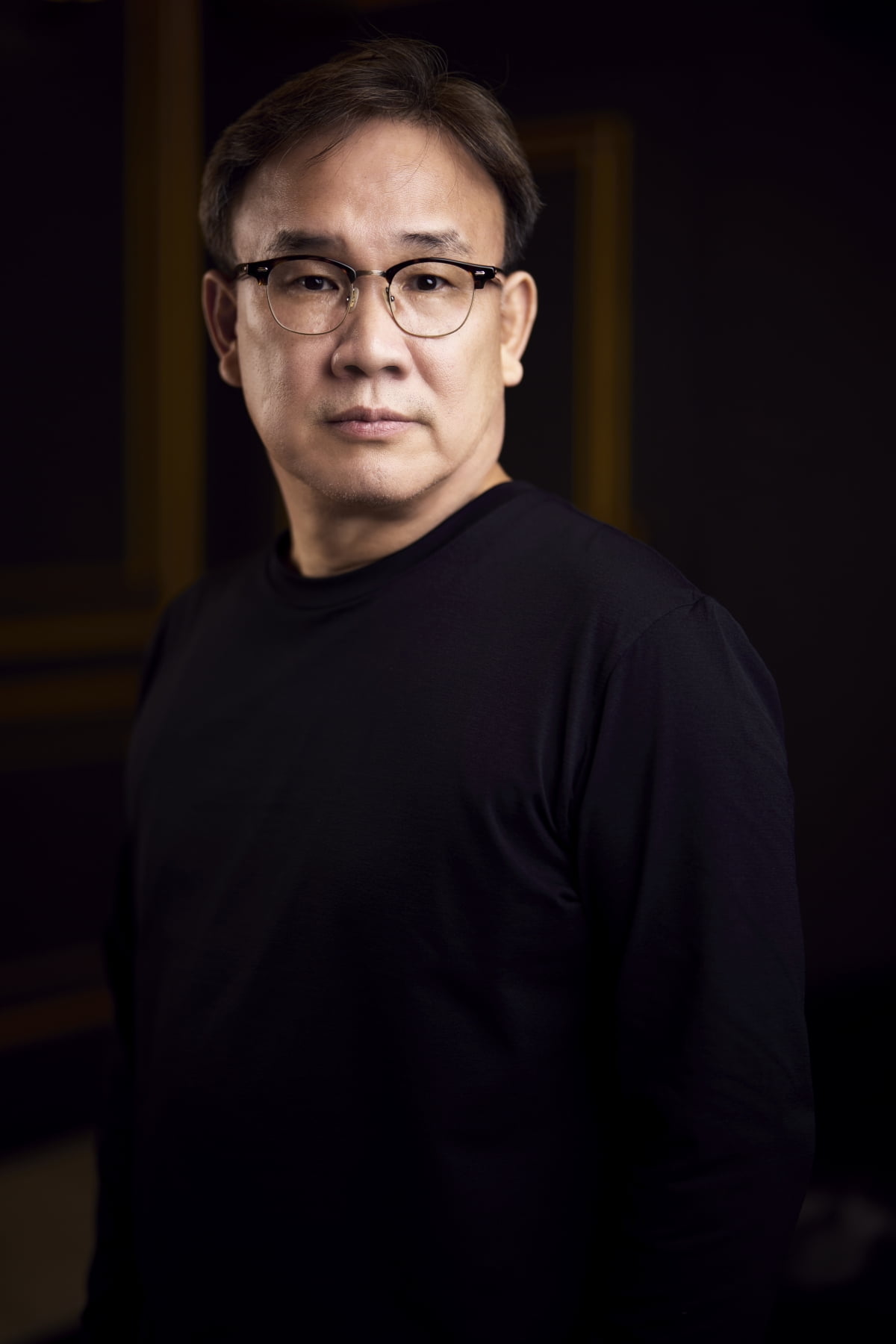 Director Kim Seong-soo (62) revealed his special sincerity toward actors Hwang Jung-min (53) and Jung Woo-sung (50).
Director Kim Seong-su was interviewed by Ten Asia about the movie '12.12: THE DAY' (directed by Kim Seong-su) at a cafe in Samcheong-dong, Jongno-gu, Seoul at 11 am on the 13th.
On this day, Director Kim was told that '12.12: THE DAY' was receiving positive reviews, saying, "I don't think it's a work of that caliber." He added, "Isn't the movie about the rebels winning anyway? When dealing with villains in a movie, there's a point where it becomes attractive. "There was this moment of amplification, and I thought, 'Then something big will happen,'" he said.
"When this material came to me, I rejected it at first. The reason is because I really liked it. It was something I had really dreamed of. The original scenario was also good. It was what I had been hoping for, so I was like, 'Wow, that's hot.' At first, I wasn't confident. "Yeah, but when I thought about it, I realized I shouldn't do this."
Since it was a project I wanted, I started it with people I had worked with for a long time, from the main staff to supporting actors. He laughed, saying, "We have the strongest team that I really trust, starting with the staff, including editing, sound, and music, and the actors also work really well together."
"All of the Seoul sets were taken over by OTT, so we had no choice but to film in the countryside. As you can see, the people who appeared in our supporting roles are also famous. However, those people appear as soldiers and just in a confused role, and they came all the way from Seoul. "He took pictures while he was there. I was really sorry and thankful."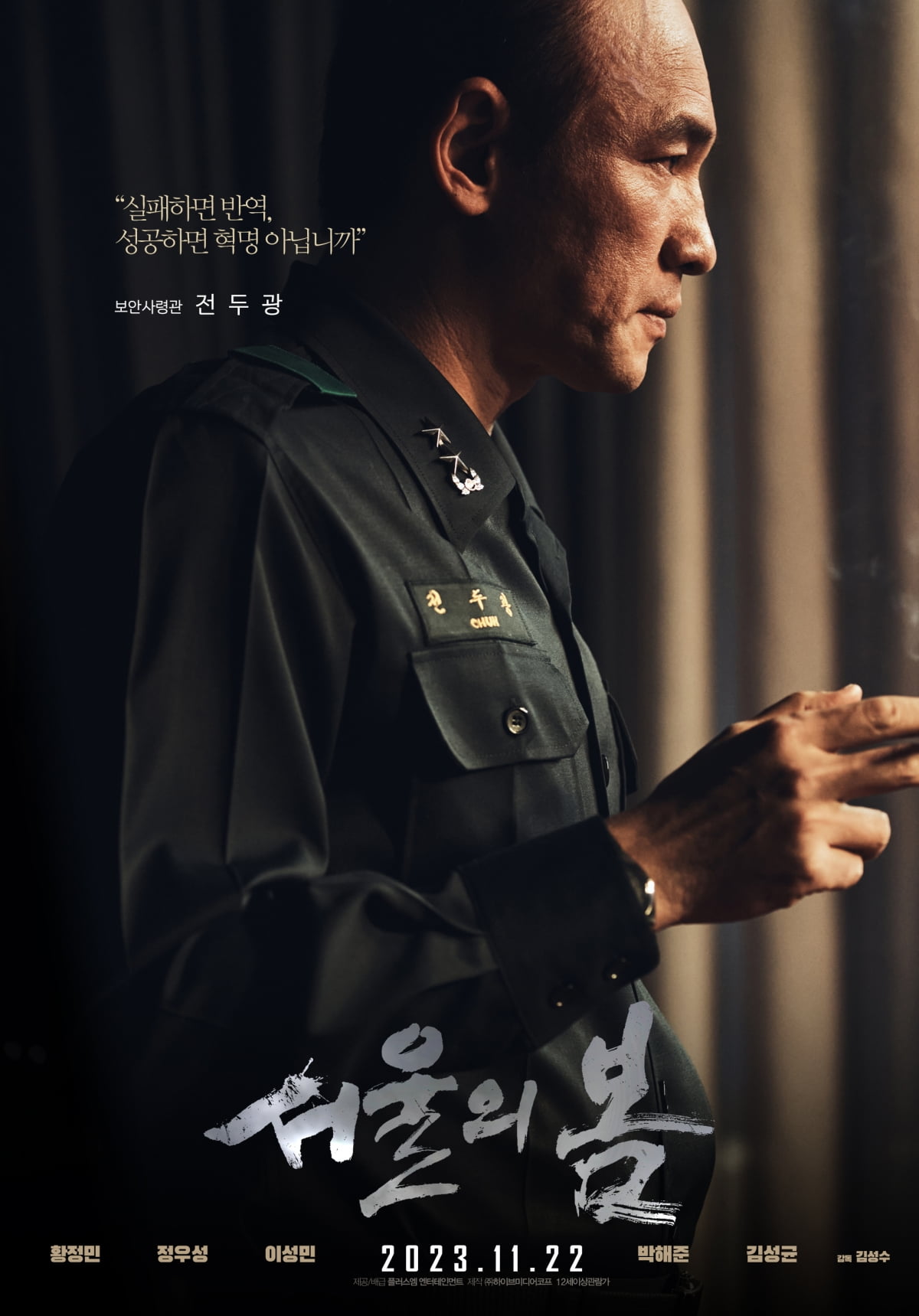 Director Kim praised Hwang Jung-min so much that his mouth watered. Director Kim, who looked back at the time when casting Hwang Jung-min, said, "I didn't necessarily have to imitate everything about a real person just because I was drawing it, but I said that symbolism was necessary because it had symbolism." "He said, 'I want to erase everything and try acting,'" he said.
In a situation where the bald head makeup alone took 4 hours, Hwang Jung-min had no choice but to have a call time 3 to 4 hours faster than other actors. Director Kim said he felt sorry. "When I entered the dressing room, Hwang Jung-min couldn't move and had to sit for four hours. So I told the staff, 'Do this quickly,' but a voice in the back of my head said, 'You guys, just try to do it quickly. Don't do it quickly, do it perfectly.' "I heard a sound. I thought it was Hwang Jung-min."
Next, Hwang Jung-min, who filmed a scene wearing a helmet, went out of his way to put on a bald head make-up even though his head was not visible due to the helmet. Director Kim said, "In the Sejongro scene, you can't see it because you're wearing a helmet. So at first, I just did it, but Hwang Jung-min said, 'It's uncomfortable because I feel embarrassed as if I'm naked in front of everyone.' So I went back and did it again. That person." "I heard it would be difficult to act without this," he said, drawing attention.
"As you all know, isn't Hwang Jung-min a genius when it comes to acting? He has so much energy, strength, and immersion that I thought he was someone who could jump into his role in less than a second. When I saw that, I thought of this person. "I realized once again that there is a reason why he has been a top actor for this long."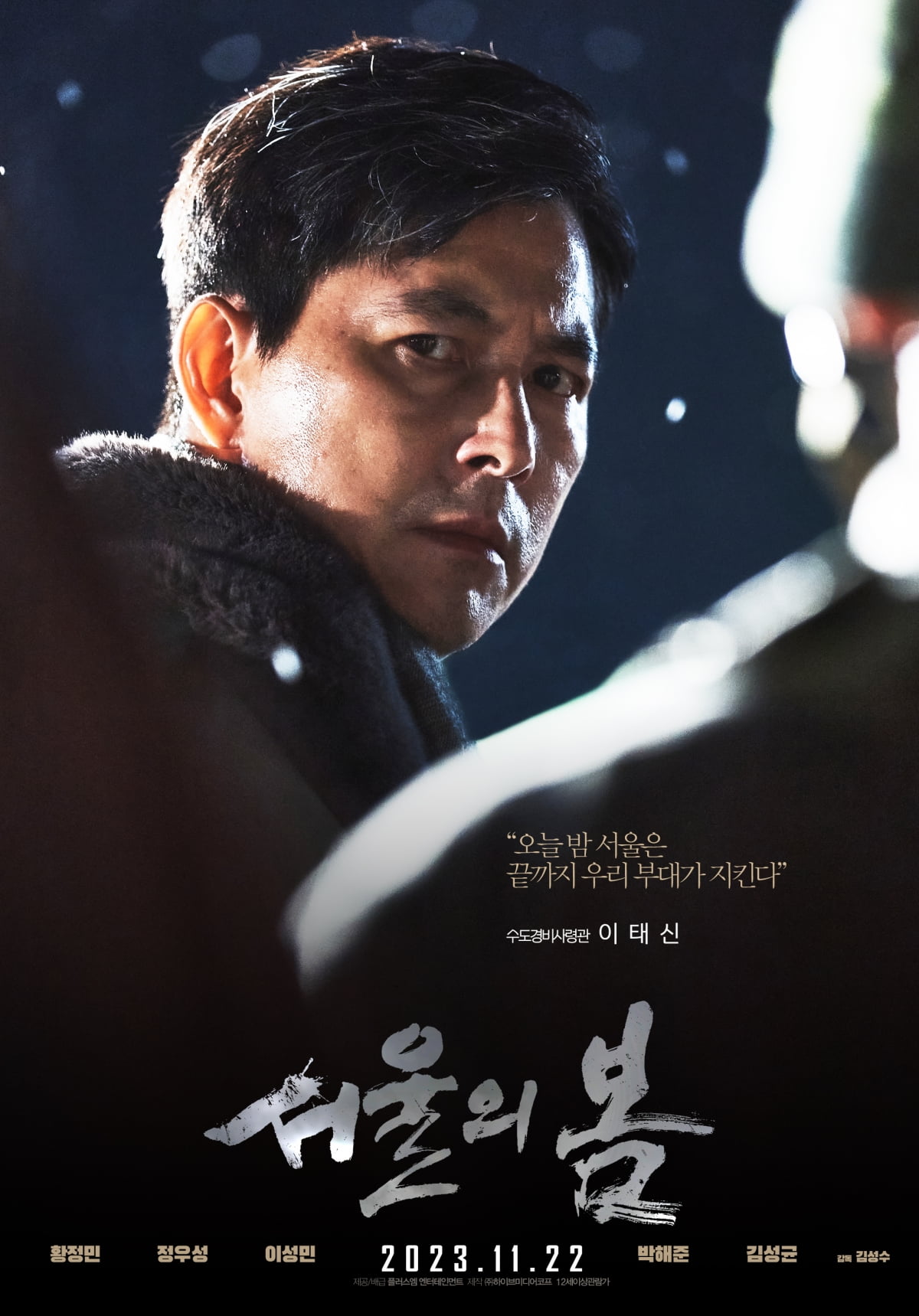 Director Kim Seong-soo, who cast Jung Woo-sung in the role of Lee Tae-shin, said, "Originally, the motif of Lee Tae-shin was a more fiery and tiger-like person than Chun Doo-hwan. However, while writing the story, I thought about who the leader we want in this era is. "For this macho and loud person, I hoped this side would be like a deep lake or an ocean," he said. "I wanted the appearance of a scholar with integrity, and Jung Woo-sung actually has that appearance."
"Jung Woo-sung has the real image of Lee Tae-shin's character, who doesn't leave his position and has faith. No matter what anyone says, it's okay if he thinks he's right. I thought it would be good to put the side that Woo-sung actually has into the movie."
Director Kim Seong-soo, who worked with Jung Woo-sung in five movies, laughed and said, "Jung Woo-sung is definitely not my persona." "(Jeong) Woo-sung, I have worked with and grown up with him since he was young, and he is a friendly person in private. When I see him all the time, I never notice his aging face. He has a beautiful appearance that does not fade over time. That is why some people If you break something, you try to do something else, but if you break it again, you'll think, 'Why did I do that?' They say they want to. Haha."
The scene that impressed me the most with Jung Woo-sung while working on 'Spring in Seoul' was the final sequence where he crosses the barricades tangled with chains into the rebel camp. Director Kim said, "The scene where Jung Woo-sung just crosses the barricade took several takes because I wanted to show both bravery and laziness at the same time."
"Woo-sung has long legs, but the barricade was taller than expected and there were chains, so that scene was very difficult. Although it was short in the movie, we shot that scene quite a few times. It shows the bravery of Lee Tae-shin's character and at the same time shows his shabby and shabby appearance. I thought so. The actor had a hard time, but it came out really well."
Director Kim expressed a lot of affection for Jung Woo-sung, saying, "It's not a persona." He said, "That scene was very memorable to me. I thought this person had aged in a really cool way," and looked back, "Regardless of the movie, I saw Jung Woo-sung's new face that day."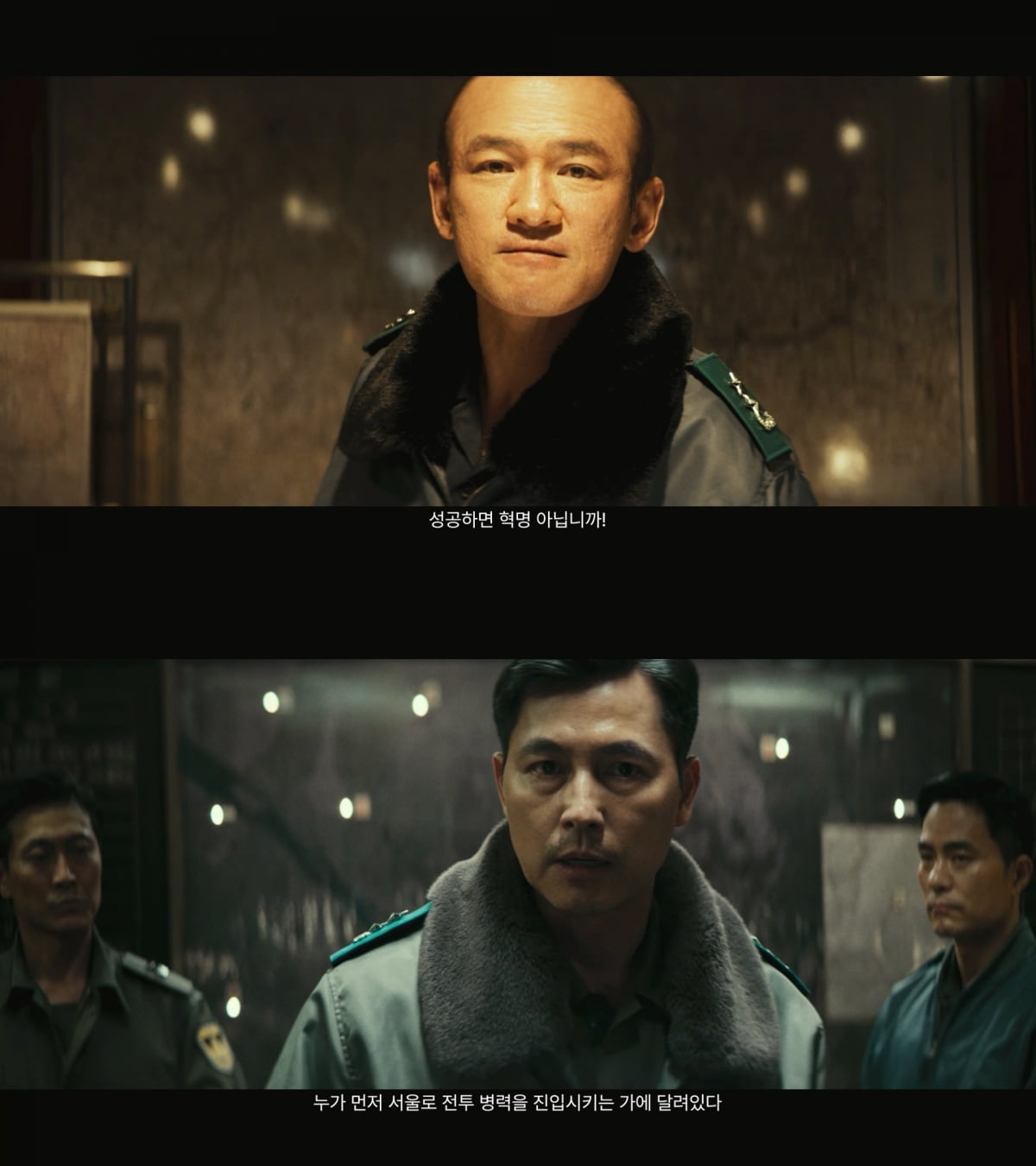 'Spring in Seoul' depicts the Seoul military revolt on December 12, 1979, which changed the fate of the Republic of Korea. It depicts the 9 hours of intense conflict between Chun Doo-gwang's (Hwang Jung-min) rebel army and Lee Tae-shin's (Jung Woo-sung) suppression army.
It opens on the 22nd.
Choi Ji-ye, Ten Asia Reporter wisdomart@tenasia.co.kr