MOVIE
Director Hirokazu Koreeda of the movie 'Monster', "A story about the disconnection of hearts between humans"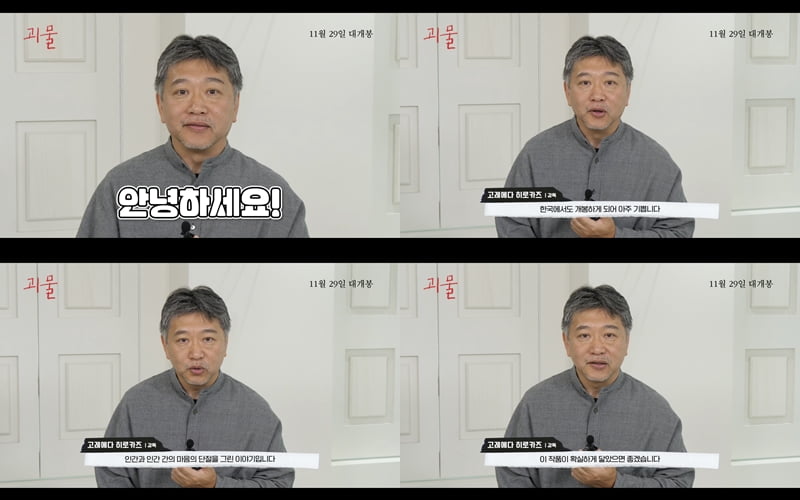 A congratulatory message from director Hirokazu Kore-eda, who directed the movie 'The Host', for its release in Korea has been released.
'Monster' is a story about a mother who notices something strange in her son's behavior that has changed beyond recognition and goes to the school to find everyone around him involved in a mysterious incident going through a whirlwind of emotions. It also won the Best Screenplay Award at the 76th Cannes Film Festival.
The teaser poster features Soya Kurokawa as Minato and Hinata Hiiragi as Yori. The sight of him looking at his face with mud on his face seems to be asking the viewer the question, 'Who is the monster?' The addition of the phrase, 'Is there such a thing as a human heart?' stimulates curiosity as to what the events surrounding them are.
Director Hirokazu Koreeda, who directed the film, said he was very happy that 'The Host' was being released in Korea. It is a story about two boys created in collaboration with respected screenwriter Yuji Sakamoto and the late musician Ryuichi Sakamoto. He said, "It's a story about the disconnection of hearts between humans. I hope this work will definitely reach Korean movie fans."
Director Hirokazu Koreeda is a sensitive director who focuses on the emotions and relationships hidden within humans in films such as 'Nobody Knows', 'That's How You Become a Father', and 'A Certain Family'. Yuji Sakamoto participated in the script, and the late Ryuichi Sakamoto participated in the music. Actors Soya Kurokawa, Hinata Hiiragi, Sakura Ando, Eita Nagayama, etc. give passionate performances.
The movie 'The Monster' will be released in Korea on November 29th.
Reporter Ha-neul Lee, Ten Asia greenworld@tenasia.co.kr