MOVIE
Movie 'Open the Door', synergy between director Jang Hang-jun and producer Song Eun-i
Press conference for the movie 'Open the Door'
Released on October 25th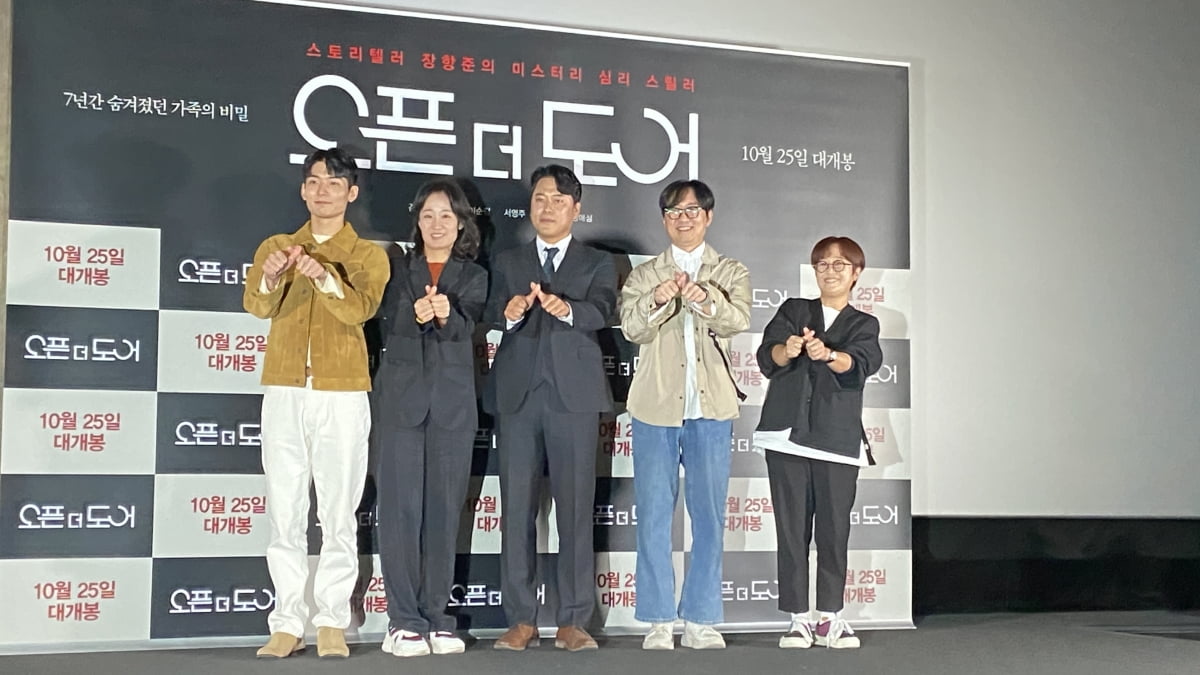 Director Jang Hang-jun, who is familiar to the public with the nicknames 'Maltese without tear marks' and 'Kim Eun-hee's man', returned with the movie 'Open the Door'. 'Open the Door' was produced by Song Eun-i, the CEO and close friend of content lab Vivo, and also garnered attention. 'Open the Door', which breaks away from the existing commercial colors and focuses more on human essence and desires, is unfamiliar yet immersive. Will the new challenge of director Jang Hang-jun and producer Song Eun-i be chosen by the audience?
On the 17th, a press conference for the movie 'Open the Door' (director Jang Hang-jun) was held at CGV Yongsan I'Park Mall in Yongsan-gu, Seoul. Director Jang Hang-jun, CEO Song Eun-i, and actors Lee Soon-won, Seo Young-ju, and Kim Su-jin attended the event.
'Open the Door' is a mystery psychological thriller depicting the hidden truth of a family who opened a secret door seven years after the murder at a Korean laundromat in New Jersey, USA. Director Jang Hang-jun, who produced the movies 'A Night to Remember' and 'Rebound', was in charge of directing.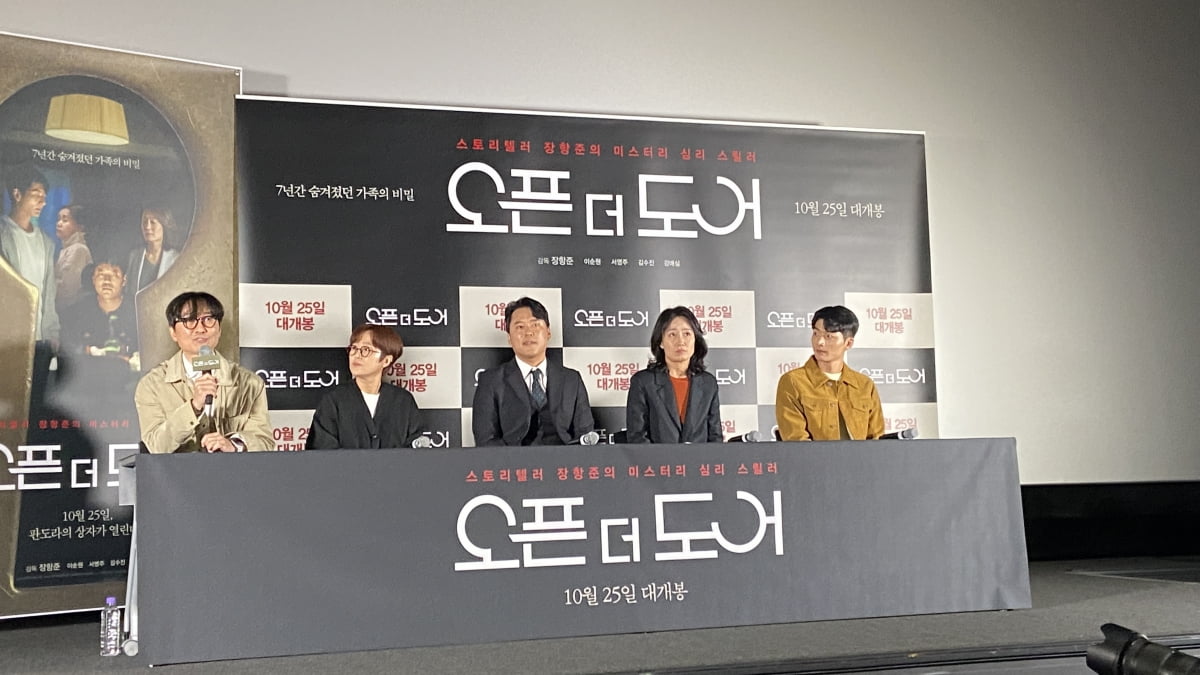 Regarding the planning process of 'Open the Door', which was based on a real incident, director Jang Hang-jun said, "I first learned about the incident 5-6 years ago while having drinks with a junior director. The incident made me think about many things. 'This is a movie.' I said, 'Make it ', but he said it wasn't his style. I had this story in mind from then on, and I decided to make it because I had time before filming 'Rebound'. I wrote a short story for the first chapter, and CEO Song Eun-i produced it herself. "I wanted to do it. I thought, 'What kind of crap is this?' As I was writing it, I started thinking about the backstory and their relationship before filming the movie," he said about the behind-the-scenes story.
Director Jang Hang-jun, who started out with a short film, explained how he struck a balance in the process of expanding into a feature-length film. Director Jang Hang-jun said, "Actually, it is not a full-fledged commercial film. You may not believe it, but I have received quite a lot of work (laughter). As a creator, I am someone who doesn't want to do it unless I am attracted to it. After a long time, I let go of the burden of entering the fierce sea of commercial film and gave it my all. "I wanted to talk about the nature of human desires," he said.
When asked what kind of person Song Eun-i met as a producer, she said, "Out of all the producers I've worked with so far, she was the shortest. I met CEO Eun-i Song in college, and 32 years have passed. I didn't know if I would meet her as a good collaborator or colleague. I thought she would be taller. , It's a shame I didn't grow up (laughter). I think it's not easy for good colleagues from the past to share friendship," he said, expressing his gratitude.
Director Jang Hang-jun, who is interested in short and independent films rather than commercial films, also mentioned the current situation of Korean films, which are struggling. Director Jang Hang-jun said, "I am attracted to the pure spirit of challenge and faithfulness of independent films. I don't think Korean films have had this much trouble since the 1990s. In fact, isn't diversity more important in times like this? That's why we must remain steadfast until the end and tell diverse stories. "We have to embody the essence," he said.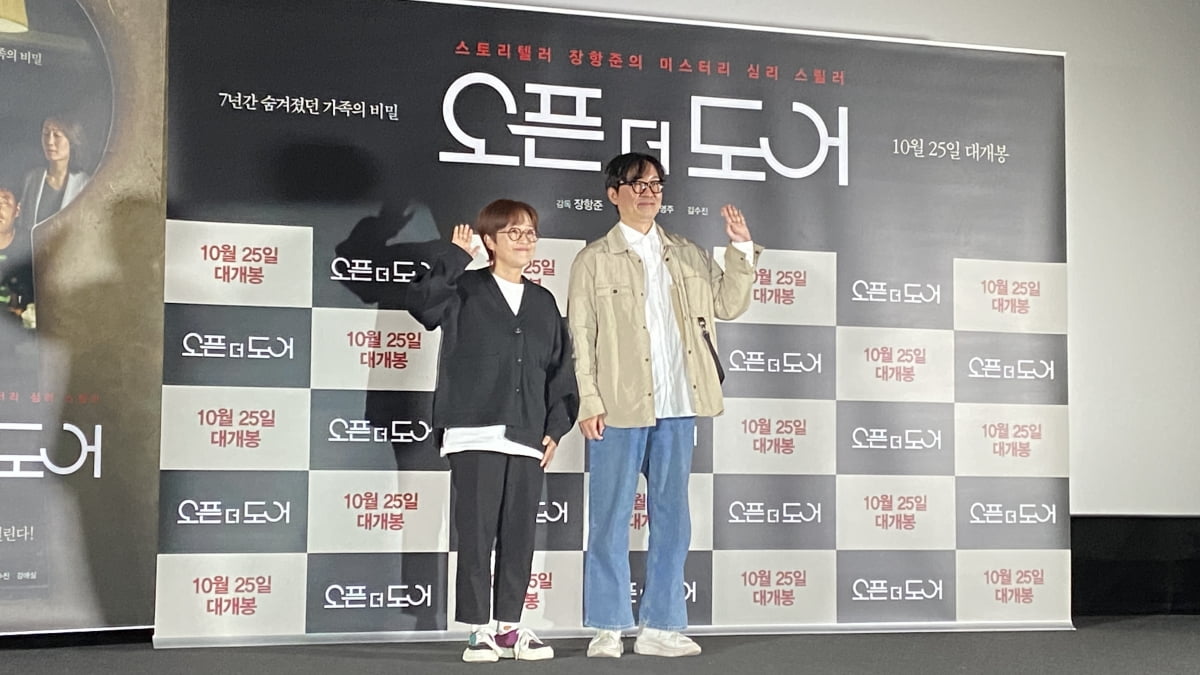 Song Eun-i, CEO of Content Lab Vivo and producer of the movie 'Open the Door', explained the appeal of the scenario. Song Eun-i said, "In the process of expanding Content Lab Bibo, I wanted to produce a story with a story. I wanted to try it if it was the work of director Jang Hang-jun, who I know is pleasant and good-natured. I don't tend to be greedy, but I was greedy. It started as a short story, so I was an inexperienced beginner. "I thought this was an area that a producer could do. I received a lot of help from those around me in the process of expanding into a feature-length film," he said.
Regarding her experience of making a movie for the first time, Song Eun-i said, "When I went to the director's site to cheer, there was a good atmosphere. Even though it was a situation where people would raise their voices and fight, I saw the process of loving them. Although there are times when I dislike director Jang Hang-jun's lightness, it warms my heart. He answered honestly, "I respect those parts as my younger brother. It was even better because the movie I was producing was 'Open the Door.'"
Broadcaster Song Eun-i is active in all-round entertainment, including podcasting, broadcasting, and YouTube content production. When asked if there was an area in which he would like to challenge himself further in the future, he said, "It may seem like a separate job, but I want to become a creator who makes fun things. I have seen a lot of movies since I was young, and I love them. So I also created a podcast called 'Cine Mountain.' "It was attractive to break this. If something attractive comes to me in the future, I will do it. I don't want to go to space. I want to live on Earth. If people come together and it becomes good content, I want to do it," he explained.
Regarding her feelings ahead of the release of the movie 'Open the Door', Song Eun-i said, "I hope people pay more attention to the movie itself than to me. Since I've been on the air longer than the actors here, I wanted to use my name to promote it. People come to the theater and watch the movie. "I like movies. You can choose the movie you like, but I think movies are something I buy a ticket to see," he said, adding, "I wish I could hear that Jang Hang-jun did Kim Eun-hee."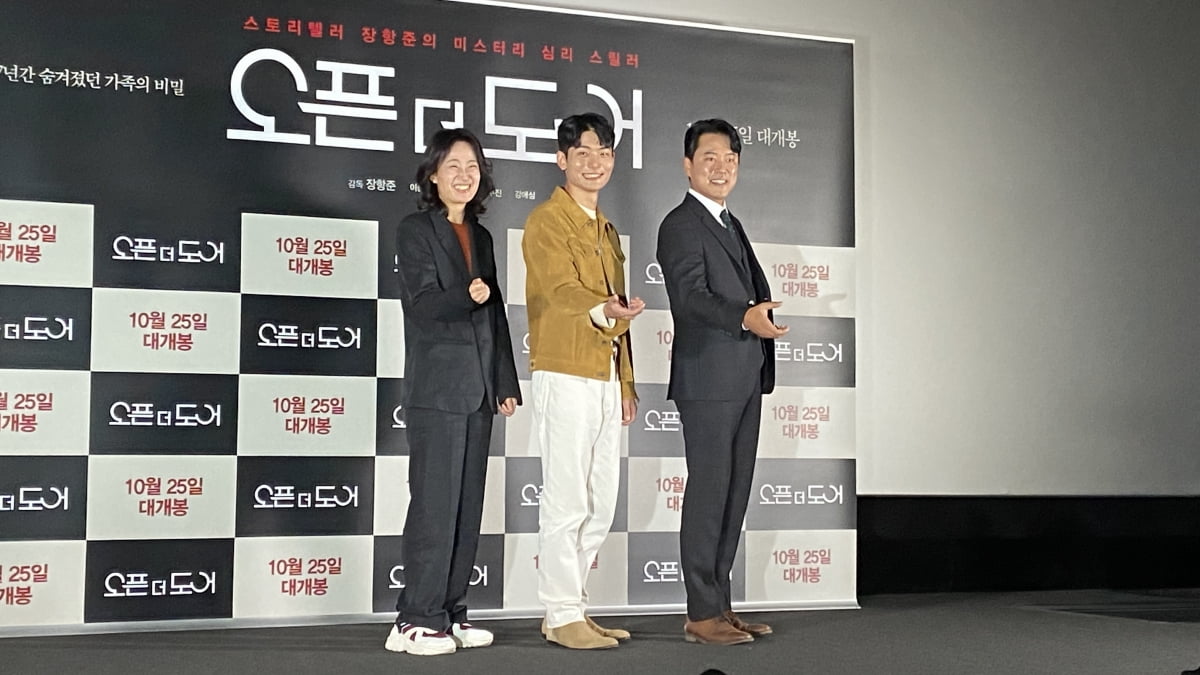 Actor Lee Soon-won plays the role of Moon-seok, who is troubled by difficult choices. Regarding her thoughts on filming 'Open the Door,' Lee Soon-won said, "There was no reason not to do it. Even the scenario was so fun. I received the script while filming another drama, and I wanted to keep reading it. I've done a lot of comedies so far, so I had a thirst for this genre. "It was a movie that allowed me to focus solely on filming and acting without feeling any pressure, regardless of commercial or non-commercial aspects. The production environment was so well-made that I only put a spoonful on a well-prepared table."
Actress Kim Soo-jin plays the role of Yoon-ju, who is nervous and considers even the worst choices when it comes to money. Regarding the reason for choosing 'Open the Door', Kim Soo-jin said, "Director Jang Hang-jun previously suggested a role in another movie, but it didn't work out. I thought he was saying this because he was sorry, but he said he would like us to work together even though the remaining chapters were not completed. In particular, the third chapter was written as if it had to be done in one take. When filming the work, I worked together with all the staff as if I were working on a play. It felt lively as if I was working on a play for the first time in a while."
Actor Seo Young-joo takes on the role of Chi-hoon, the younger brother who learns the truth about his sister and his wife, who are confused. Regarding the CEO of producer Song Eun-i, who I met for the first time through this movie, I answered clearly, saying, "He was a great CEO who bought me food a lot." Director Jang Hang-jun also mentioned about Seo Young-joo, "Actress Seo Young-joo is scheduled to enlist in the military on November 28th." Ahead of the release of 'Open the Door', Seo Young-joo said, "I hope you love 'Open the Door' a lot. I'm going to go to the military soon, but I hope you remember me too."
The movie 'Open the Door' will be released exclusively by CGV on October 25th.
Reporter Ha-neul Lee, Ten Asia greenworld@tenasia.co.kr