MOVIE
Leonardo DiCaprio and Robert De Niro's passionate performances in the movie 'Flower Killing Moon'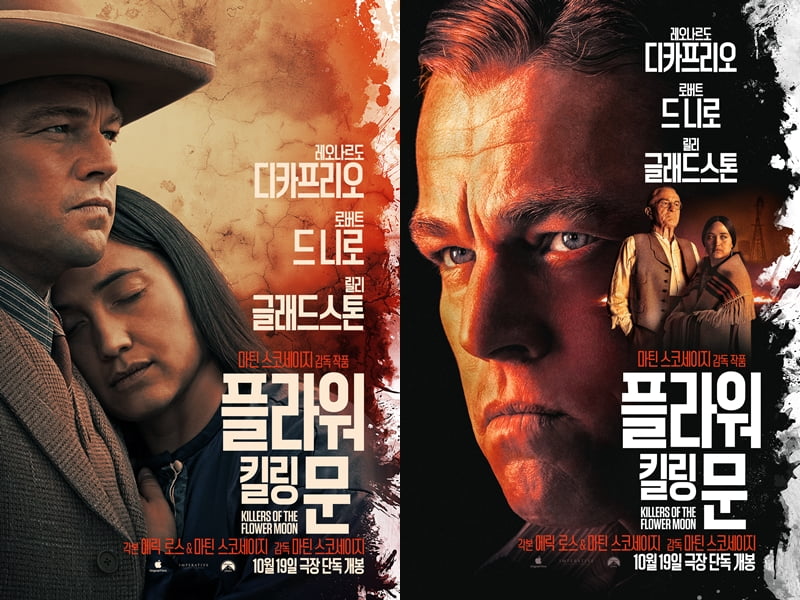 Director Martin Scorsese's new film 'Flower Killing Moon' confirmed its theatrical release on October 19th and released two official posters.
'Flower Killing Moon' is a film based on the true story of the Osage tribe, who suddenly gained enormous wealth through oil in the early 20th century. It depicts the story of Western countries' attention being focused on the Osage tribe's assets, and terrible crimes committed by those who approach the Osage tribe for money. It was also officially invited to the non-competitive section of the 76th Cannes International Film Festival.
The film is based on the best-selling novel by author David Gran, and director Martin Scorsese participated in directing and writing the screenplay. Eric Roth, who won the Academy Award for Best Original Screenplay for 'Forrest Gump,' was also named as the screenwriter for 'Flower Killing Moon,' completing a solid story.
Director Martin Scorsese and Leonardo DiCaprio, who worked together on a total of five films including 'Gangs of New York', 'The Aviator', 'The Departed', 'Shutter Island', and 'The Wolf of Wall Street', reunited for 'Flower Killing Moon'. Robert De Niro, Lily Gladstone, Jessie Plemons, Kara Jade Meyer, Janae Collins, Gillian Dion, and Tantu Cardinal are expected to join in for a passionate performance.
The movie 'Flower Killing Moon' will be released in Korea on October 19th.
Reporter Ha-neul Lee, Ten Asia greenworld@tenasia.co.kr