MOVIE
Kim Ji-hoon of the movie 'Ballerina', "I played an unusual villain"
Netflix movie 'Ballerina' production briefing session
Released on October 6th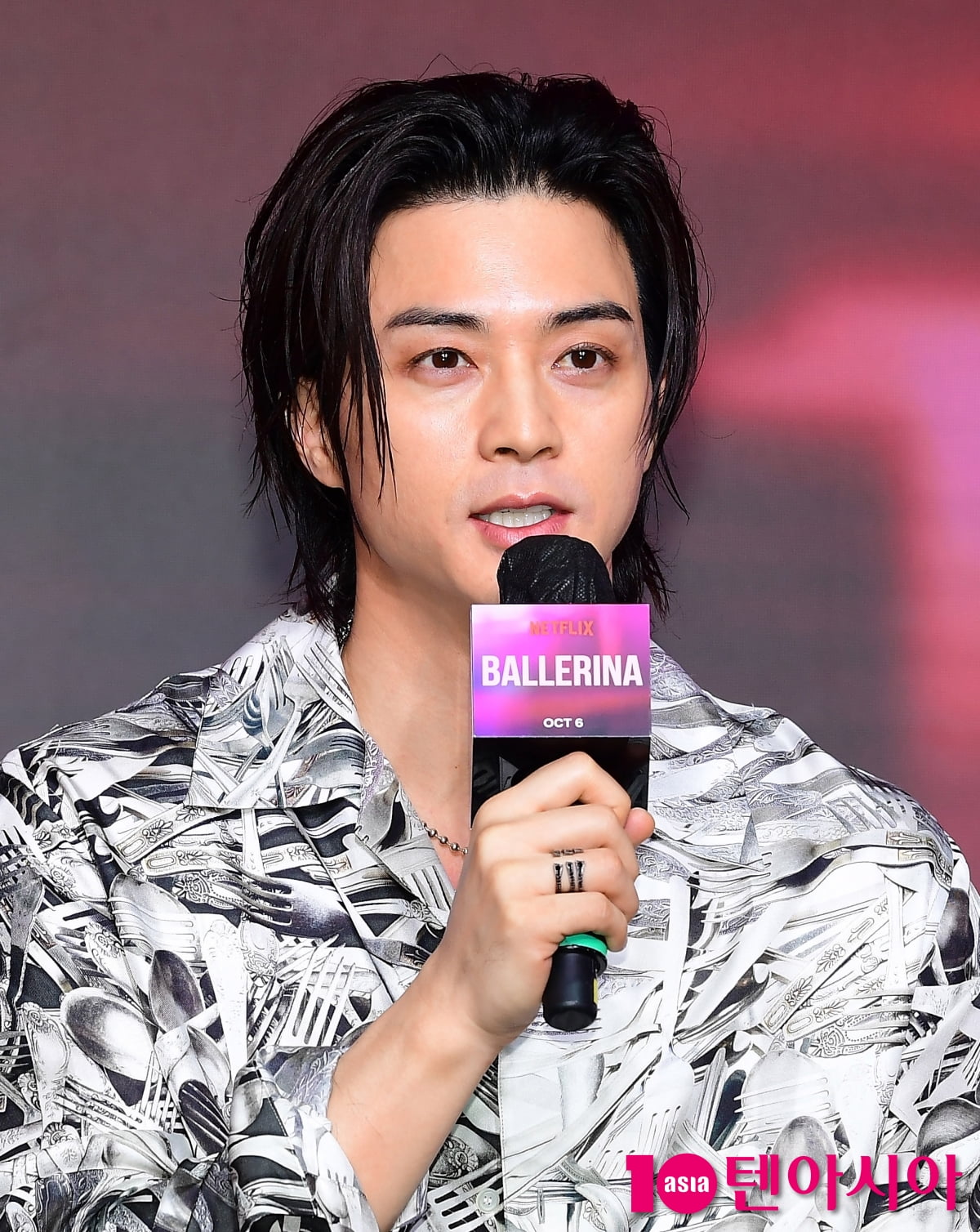 Actor Kim Ji-hoon of the Netflix movie 'Ballerina' revealed the charm of his villain 'Pro Choi'.
On the 25th, a production briefing session for the Netflix movie 'Ballerina' (director Lee Chung-hyeon) was held at Hotel Naru Seoul MG Gallery in Mapo-gu, Seoul. Director Lee Chung-hyun and actors Jeon Jong-seo, Kim Ji-hoon, and Park Yu-rim attended the event.
The movie 'Ballerina' is a beautiful and merciless emotional action revenge drama in which Ok-ju (Jeon Jong-seo), a former bodyguard, pursues 'Pro' Choi (Kim Ji-hoon), who caused the death of her precious friend 'Min-hee' (Park Yu-rim). Actor Kim Ji-hoon plays the role of Choi Pro, the target of revenge that Ok-ju pursues at the risk of her life.
Regarding his thoughts on being officially invited to the 'Korean Film Today - Special Premiere' section of the 28th Busan International Film Festival, he said, "I am so happy. This is my first time attending the Busan International Film Festival, and I feel proud to participate with 'Ballerina.'"
Regarding the reason for participating in the work after receiving the casting offer for 'Ballerina', Kim Ji-hoon said, "I was impressed with director Lee Chung-hyeon's 'Ransom' and 'Call'. The script was great, but the reason was the director and the opportunity to work with an unrivaled actor named Jeon Jong-seo. "There was no reason not to do it just by getting it right. I thought 'Pro Choi' could be an attractive character because he has something different from existing villains," he said.
Kim Ji-hoon, who played the ruthless villain 'Pro Choi' in the play, said, "Aren't ordinary villains sometimes capable of empathy or compassion? I thought, 'This person will be hard to forgive.' He made viewers scold 'Pro Choi'. "I wanted to create an ambivalent feeling of being sexy and cool while also wanting to give it to others. I tried to show aspects that are not human in general," he explained.
Kim Ji-hoon, who also played a creepy villain role in the drama 'Flower of Evil', mentioned the difference between 'Choi Pro' and 'Ballerina'. Kim Ji-hoon said, "At that time, he was a serial killer and a psychopath, so he was a different villain. Although he did a lot of bad things at the time, I think there was a part of him that could be pitied. 'Pro Choi' seems like an uncommon villain." When asked about what he focused on for acting, he added, "I worked hard to improve my appearance and physical strength. I also worked out harder."
Regarding his feelings about acting again with Jeon Jong-seo, who he worked with in Netflix's 'House of Paper: Joint Economic Zone', he said, "Back then we were colleagues, but now it's acting like I'm chasing you all the way to hell. Actor Jong-seo is an actor who inspires and moves me every time I see him." "I wondered if there would be an actor who could replace Jong-seo. I wasn't just flirting, I was acting every time we filmed together, but it felt like I was intuitive," he said.
The movie 'Ballerina' will be released on Netflix on October 6th.
Reporter Ha-neul Lee, Ten Asia greenworld@tenasia.co.kr