MOVIE
Movie 'Noryang: Deadly Sea' depicts Admiral Yi Sun-sin's final battle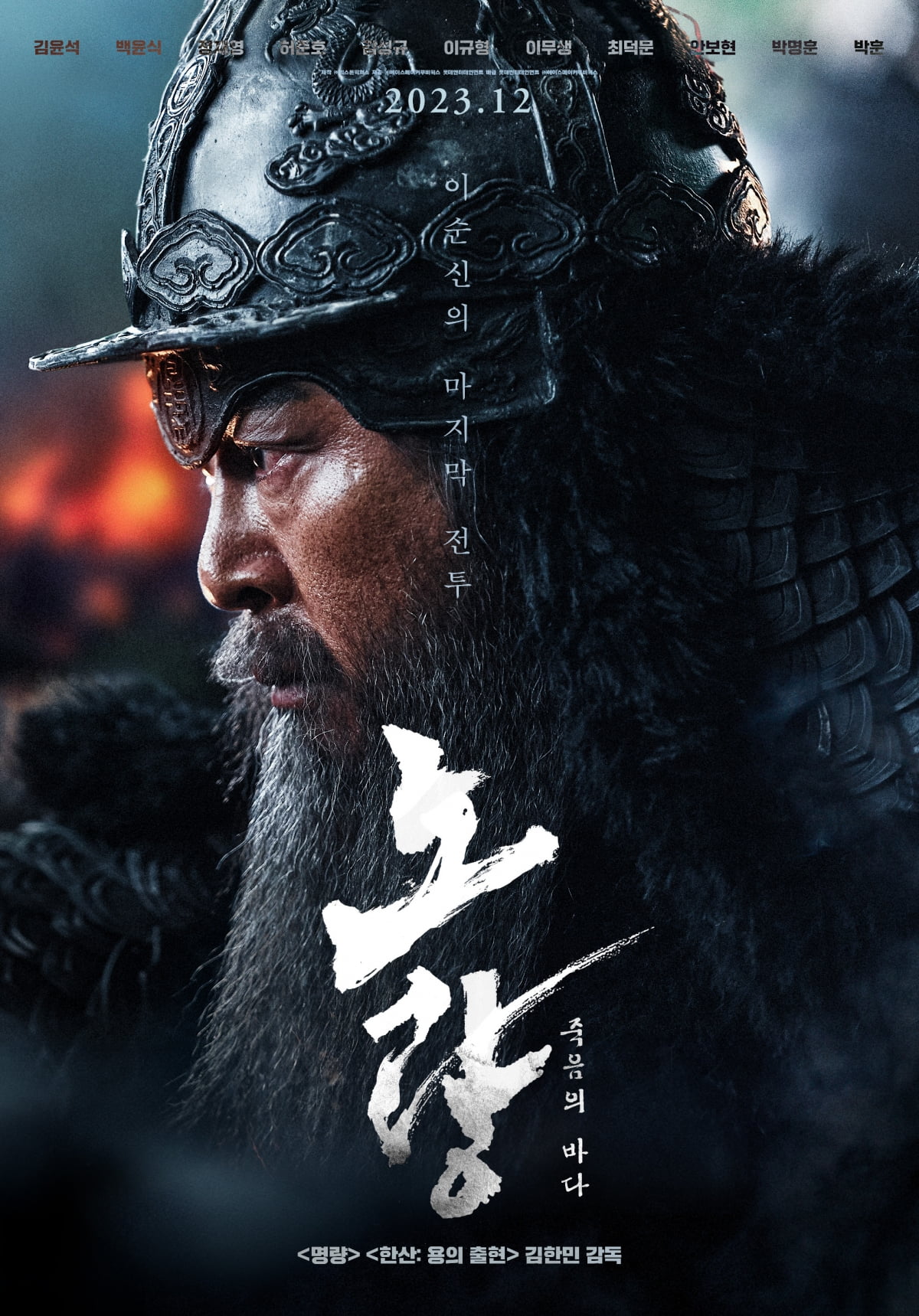 The movie 'Noryang: Deadly Sea' (director Kim Han-min) has confirmed its release in December.
'Noryang: Deadly Sea' is a war action movie depicting Admiral Yi Sun-sin's final battle to completely annihilate the Japanese army trying to retreat from Joseon, seven years after the outbreak of the Japanese invasion of Korea.
In the launching poster, the overwhelming charisma of actor Kim Yun-seok, who played Admiral Yi Sun-sin in 'Noryang: The Sea of Death' following Choi Min-sik in 'Roaring Currents' and Park Hae-il in 'Hansan: Rise of the Dragon', attracts attention. Kim Yun-seok portrays Admiral Yi Sun-sin preparing for the final battle in the narrow and deep Noryang Strait, and shows a new face that has never been seen before, along with an overwhelming sense of realism just by looking at him. The phrase "Yi Sun-sin's last battle" raises expectations for the final battle of Admiral Yi Sun-sin, which will be portrayed by director Kim Han-min, a famous battle film director.
The launch trailer begins with the image of Admiral Yi Sun-sin beating the drum with all his might, raising expectations and curiosity about the movie. You can meet Yi Sun-sin, who is different from the Yongjang of 'Roaring Currents' and the Jijang of 'Hansan: Appearance of the Dragon.' The drum sound that follows along with the line, "We all hope with one mind, so please help us defeat all our enemies. If I can avenge this enemy, even if I die," conveys a solemn energy beyond the screen, and this winter. It makes you feel the prelude to a magnificent and victorious battle that you will see on screen.
The 'Battle of Noryang' (November 19, 1598 in the lunar calendar), which is the background of the movie, was the most successful battle during the seven years of the Japanese invasions of Korea and the final battle that marked the end of the war. The veteran staff of Big Stone Pictures, who have produced well-made war films such as 'Roaring Currents', 'Hansan: Emergence of the Dragon', and 'Battle of Bongo-dong', and director Kim Han-min create spectacular fun and Admiral Yi Sun-sin's final battle on an overwhelming scale. It will be reproduced on the screen to provide deep emotion and resonance.
Baek Yun-sik, Jeong Jae-young, and Heo Jun-ho, as well as Ahn Bo-hyun, Kim Seong-gyu, Lee Kyu-hyung, Lee Moo-saeng, Choi Deok-moon, Park Myeong-hoon, Park Hoon, and Moon Jeong-hee, as well as leading Korean actors and young actors, complete a harmonious cast, completing the final battle of the Yi Sun-sin trilogy. It is expected that it will be filled with even more grandeur.
The movie 'Noryang: Deadly Sea' is scheduled to be released in December.
Reporter Ha-neul Lee, Ten Asia greenworld@tenasia.co.kr