MOVIE
Movie 'Because I Hate Korea', 28th BIFF opening film poster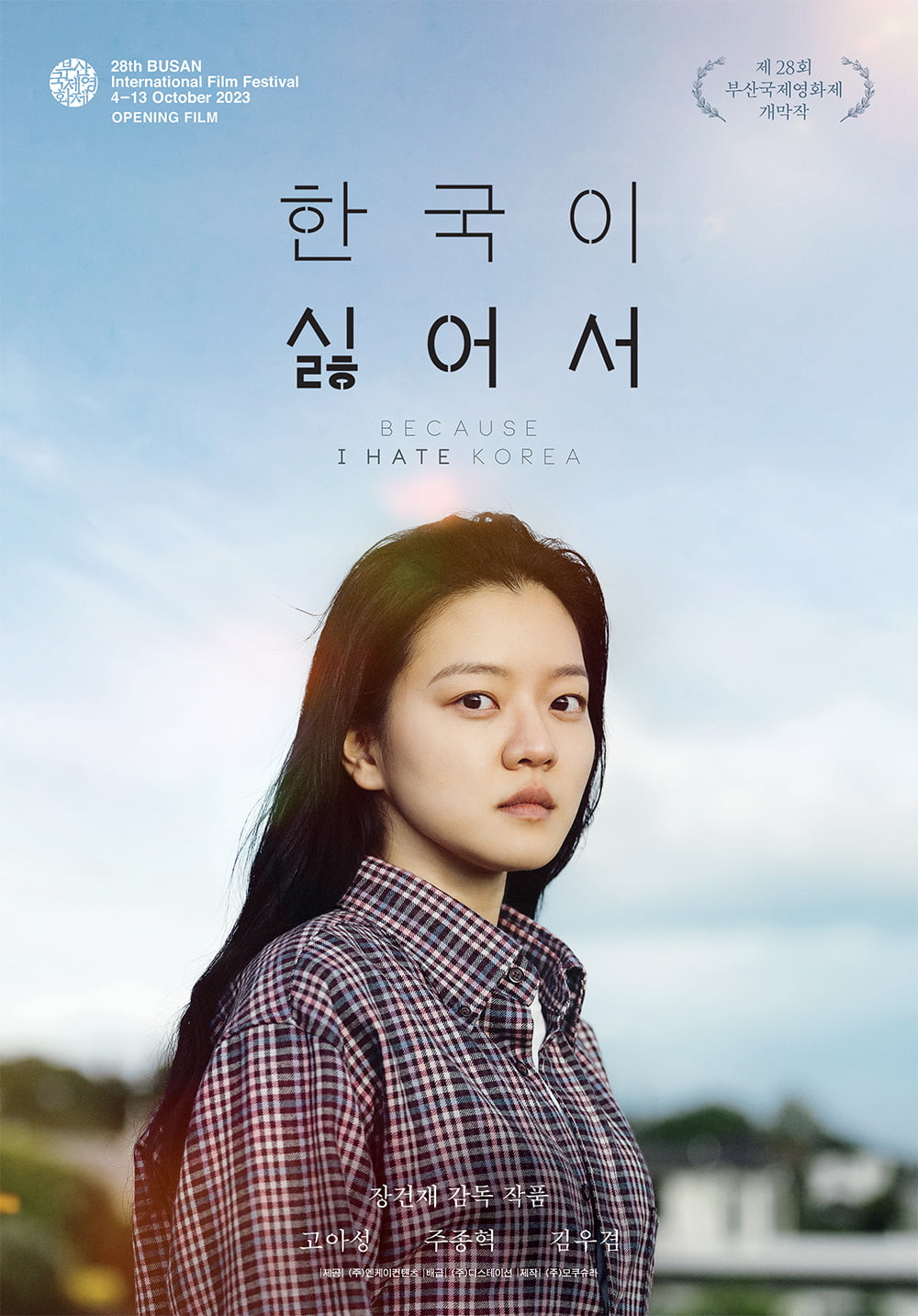 The movie 'Because I Hate Korea' (director/screenplay Jang Geon-jae) was selected as the opening film of the 28th Busan International Film Festival and its first poster was released.
'Because I Hate Korea' depicts the story of Gye-na (Go Ah-seong), a woman in her late 20s, who suddenly leaves her job, family, and boyfriend behind and leaves for New Zealand alone in search of her own happiness. This work is based on the best-selling novel of the same name by Jang Kang-myeong, a representative Korean writer.
At the time of publication, the novel 『Because I Hate Korea』 (novelist Jang Kang-myeong) struck at the core of our society with its problematic theory of happiness and a way to deal with despair for the global generation, but also received explosive support from young people by providing the comfort of empathy. Director Jang Geon-jae, who has been recognized for his unique sensibility and delicate sense through films such as 'Ghost' and 'A Midsummer's Fantasia', was in charge of writing and directing.
Actress Ko Ah-seong, who has been officially invited to the Cannes International Film Festival three times, including director Bong Joon-ho's 'The Host', 'The Traveler', and 'The Office', can be seen on the screen for the first time in three years since 'Samjin Group English TOEIC Class' in 2020.
Actor Joo Jong-hyuk, who gained explosive popularity as 'Conspirator Kwon Min-woo' through the drama 'Weird Lawyer Woo Young-woo', plans to captivate audiences with his unique charm on the big screen as well. In the play, Go Ah-seong plays a classmate and best friend from her study abroad program, and plays an important partner in her life.
At the opening ceremony of the 28th Busan International Film Festival, which will be held at the Busan Cinema Center in Haeundae-gu, Busan on October 4, director Jang Geon-jae and actors Ko Ah-seong, Joo Jong-hyuk and Kim Woo-gyeom are scheduled to attend and shine on the red carpet. The director and actors will attend the outdoor stage greetings and the opening ceremony press conference.
The poster commemorating the selection as the opening film of the Busan International Film Festival foreshadows a strong performance by Ko Ah-seong, who plays the character 'Gye-na' with a uniquely determined expression.
The movie 'Because I Hate Korea' is scheduled to be released in 2024.
Reporter Ha-neul Lee, Ten Asia greenworld@tenasia.co.kr