MOVIE
Warner Bros. 100th Anniversary, 'The Wizard of Oz', 'The Great Gatsby', and 'The Goonies' confirmed to be screened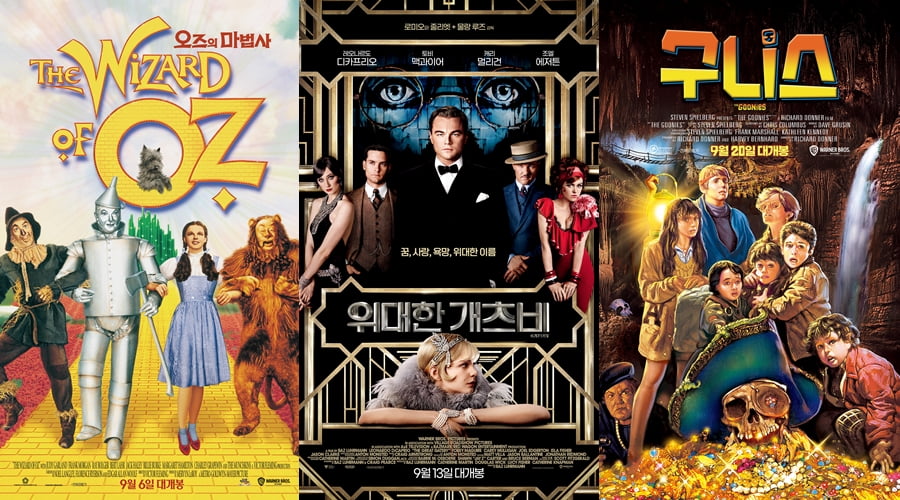 The second theme of 'Warner Film Society Season 2' commemorating the 100th anniversary of Warner Bros. begins. This summer, under the first theme 'Thriller & Crime theme', 'The Shining', 'The Departed', and 'Zodiac' were screened to captivate audiences, and will return again this fall. The second theme, 'Fantasy & Dream Theme', is scheduled to be screened starting with 'The Wizard of Oz' on September 6th, followed by 'The Great Gatsby' on September 13th and 'The Goonies' on September 20th.
'The Wizard of Oz', which will visit audiences on the 6th, is a musical film released in 1939 and is a classic fantasy masterpiece that has been loved by people all over the world for nearly 90 years. The film depicts the long journey of 'Dorothy', who fell into the Land of Oz after being swept away by a whirlwind, to return to her Kansas home. The outstanding music represented by 'Over the Rainbow' and the stylish mise-en-scène will leave a lasting impression over time. .
'The Great Gatsby', which will be released on the 13th, is a work in which 'Gatsby', who was living a wealthy but empty life, reunites with his former lover and reminisces about the feelings of love he had forgotten. Actor Leonardo DiCaprio delicately expresses the complex emotions of 'Gatsby'. It drew enthusiastic praise. The film's gorgeous visuals and sensuous music will captivate the eyes and ears and captivate audiences.
'The Goonies', which will be released on the 20th, is a film depicting the fantastic adventures of children who discover a pirate's treasure map. Hollywood master Steven Spielberg participated in the production, and director Richard Donner, who successfully directed the 1978 film 'Superman', directed the film. This work was directed by . 'The Goonies', known as the legend of adventure movies, will bring memories to the generation that grew up watching the movie and a gift that stimulates the infinite imagination of today's younger generation.
With the confirmation of the screening of 'Fantasy & Dream Theme', a variety of events to be held will also catch the attention of the audience. The 'Theme Master Challenge' is scheduled to run from September 6th to September 26th. This is an event where you will receive one 1+1 viewing coupon exclusive to the 'Fantasy & Dream theme' upon viewing one episode, and one additional 1+1 viewing coupon for viewing general screenings upon viewing all three episodes. Signature will be selected through a drawing. There is also a surprise benefit of giving away three types of acrylic magnets.
When viewing each movie, if you verify your ticket on the day of viewing, an 'on-site giveaway event' will be held where special postcards for each movie will be provided on a first-come, first-served basis. You can participate through Megabox's official website and app.
Reporter Ha-neul Lee, Ten Asia greenworld@tenasia.co.kr