MOVIE
'Family Glory Returns', is it the series reputation?
Confirmed release in September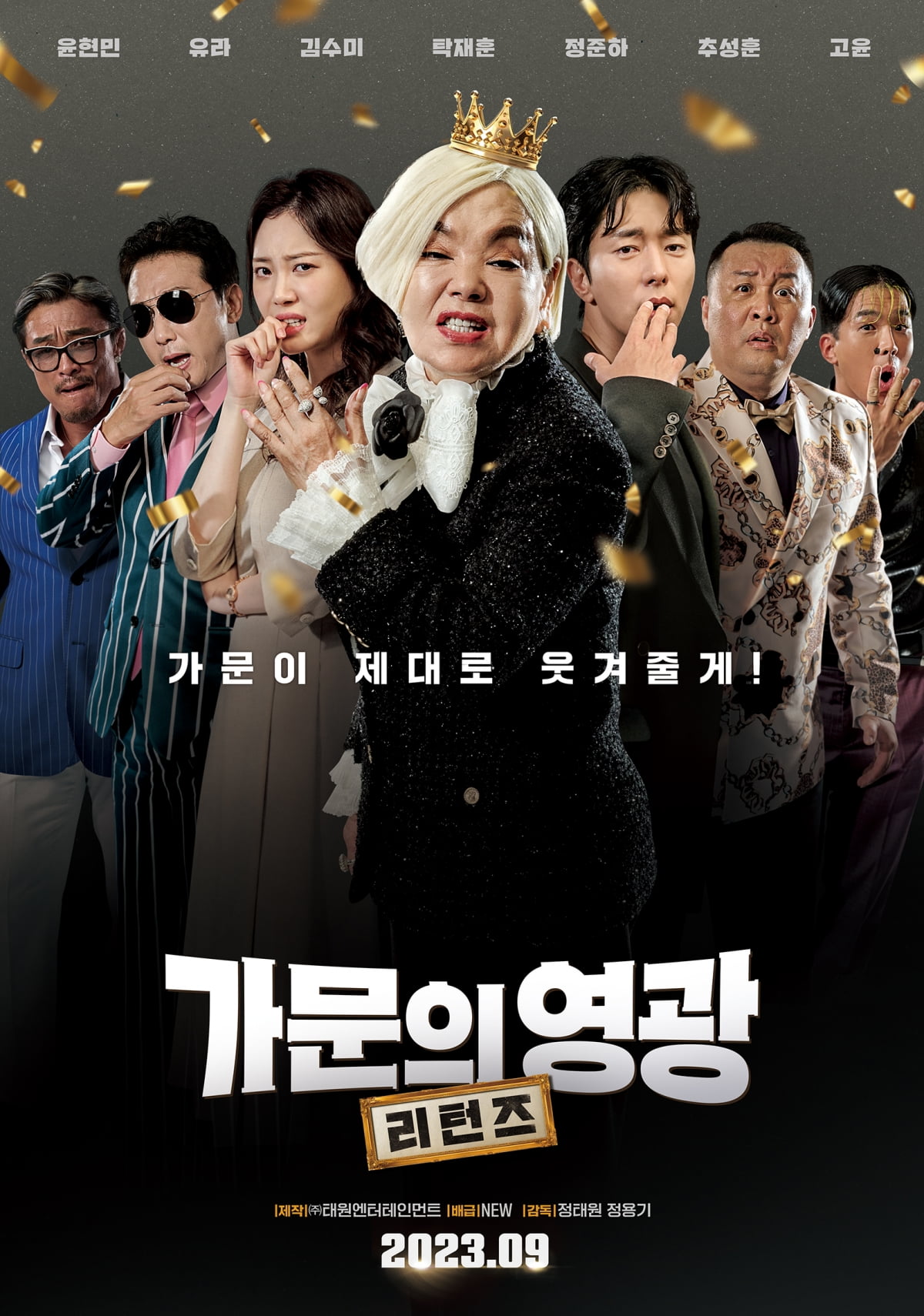 The movie 'Family Glory: Returns' confirmed its theatrical release in September and released a teaser poster.
The movie 'Family Glory: Returns' (director Jeong Tae-won) announces a new start in Korea's representative comedy film 'Family Glory' series, which boasts a cumulative score of about 20 million.
The ensemble of various characters presented by the original cast who has been in charge of the series and the new cast who add freshness enhances the completeness of the work.
'Family Glory: Returns' is a comedy about the Jang family's life-and-death marriage plot to marry the family's youngest daughter, Jin-kyung, to the popular star writer Dae-seo.
First, Yoon Hyun-min, who boasts flawless acting skills across genres, took on the role of Park Dae-seo, a writer of God-sent writing and the forced reserve son-in-law of the family. Yura, who plays Jang Jin-gyeong, the youngest daughter of a family with a fiery personality, shows off a new side of herself that has not been seen before in 'Family Glory: Returns', showing off her eight-color charm.
Appearing in the films 'Family Glory 4 – Family Trouble', 'Family Resurrection – Family Glory 3', 'Family Crisis – Family Glory 2', 'Hell Money', etc. Han Kim Su-mi played the role of Hong Deok-ja, the head of a family that was strong beyond the times with natural leadership. With her unrivaled presence, Kim Soo-mi is expected to radiate delightful energy while adding to the legitimacy of the 'Family Glory' series.
In addition, Tak Jae-hoon, a master of comedy acting, maximizes the fun of the work with his unique wit by playing Jang Seok-jae, the time bomb son of a family who does not know where to go. An all-round entertainer who is active in various fields such as acting, entertainment, singing, and hip-hop, Jeong Jun-ha is the mood maker of the family and the right arm in charge of blood, sweat and tears.
Choo Seong-hoon, who possesses intense charisma, will play the role of Yappari, the best fighting master and traitor to his family, and deliver thrilling pleasure with his unique action and laughter. In addition, many talented actors such as Go Yoon, Ki Eun-se, and Kim Hee-jung joined the cast.
In the teaser poster released together, each character, led by Kim Soo-mi, the leader of the Jang family, appears charismatic and attracts attention. The copy, 'The family will make you laugh properly!' shows the dignity of the Jang family, which is still strong over time, and raises the audience's expectations for the laughter they will deliver.
Theatrical release confirmed in September.
Jiye Choi, staff reporter at TenAsia wisdomart@tenasia.co.kr