MOVIE
Searchlight Pictures special exhibition, screened 7 films from 'Black Swan' to 'The Shape of Water'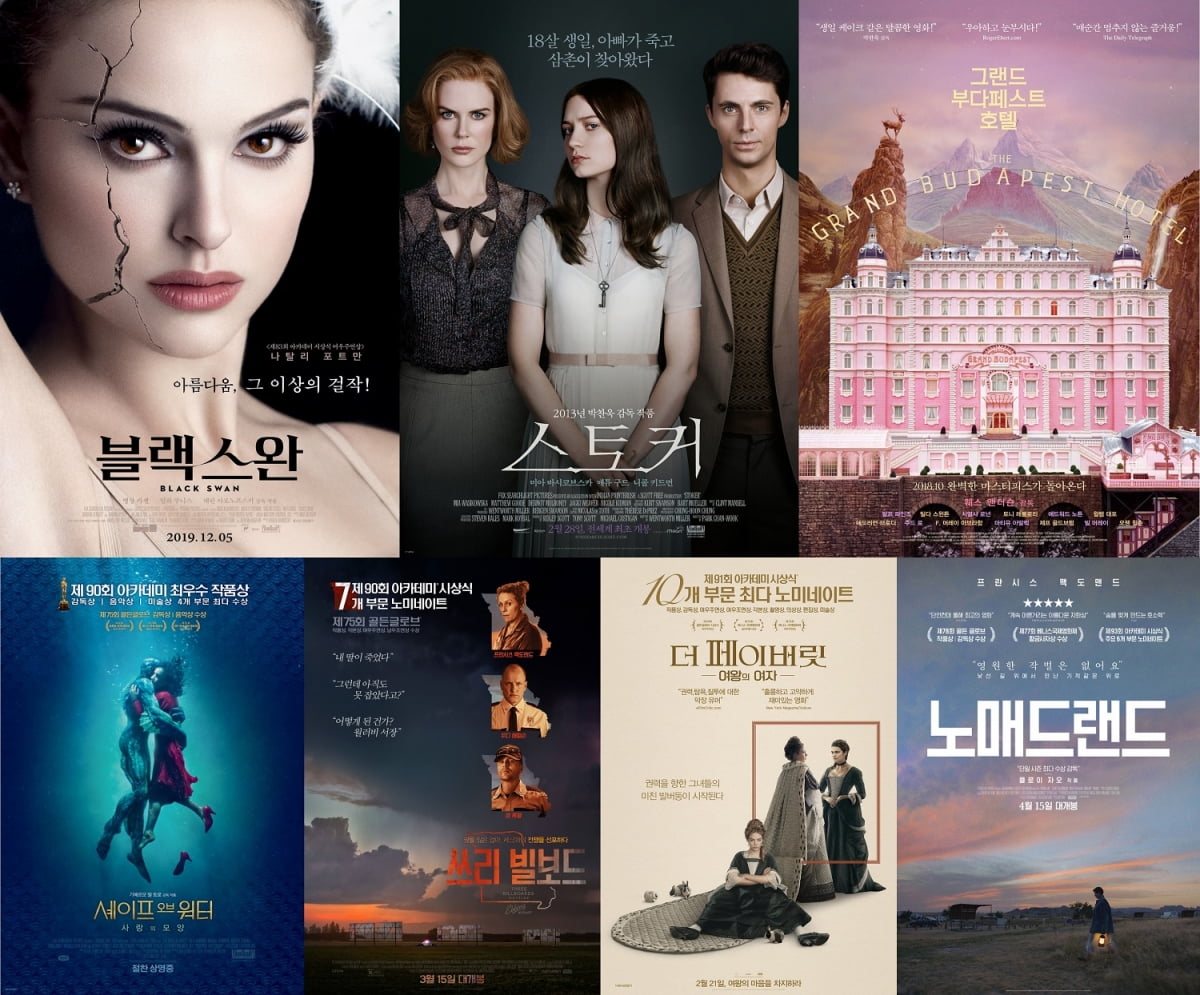 CGV, together with The Walt Disney Company Korea, will hold an exhibition of Searchlight Pictures' films.
The films that can be seen in this exhibition are 'Black Swan', 'Stalker', 'The Grand Budapest Hotel', 'Three Billboards', 'The Favorite: The Queen', 'Nomad Land', and 'The Shape of Water: Love' A total of 7 episodes, including 'Shape'.
The Searchlight Pictures exhibition will be held from the 16th to the 29th at CGV Yongsan I'Park Mall Disney content halls and art house halls nationwide. It is expected that there will be a lot of response from movie fans as you can see the works that became a hot topic for their outstanding work quality again in the theater.
First, 'Black Swan', which was released in Korea in 2011, will be screened. Natalie Portman, who starred in a film directed by Darren Aronofsky, was recognized for her acting skills by winning Best Actress awards at several film festivals, including the 83rd Academy Awards. You can also meet director Park Chan-wook's first Hollywood film, 'Stalker'. It was a thriller released in 2013 and became a hot topic with Nicole Kidman. You can also watch the movie 'The Grand Budapest Hotel', which features attractive visuals and gorgeous casts such as Ralph Fiennes and Tilda Swinton. It was released in 2014 by director Wes Anderson, who has secured a strong fan base in Korea.
'The Shape of Water: The Shape of Love' and 'Three Billboards' released in 2018 will also be screened. 'The Shape of Water: The Shape of Love' directed by fantasy master Guillermo del Toro is a romance fantasy film that won four awards at the 90th Academy Awards, including Best Picture, Best Director, Best Music, and Best Art. 'Three Billboards' is a movie with a story of a twist that can't be vigilant. Frances McDormand, who won the Best Actress Award at the 90th Academy Awards, enhanced the perfection of the work with an overwhelming performance.
You can also see 'The Favorite: The Queen's Woman' by director Yorgos Lanthimos, who showed a unique world of works such as 'The Lobster' and 'Killing Deer'. It was released in 2019 as a period drama about three women in the 18th century British royal family starring Olivia Colman, Emma Stone and Rachel Weisz. 'Nomad Land', released in 2021, is a winner of the Golden Lion Award at the 77th Venice International Film Festival and the Best Picture Award at the 93rd American Academy Awards. Director Chloe Zhao's delicate and warm direction left a deep impression on the audience.
This special exhibition can be seen at Disney Cinema, the first exclusive theater for Disney content in CGV Yongsan I'Park Mall, as well as 15 art house theaters nationwide. CGV and The Walt Disney Company Korea also prepared a special gift for movie fans. Original posters of the upcoming searchlight films, 'Next Goal Winds' and 'Poor Things', will be presented to the audience who watched the exhibition on a first-come, first-served basis.
Yeo Kwang-jin, head of CGV's content planning team, said, "We are holding this special exhibition by collecting 7 works from Searchlight Pictures that resonate with movie fans with their quality of work that does not change over time. I hope you will have a meaningful time to re-appreciate the well-made work at the theater and feel the emotion of that time again." More information on exhibitions and events can be found on the CGV mobile app and website.
Photo courtesy of CJ CGV
Reporter Ha-neul Lee, Ten Asia greenworld@tenasia.co.kr