MOVIE
Actor Ha Jung-woo "The cuteness in acting is the real me"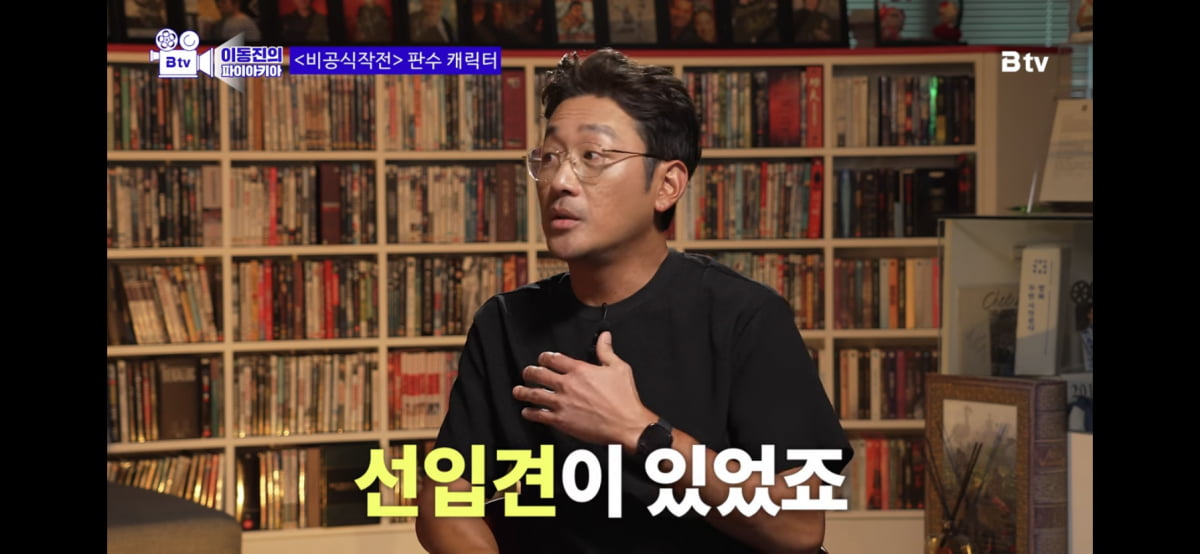 Actor Ha Jung-woo explained that he had preconceived notions about Ju Ji-hoon at first, but later became closer emotionally.
On the 3rd, on the YouTube channel 'Lee Dong-jin's Paiakia' (hereinafter referred to as 'Paiakia'), actor Ha Jung-woo appeared and talked about the role of diplomat Min-jun, who goes to Lebanon to carry out a mission in the movie 'Unofficial Operation'.
Regarding his impressions of appearing in Paiakia, actor Ha Jung-woo said, "I can feel the love that the critic (Lee Dong-jin) has for the movie. It's so good," he explained.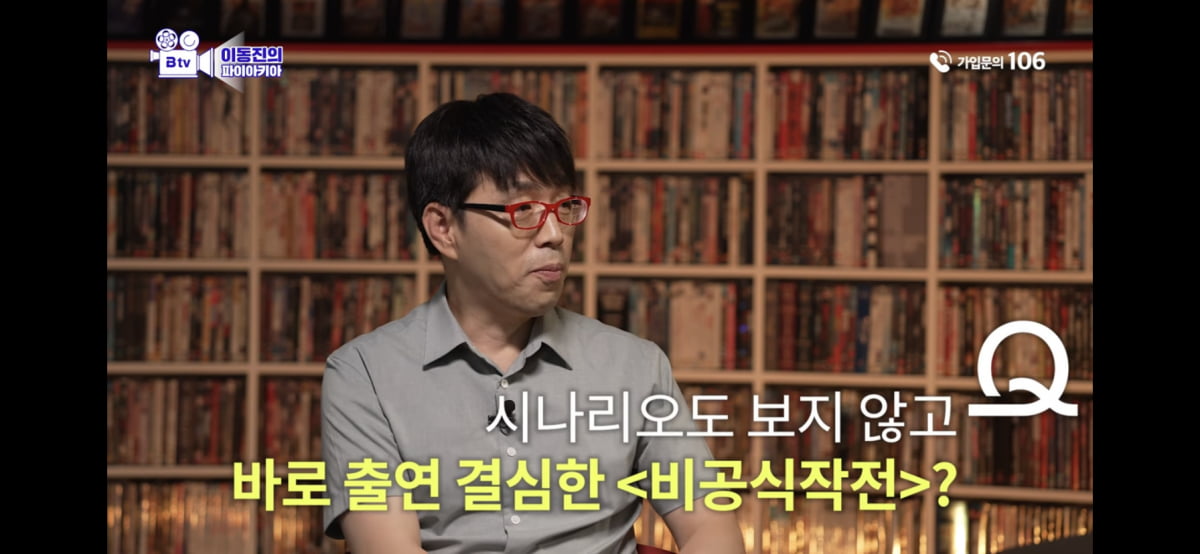 Film critic Lee Dong-jin asked about his feelings ahead of the release of 'Unofficial Operation'. In response, Ha Jung-woo said, "This time, after the corona, the situation at the theater was not good. In the past, rather than a competition between works, there was interest in who would be chosen by the audience. But now there seems to be one more. It seems to be important how to survive in difficult theater conditions. I was more nervous than the times I had experienced before."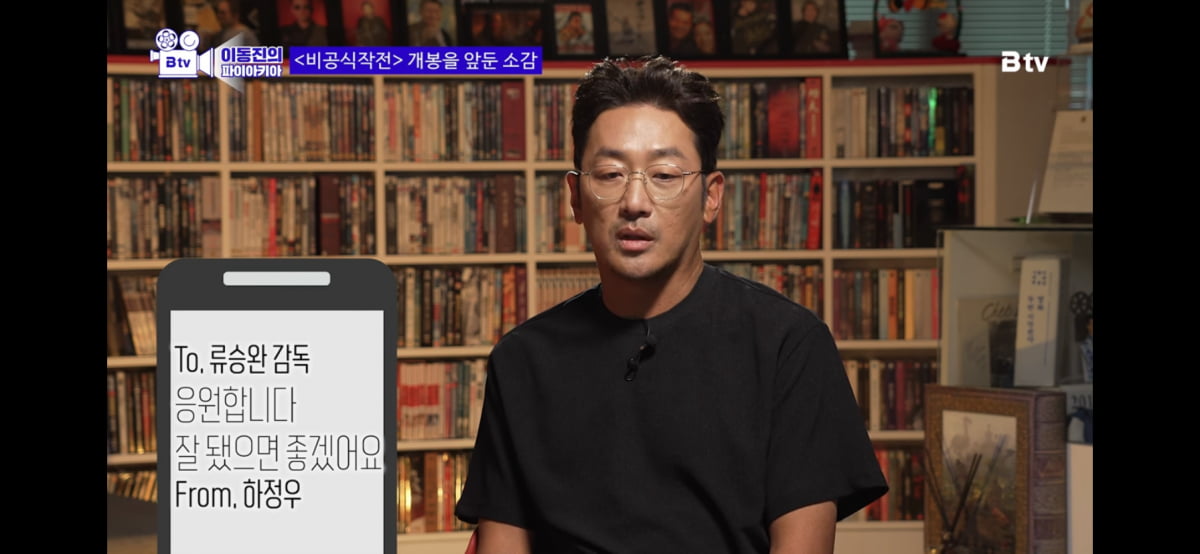 Ha Jeong-woo explained an anecdote about the movie 'Smugglers' team greeting the stage together in Busan and Daegu at a paid preview last weekend. He said, "I contacted director Ryoo Seung-wan of 'Smugglers' . 'Cheer up. I hope it goes well,' and the director said, 'I hope that Korean films will be revived this time with everyone working together.' I totally agree with you," he said, referring to director Ryoo Seung-wan, whom he worked with.
He also contacted director Kim Yong-hwa of "The Moon". I took a picture with actor Joo Ji-hoon in front of the 'The Moon' poster and sent it. Rather than competing with each other, it seems that we should compete in good faith so that Korean film works can meet the audience well again by becoming a team."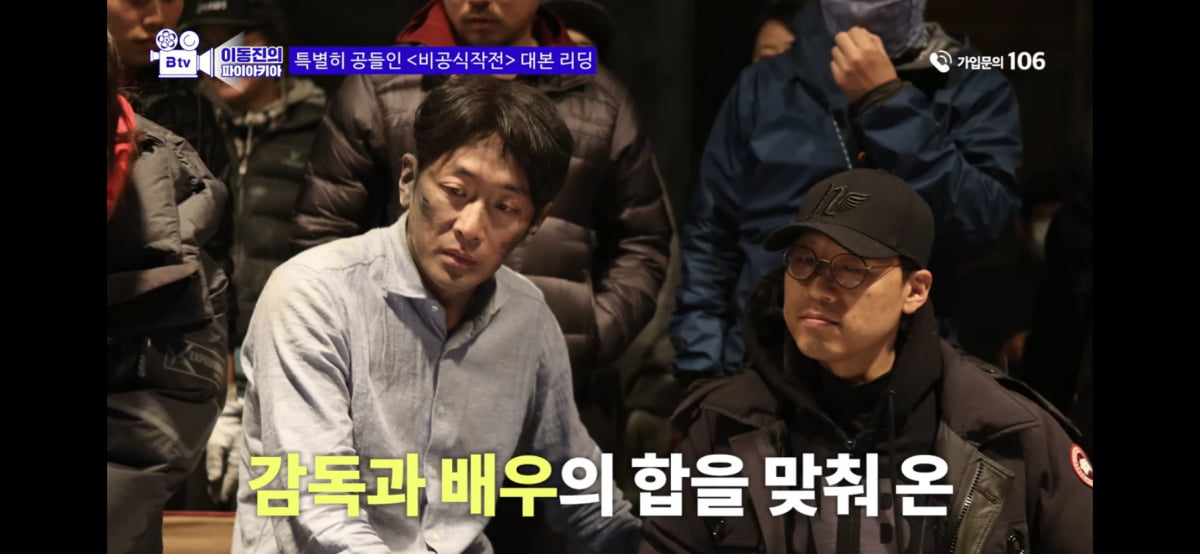 Ha Jung-woo, who made an unintentional return to the screen after three years due to Corona, explained, "It feels like I've found a job again." Lee Dong-jin asked Ha Jung-woo if he hadn't decided to appear in 'Unofficial Operation' without even reading the scenario. Regarding this, Ha Jung-woo said, "While preparing for the movie 'The Closet', I was ahead of the crank-in. Because of that, I couldn't afford it, and the 'unofficial operation' scenario came in. I was supposed to give you an answer within 2 weeks, but I couldn't give you an answer. Director Kim Seong-hoon contacted me and said that I would just do it. Trust in director Kim Seong-hoon," he said, talking about an anecdote that he met through "Tunnel."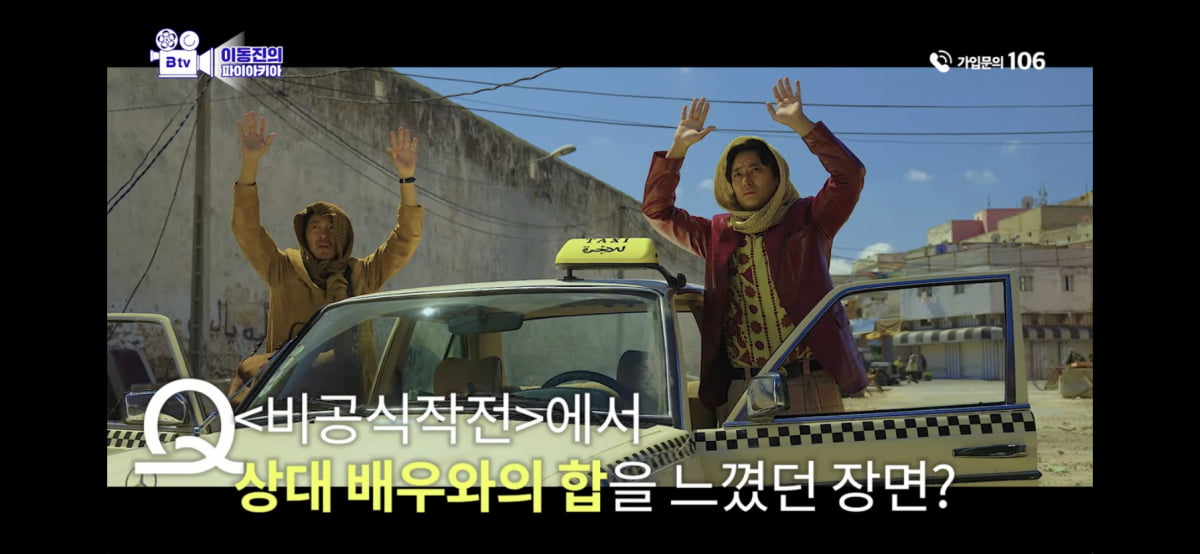 Actor Joo Ji-hoon, whom he worked with in 'Unofficial Operation', met in the previous work 'Along with the Gods'. Ha Jung-woo said, "I was curious at first. Five years have passed since I filmed 'Along With the Gods'. I wondered how Jihoon would have changed. The first filming was the scene where I met Pansu (Joo Ji-hoon) in a taxi."
He said, "I saw actor Joo Ji-hoon walking to the set. It was very shocking. A role that wasn't the Joo Ji-hoon I knew was coming. I thought that Pansu would be portrayed in a fun way in the movie."
Lee Dong-jin asked if he could get the power of acting from the other person, and Ha Jung-woo said, "It's very important." Next, Lee Dong-jin asked if there was a scene where he felt the harmony of the other actor in 'Unofficial Operation' while acting with actor Joo Ji-hoon. Ha Jung-woo said, "There is a god related to the US visa. There was no part about the detailed movement in the scenario. Actor Joo Ji-hoon entered the door and I followed. As I experienced that blocking was well done, I felt that I was moving instinctively. I thought I became more flexible and relaxed," he praised Joo Ji-hoon.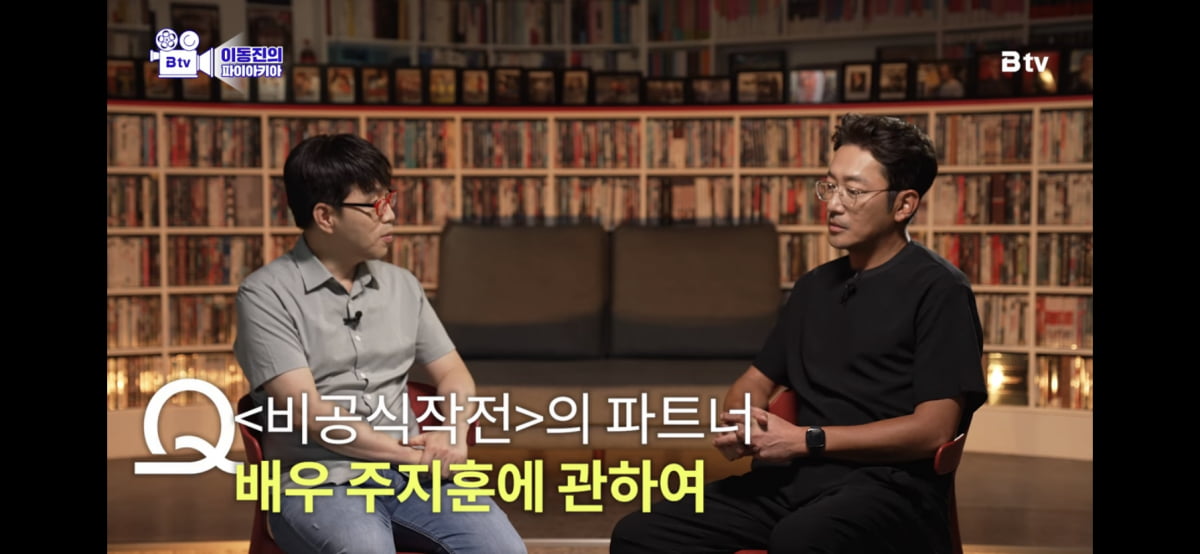 Ha Jung-woo also mentioned his first impression of actor Joo Ji-hoon before 'Along with the Gods'. He said, "I saw it at an awards ceremony before filming 'Along with the Gods'. Ju Ji-hoon had a prejudice. Aren't you handsome and tall from a model background? Also, his debut drama is 'Goong'. Isn't the beginning itself drawn? I met him in 'Along with the Gods' and he felt like a star. As I got to know this friend, I realized that it wasn't like that."
He continued, "I even went to an entertainment program called 'Ticketing with Two Feet' after the 'Unofficial Operation' was over. It seems that more affection has accumulated. After spending 24 hours for two weeks, I felt emotionally closer."
Previously, there had been many films with similar themes, such as 'The Point Men' (director Lim Soon-rye) and
'Escape from Mogadishu' ( director Ryu Seung-wan). Lee Dong-jin, who watched the movie about the difference between 'Unofficial Operation', said that it was like a movie with a lot of humor. Also, regarding the humor of 'Unofficial Operation', he added that actor Ha Jung-woo and director Kim Seong-hun's directing ability seemed to be very important. Ha Jung-woo said, "I had such an experience in 'The Tunnel'. The original novel has a heavy and tragic ending. At first, there was little black comedy. However, while talking about 'The Tunnel', we talked about the movie 'Cast Away' starring Tom Hanks. The way to survive was very interesting, and I wanted to apply it to 'The Tunnel'."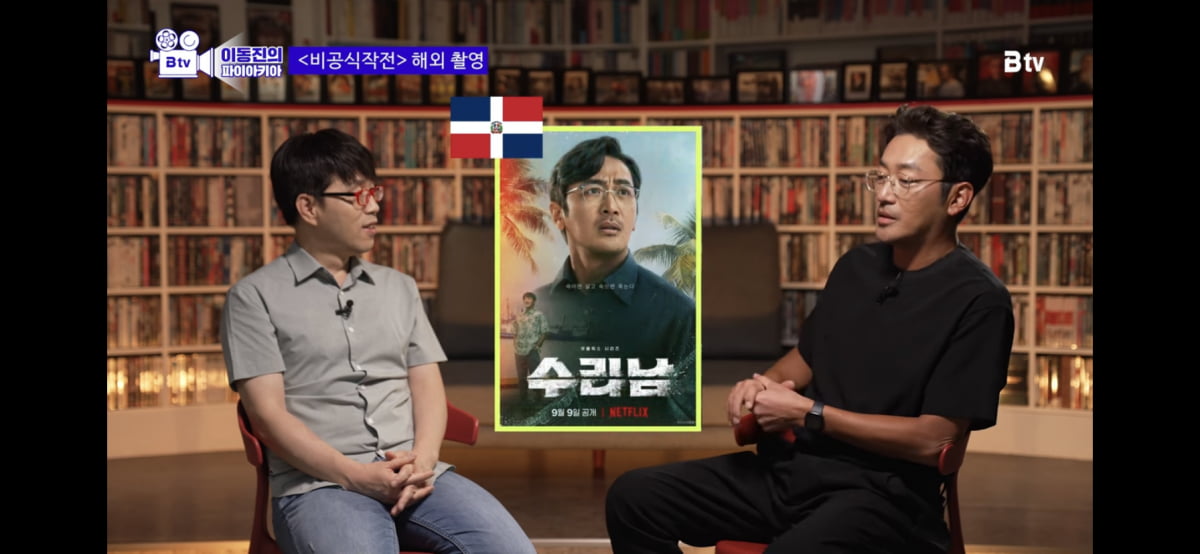 Regarding the humor of 'Unofficial Operation', Lee Dong-jin said that the scene where Min-jun was 'excited' was humorous. Ha Jung-woo said, "It's a choo-im-sae that I usually use. I did that with senior Park Hyuk-kwon, but I am personally close. We worked together for the first time in 'The Client', and it was a pleasant experience. The human Ha Jung-woo is fun, so I think his usual appearance came out naturally."
Lee Dong-jin also asked about the difference between Ha Jung-woo's acting and the drama 'Suriname', which has a similar appearance. Ha Jeong-woo said, "In the case of 'Suriname' , the warrior who introduces this character is arranged so that he believes that person. Of course, it is a character that convinces that it can be. After that, you can be persuaded no matter what situation you deal with. In the case of 'Unofficial Operation', there was no great reason for the person to go to Lebanon. Because it started insignificantly, it seems that it is difficult to go to Lebanon and bump into hurdles. I thought that I would have barely passed on it every now and then," he said about the difference.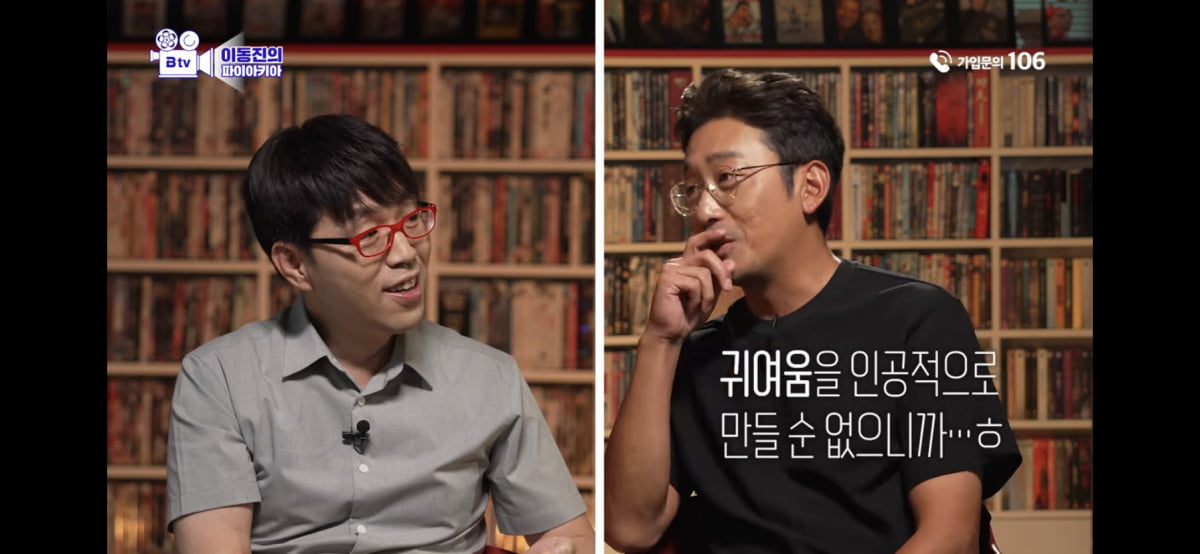 Regarding Ha Jung-woo's cute and clever acting in the movie, Lee Dong-jin said, "Isn't he a person who can't be cute in terms of appearance or physique? When I saw 'Unofficial Operation', it was so cute. Is this a projection of the real Ha Jung-woo?" Ha Jung-woo replied, "That's right. You can't artificially create cuteness (laughs). I often hear it."
Reporter Ha-neul Lee, Ten Asia greenworld@tenasia.co.kr