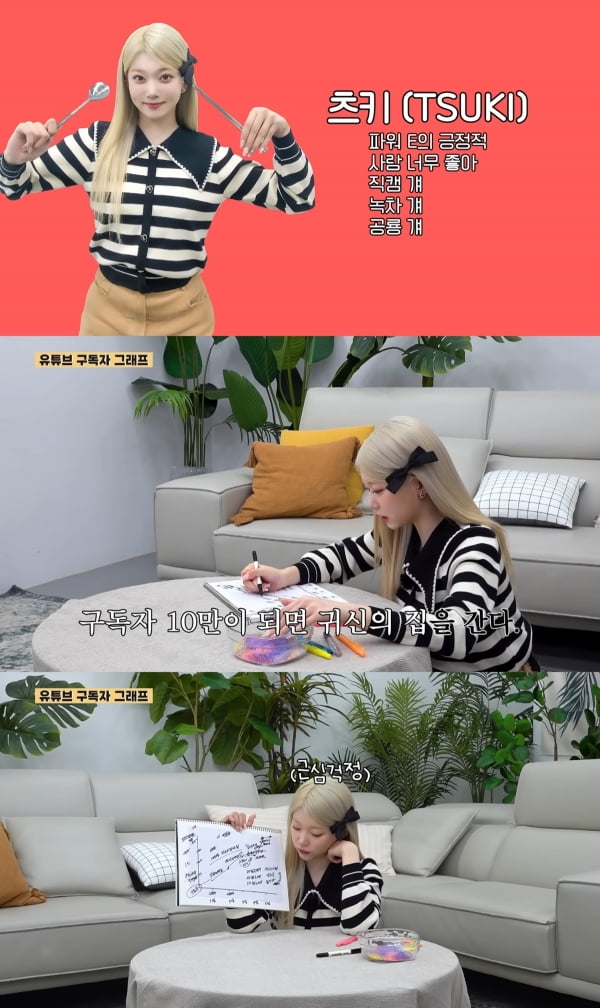 Tsuki, a member of the group Billlie, continues his trend in entertainment by opening his own YouTube channel 'Tsuki Tsuki Chaka Chaka'.
Tsuki recently posted a video titled 'Hello, I'm Tsuki', announcing the opening of the YouTube channel 'Tsuki Tsuki Chaka Chaka'.
In the released video, Tsuki expressed his bold ambition, saying that he is aiming to reach 500,000 subscribers in 5 months. In particular, Tsuki, who is usually timid, showed his sincerity toward YouTube by making a pledge that he would go to a haunted house when the number of subscribers reached 100,000. Curiosity is rising about what kind of content Tsuki, who has emerged as a 'entertainment trend' by showing his sense of entertainment in various entertainment shows, will meet subscribers with in the future.
Tsuki has collaborated with Red Velvet's Joy, Kwon Eun-bi, Dex, model Jenny, etc. in various web contents, and has recently appeared on U+Mobile TV's 'Star's Ability Update to Jump to Space Class (Star's Star Girl)'. She has a lovely chemistry with (G)I-DLE's Yugi and is conveying the bubbly charm of the youngest member.
In addition, Tsuki continues to be active on various short-form platforms and is engaging in all-round activities. Billie, to which Tsuki belongs, released the title track of their 1st single 'DANG! (hocus pocus)'(Dang! (Hocus Pocus)) A dance challenge was held simultaneously with the comeback. So far, many artists, including Apink's Bomi Yoon, Red Velvet's Joy and Chuu, (G)I-DLE's Yuqi, WayV's Kuhn and Yangyang, Tomorrow by Together's Subin, and Espa's Giselle, have participated, and 'DANG! (hocus pocus)' The cumulative number of views for the dance challenge is close to 29 million.
In addition, the challenge in which Tsuki participated also boasts high topicality on various platforms. The 'Happily Ever After' dance challenge with Soobin has garnered a total of 16 million views, and the 'Drama' dance challenge with Espa Giselle has garnered more than 10 million views.
Meanwhile, Billy, to which Tsuki belongs, recently completed activities for their first single and will attend the festival 'X-CON 2023', which will be held for three days from December 8th to 10th at Makuhari Messe, Chiba Prefecture, Japan.
Ryu Ye-ji, Ten Asia Reporter ryuperstar@tenasia.co.kr