ENTERTAINMENT
Singer Ivy "I beat Lee Hyori and Seo In-young to take first place."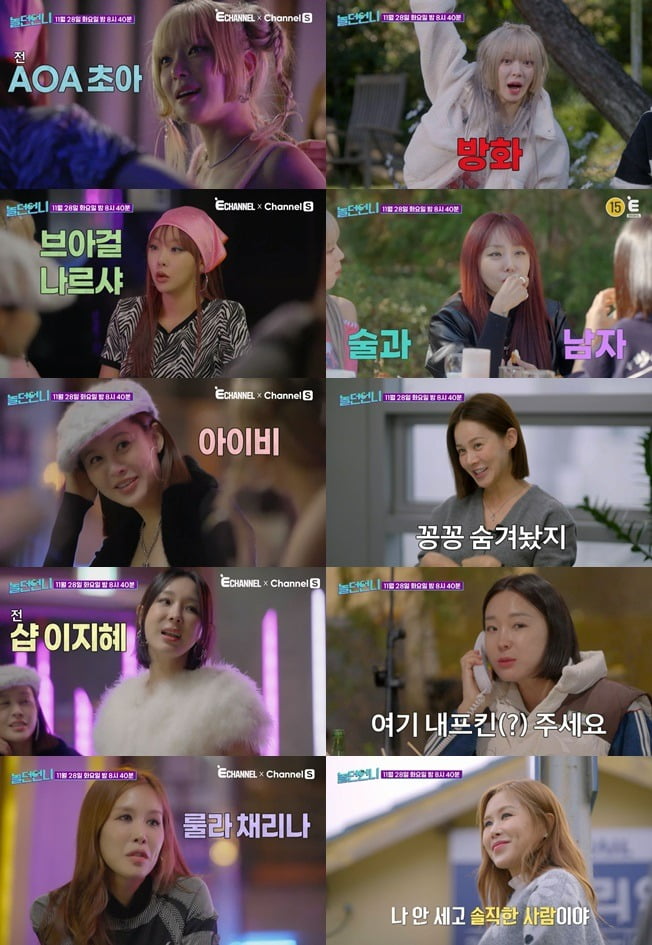 'Playing Sister' released individual teasers featuring the five different charms of the five cast members.
The E Channel/Channel S co-produced entertainment show 'Playing Sister', which will be broadcast for the first time at 8:40 pm on the 28th, is a 'no filter variety' that brings together the five sisters who took over Korea with just one microphone. It plans to cheerfully contain 'real' music told by sisters who couldn't live without music and stories about the music industry of those days without filters.
In relation to this, in the first teaser video released by the production team of 'Playing Sister', Chae Ri-na, Lee Ji-hye, Ivy, Narsha, and Choa recall their respective Leeds days and explode with their still excitement and talent, raising expectations. Among the five people meeting for the first time at a music cafe, Ji-hye Lee looks at Ivy and says, "Don't we all have number one songs?" In response, Ivy said, "At that time, Lee Hyori and Seo In-young were active and won first place with 'Sonata of Temptation'," and re-enacted the signature finger movement.
Narsha also jumped up from her seat and danced Brown Eyed Girls' 'Abracadabra' and shouted "Ah~bra". When Chae Rina did the 'bad hand', Lee Ji-hye said, "Sister, don't do that, you look old." " and exuded great chemistry. At the same time, she sings Shop's 'Tell Me Tell Me' to show off the dignity of 'Topgol IU'.
The youngest child, Choa, also joins the dance scene by performing the number one song from her AOA days, 'Heart Attack'. However, the memory is vague and the dance is stuttering. In response, Narsha teased, "You've lost your senses," and Choa self-dissed, saying, "It's because you were the first to leave (AOA)," destroying the scene. Finally, in response to Narsha's question, "Then why did you leave the group?" Lee Ji-hye got 'irritated' and replied, "You can't say that without even experiencing it," truly showing the spiciness of 'no-filter talk'.
Meanwhile, Chae Ri-na, who was quietly listening to her younger siblings' conversation, said, "Why should we try to win first place like that..." and threw a heavy punch, saying, "We should talk about the number of albums." He then said, "The official number is over 5 million," recalling the days of the 'national group' Lula. Lee Ji-hye said, "So did your sister do well? She immediately provokes by asking, "Did Kim Gun-mo do well?" But when Chae-rina can't answer easily, her younger siblings tease the eldest sister by saying, "Gun-mo oppa did better." Chae Rina said, "I am... " he said vaguely, causing a small smile. As the five people's pleasant chat and chemistry exploded, the five people clinked glasses together and shouted "Fighting!" to their future moves.
In addition to the official teaser containing the strong chemistry of the five members, the production team also presented five individual teasers that showcase each individual's charm. From Chae Ri-na, the 'oldest sister', to Narsha with her '39+ talkative skills', Ji-hye Lee with her 'barefoot fighting spirit', Ivy with her 'seal lifted', and Cho-a, the 'youngest with bright eyes', she exudes extraordinary talent, making viewers want to watch the show. What stimulates. Interest is soaring in the new charms and challenges that the five 'Playing Sisters' will show in the future.
The first episode of 'Playing Sister', a real variety show of sisters who really played but still want to play more, co-produced by E Channel and Channel S, will be broadcast at 8:40 pm on the 28th.
Ten Asia Reporter Kim Seo-yoon seogugu@tenasia.co.kr