ENTERTAINMENT
Hong Jin-young's new brand 'Chic Blanco' sold out for the first time in 5 years on Lotte Home Shopping's first broadcast on the 11th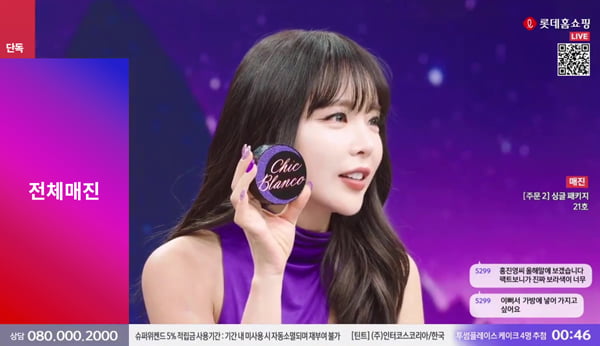 Singer Hong Jin-young set a sold-out record through her home shopping appearance.
Hong Jin-young, who newly introduced the beauty brand 'Chic Blanco', appeared on the full cover-up C-Bomb Pact sales broadcast through Lotte Home Shopping on the afternoon of the 11th, and sold all of the prepared quantity, becoming a sell-out girl.
Lotte Home Shopping, which independently launched and sold all of Hongshot Foundation in 2018, introduced a new brand for the first time in five years, and announced a brand sensation by achieving 130% sales, exceeding the sell-out rate, in the launch broadcast that day. Viewers responded that they had been waiting for Hong Jin-young's new beauty product for a long time and showed great interest in Chic Blanc.
Full Cover Up C Balm Pact is a solid type with good coverage and is a highly functional pact that combines the effects of six cosmetics including skin care, foundation, and BB cream. Since its debut at the K Beauty Expo last October, there have been inquiries from domestic and foreign buyers about its purchase. Subsequently, consumer interest also increased.
Hong Jin-young, who appeared directly on the launch broadcast, led the atmosphere of the broadcast by showing an active appearance from the product planning and development process to product introduction and product demonstration over a long period of time, radiating unique energy.
'Chic Blanco', which contains a brand image that combines CHIC, which means sophisticated, trendy, and confident, and BLANCO, which means white, pure, and clean, has a product lineup including base, color, and skin care. It expressed the confident and mature image of Hong Jin-young.
After the broadcast ended, Hong Jin-young said, "I was very excited and nervous because it was the first broadcast of the launch of a new brand, but I would like to express my gratitude to everyone just for the fact that it sold out." He added, "I will work hard to complete a good product lineup so that you can be satisfied with the product quality." "He expressed his feelings.
Hong Jin-young also devotes a lot of time to her beauty product sales and marketing schedule and is juggling her singing career and business, leading to a busy year-end schedule.
[Photo provided by IMH Entertainment]
Ryu Ye-ji, Ten Asia Reporter ryuperstar@tenasia.co.kr