ENTERTAINMENT
"Post Song Eun-i is the goal" Im Ra-ra, greedy as a producer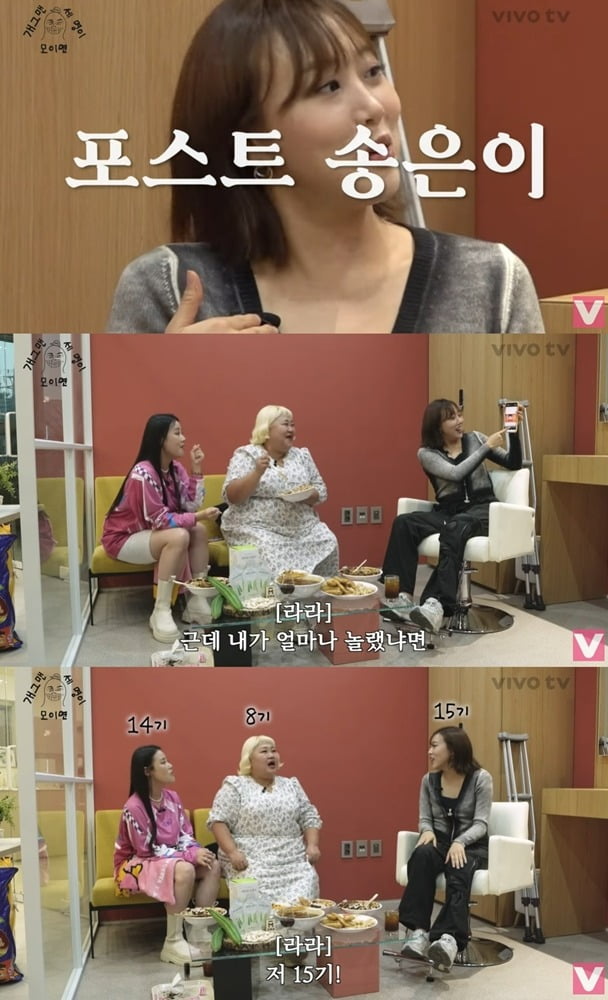 'Street Comedian Fighter' members Hong Yun-hwa, Lee Hye-ji, and Im Ra-ra came together on 'Gaesemo' to deliver episodes unique to comedian couples.
On the 25th, the eighth episode of 'Gaesemo' (what if three comedians get together?) was released through the YouTube channel 'Vivo TV'. On this day, Hong Yun-hwa, Lee Hye-ji, and Im Ra-ra appeared on 'Gasemo' to discuss the pros and cons of being a comedian couple. Various episodes were released, including a proposal story.
Lee Hye-ji, who is about to get married, was surprised when she revealed that Shin Dong-yeop would officiate the wedding, Ha Ji-won would officiate, and Lee Hyori would give the congratulatory song, while Im Ra-ra said, "I changed my whole life for the wedding. Senior Yoo Jae-seok hosted the event, and EXO also came," he said, boasting of his unique network.
Hong Yun-hwa continued, "With 'Let's Find Laughs' and 'Comedy Big League' gone, there is no place for comedians to gather together as a group. "That's why I highly value Lara Im, who planned 'Street Comedian Fighter.'" In response, Im Ra-ra expressed her respect for her senior Song Eun-i, saying, "If I were to talk about ambition, my goal is to be post-Song Eun-i."
In addition, Hong Yun-hwa, Lee Hye-ji, and Im Ra-ra revealed stories as full of laughter as a comedy program, such as episodes from their days as SBS comedians, the pros and cons of comedian couples, and stories about proposals. It succeeded in eliciting explosive reactions such as "It's so good."
Meanwhile, 'Gaesemo' said, "It's so funny even if comedians get together and don't do anything special. This content started from Song Eun-i's idea, "I don't know what to do, but why not gather comedians together?"
Ten Asia Reporter Kim Seo-yoon seogugu@tenasia.co.kr