ENTERTAINMENT
"My first Chuseok, saying hello to you all, is meaningful"... BoyNextdoor, 2023 Chuseok greetings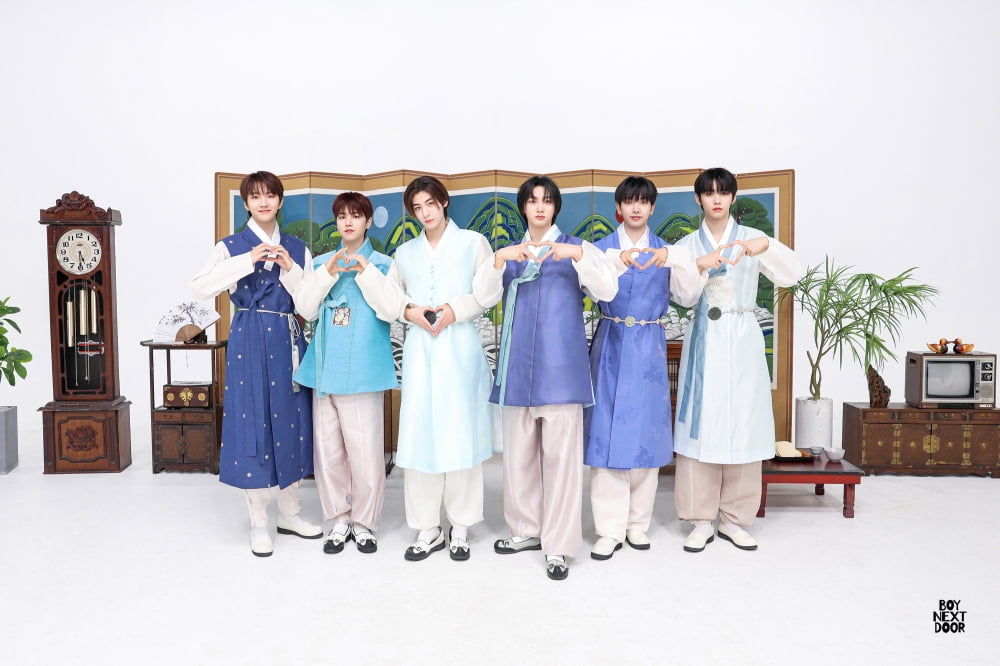 BOYNEXTDOOR sent warm greetings on Chuseok.
Boy Next Door (Seongho, Liu, Myung Jaehyun, Taesan, Lee Han, Unhak) posted a Chuseok greeting video on their official YouTube channel at noon on the 28th. Those who appeared wearing hanbok said, "This is the first Chuseok to greet you all. "Maybe that's why it feels even more meaningful."
The members said that the brightest full moon of the year falls on Chuseok and said, "I hope you can make a wish while looking at the beautiful full moon, eat a lot of delicious food, and have a good time with your family."
He then suggested playing Yut with his family this holiday season and made people laugh by humming to the melody of their first mini album's title song 'What Does It Look Like' by saying, "Do, dog, girl, yut, 'It feels like mo'", and added, "'More too.' As the saying goes, 'Nothing, no less, just like Chuseok,' I hope you can put aside all your worries and have a prosperous holiday."
At 8 PM on the same day, BoyNextdoor posted a photo taken wearing a hanbok on the official Weverse channel, showing off their elegant appearance. They made a variety of hearts towards the camera and performed the choreography of 'What Does It Look Like', giving off a fresh and cheerful charm.
Meanwhile, Boy Next Door released their first mini album 'WHY..' on the 4th and were active for about 4 weeks. After debuting with 'What Do You Think', they won their first two music broadcast awards and performed well on major charts at home and abroad, including the US Billboard, emerging as a rookie to watch in 2023.
Reporter Junho Yoon, Ten Asia delo410@tenasia.co.kr