ENTERTAINMENT
A beginner in fishing who also loved Seongbin Yoon and Gyeonggyu Lee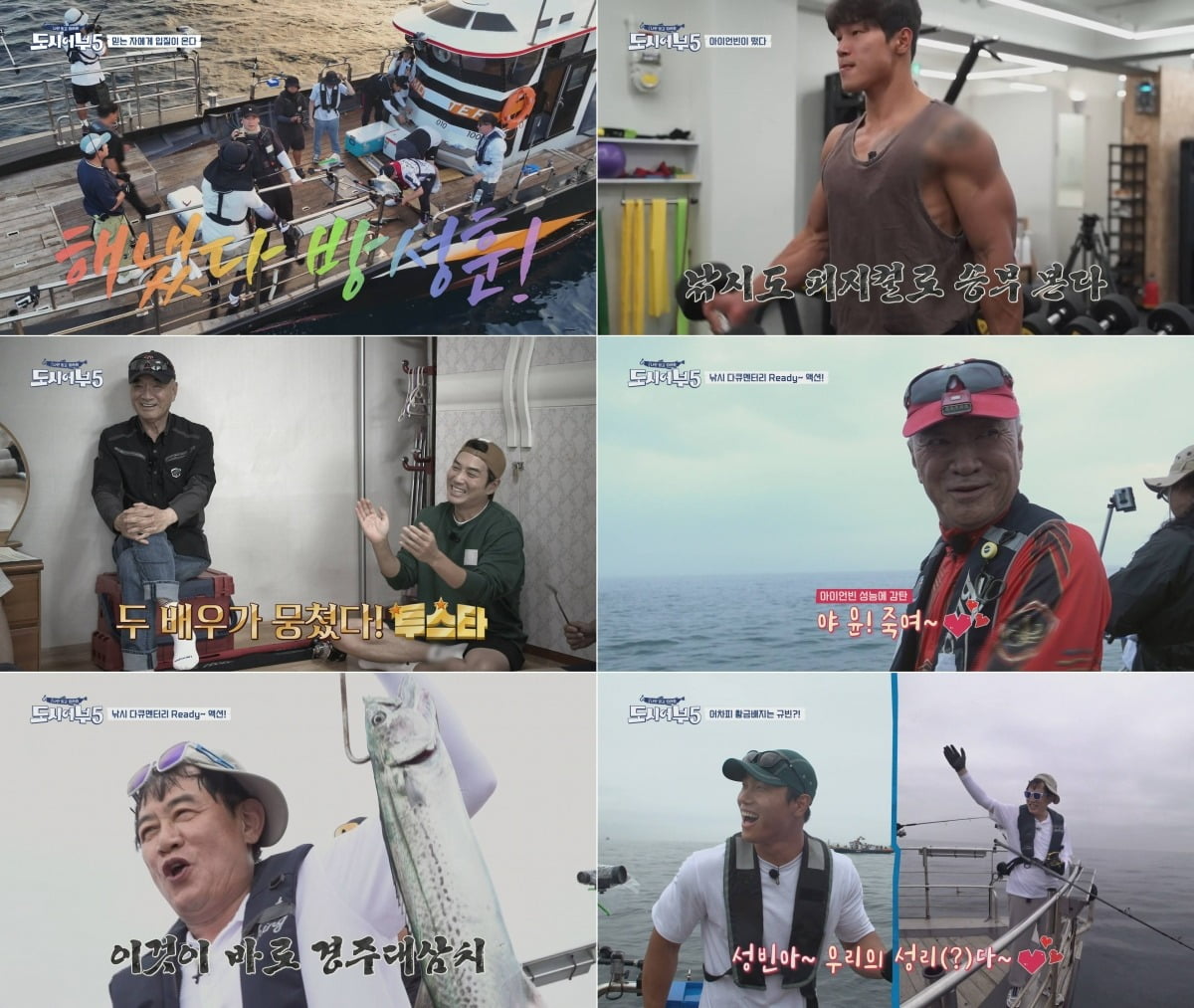 Seongbin Yoon was impressed by catching a mackerel on his first fishing trip.
In Channel A's entertainment program 'Trust me and follow me, Urban Fisherman 5' (hereinafter referred to as 'Urban Fisherman 5'), which aired on the 21st, urban fishermen who visited Gyeongju to catch mackerel for the first time in a year were shown.
On this day's broadcast, he visited Gyeongju, which has been called the 'promised land', and began his life as a real fisherman. Joo Sang-wook and Sung-hoon, who played a big role in the last episode, reappeared, and Lee Deok-hwa kept them in check, asking, "Are you fixed?" Following this, one more special guest appeared, aiming for a fixed spot. Seongbin Yoon, a former member of the national skeleton team and a symbol of strength, took part in mackerel fishing, where strength is important. As a result, even Lee Gyeong-gyu, who was usually not interested in guests, was impressed by Yoon Seong-bin's overwhelming physicality. Even when Yoon Seong-bin said that he was a beginner in fishing, everyone felt reassured and even more happy, making the scene a sea of laughter.
Next, Lee Gyeong-gyu proudly revealed that he had met with the production team in advance and confidently told them to just trust him and follow him, saying, "I was all involved." From now on, urban fishermen declared that it would be a 'documentary' style in which they autonomously decide their fishing schedules and living rules, and Deok-Hwa Lee made fun of them by saying, "Isn't it your freedom?" and made people laugh. Lee Gyeong-gyu, who had emphasized documentary from the beginning, became angry when the members did not follow his wishes, and shouted 'documentary' throughout the filming, making people laugh.
Afterwards, the full-scale fishing took place, with two people forming a team, and the rule of adding up the profits of the two team members and awarding two golden badges to the high-income team was applied. Lee Gyeong-gyu, who teamed up with fishing novice Yoon Seong-bin, threw away the spoon with the number on it, demanding to be picked again, but immediately went out to give Yoon Seong-bin special training in casting. Even though it was his first time casting, Seongbin Yoon showed tremendous strength by hitting a boat far away on the other side with the fishing lure. Lee Gyeong-gyu, who saw Yoon Seong-bin's performance, such as catching giant mackerel one after another during actual fishing, changed from being full of dissatisfaction to acknowledging Yoon Seong-bin and caring for him more than anyone else, saying, "I just need one smart kid!", making him laugh.
Meanwhile, the team of Lee Soo-geun and Seong-hoon, who were pushed out of the lottery and took the worst seat at the back of the boat, were heartbroken by the continued dark news of the giant mackerel. This is because of the new rule that if you don't catch even one animal, your badge will be taken away. In particular, Seong-Hoon, who never got a bite, showed off his 'shamanistic fishing' method from last week, and was anxious, showing various unusual symptoms, such as talking to fish and talking to himself. In the end, Seong-hoon caught the giant mackerel and secured his golden badge with a desperate effort that made the viewer feel sad, and Deok-hwa Lee was proud of Seong-hoon and gave him the nickname 'Dae-gyeon'.
In the afternoon fishing, Yoon Seong-bin and Joo Sang-wook's successive hits created an unpredictable match, making the players sweat and adding to the tension. Joo Sang-wook, who teamed up with Lee Deok-hwa, continued to create hits with his desire for a fixed position and natural competitive spirit, and Yoon Seong-bin, living up to the nickname "Iron Bean" earned for his overwhelming physical and athletic skills, impressed everyone by catching a heavy mackerel without shaking. Even though it was his first time fishing, he caught a giant mackerel measuring 1m 9cm, making him one of the top three mackerel catches of all time for urban fishermen.
In a game where the future was unpredictable, the winner was decided by the purchasing expert's decision on the amount. Despite the meter-sized mackerel of the team of Lee Gyeong-gyu and Yoon Seong-bin, the team of Lee Deok-hwa and Joo Sang-wook, who caught 7 giant mackerel, ultimately won. Accordingly, Lee Gyeong-gyu put his regrets aside and gave Lee Deok-hwa a golden badge and praised him, saying, "Brother, you are an eternal fishing man." Lee Deok-hwa said, "I'm doing really well in season 5~" and made the scene burst into laughter with his unique charming tone. I did it. The members, who became rich by earning a huge profit of 378,000 won in total from mackerel, which is priced at 7,000 won per kg, shopped to their heart's content at Golden Carriage and even received the pork belly and wine they had been longing for. In particular, Yoon Seong-bin and Seong-hoon attracted attention by showing their happy and intoxicating appearance. The members looked happy as they were freed from the red pepper paste rice, which was a nightmare from the previous filming, and Lee Soo-geun made people laugh once again by promising, "I will earn 1.4 million won tomorrow."
Ten Asia Reporter Kim Seo-yoon seogugu@tenasia.co.kr