ENTERTAINMENT
Actress Park Gyu-young asks Cha Eun-woo, "Why on earth do you hate me?" Active appeal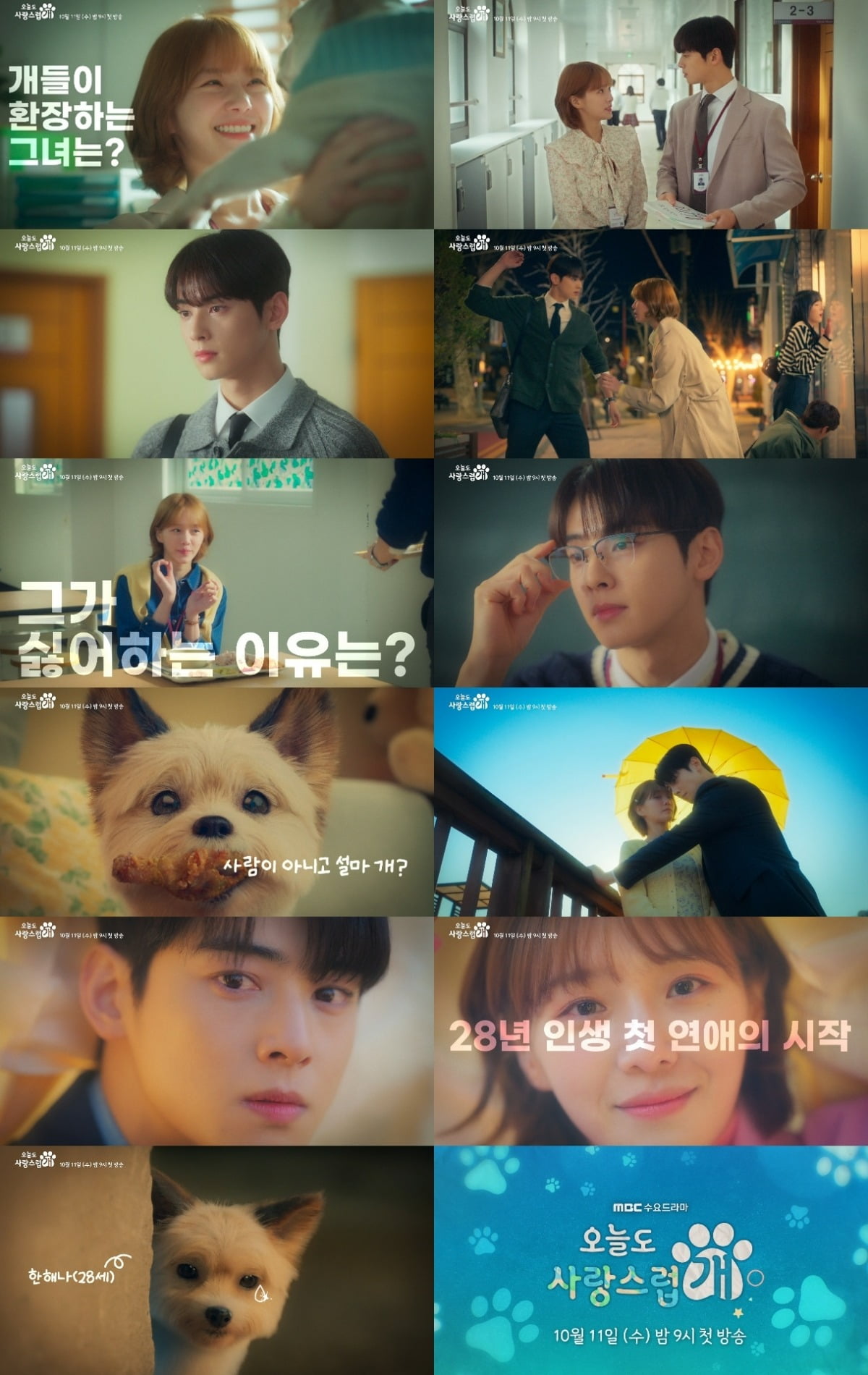 Actors Park Gyu-young and Cha Eun-woo showed off their lovely charms.
On the 7th, MBC's new Wednesday drama 'Lovely Dog Today' released the first teaser video. 'A Lovely Dog Today' is a fantasy romance drama about a woman who is cursed to turn into a dog when she kisses, and a man who is afraid of dogs, although he is the only cheat who can break the curse. It is based on the Naver webtoon of the same name, 'A Lovely Dog Today Again' (author Lee Hye).
The first teaser video begins with the appearance of cute dogs and Park Gyu-young (played by Han Hae-na), who is tired because she is so popular with dogs. Park Gyu-young approaches fellow teacher Cha Eun-woo (played by Jin Seo-won), who is essential in breaking the curse of turning into a dog when she kisses him, and actively asks, "When you're stressed, how about pig's trotters and a glass of soju?" However, Cha Eun-woo, who is afraid of dogs, is busy coldly and indifferently dismissing her question, "Why on earth do you hate me?"
Next, Park Gyu-young praises herself by saying, "I'm a bit too cute," and at the end, 'Gaena (Haena + Puppy)', who explodes with cuteness and jokes, appears and makes everyone's heart flutter.
The two soon gradually become closer and a full-fledged romance begins. Cha Eun-woo stood close to Park Gyu-young under the umbrella and said, "It's not because I don't like it. He offers a sincere apology, saying, "I'm sorry if I misunderstood you," and the strange tension between them makes the viewers hold their breath. The sweet smile and shy face towards the other person expresses the two people gradually becoming absorbed into each other in the play.
Here, at the end of the video, Cha Eun-woo and Park Gyu-young, who transformed into 'Gaena', meet for the first time, adding to the interest. As if he couldn't believe Gaena's appearance, Cha Eun-Woo asks, "Teacher Han?", and 'Gaena' looks at him with a puzzled expression.
'I'm Lovely Dog Today' will premiere on October 11th.
Ten Asia Reporter Kim Seo-yoon seogugu@tenasia.co.kr