ENTERTAINMENT
"If you do it again, I'll be angry" Yoo Jae-seok, messy reading discussion with members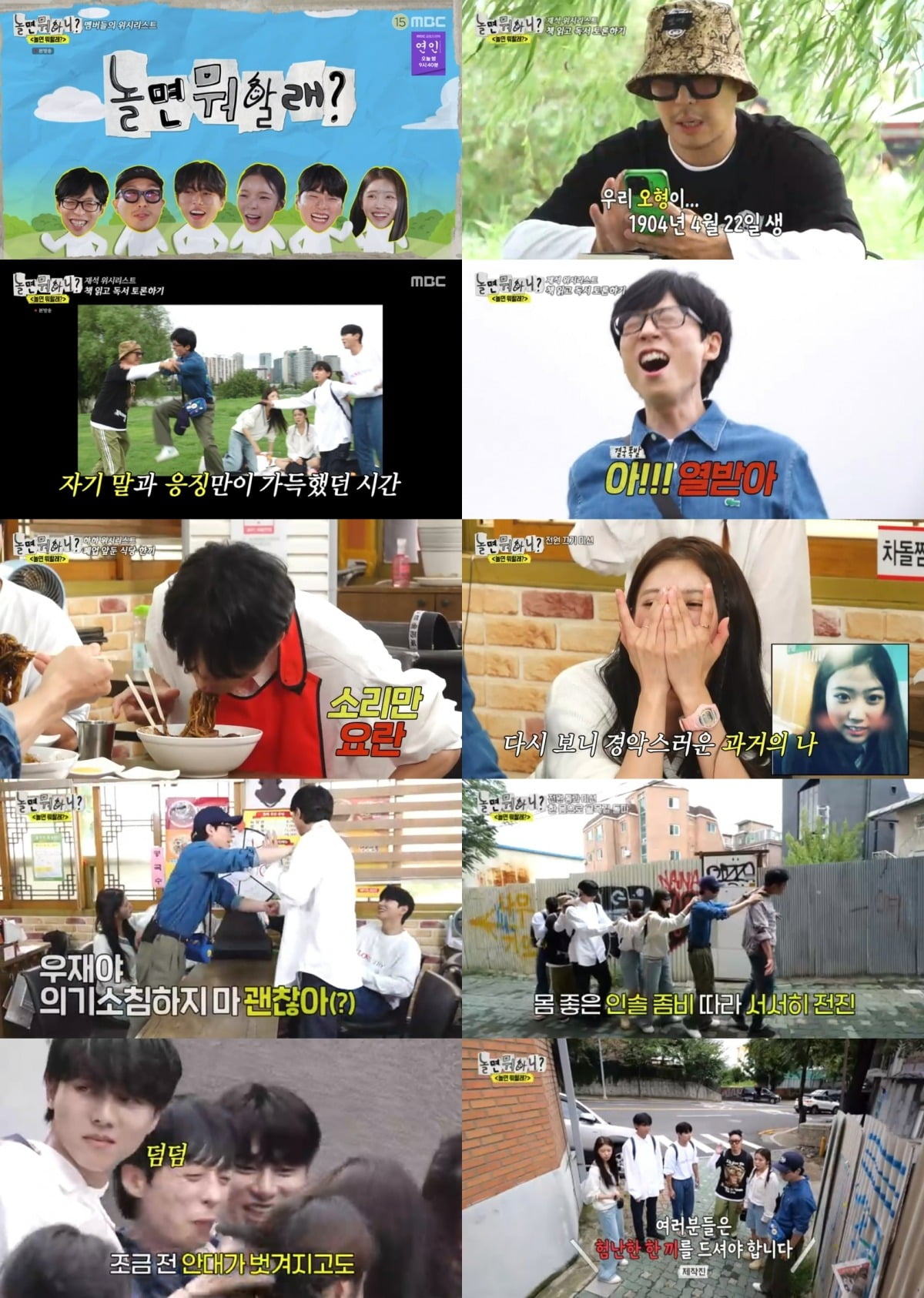 'What do you do when you play?' Yoo Jae-seok wanted healing, but he cried out at the reading discussion that turned into a mess.
MBC's 'What Do You Do When You Play?', which aired on the 2nd, was titled 'What do you do when you play?' As a special feature, members were depicted creating 'Play Thursday' in their own way. The members were given the opportunity to play on Thursday, the recording day, but they had to go through a difficult process to play.
On this day, the members talked about the things they wanted to do together when given 'Play Thursday'. Yoo Jae-seok's 'Reading discussion in the park', Haha's 'Eat a meal at a restaurant about to close', Joo Woo-jae's 'Eating the sweetest dessert in Seoul', Park Jin-joo's 'Lying down, matching friendship bags, and complimenting', and Lee Yi-kyung's ' Lee Mi-joo chose 'to support me while I'm doing a mukbang challenge' and 'to film a MZ reel that's hot these days' as her wish list. However, the production team did not take it lightly and prepared a quest to complete the wish list.
Thanks to the performances of Lee Mi-joo and Jin-joo Park, the members who answered the difficult quizzes were given the opportunity to have a 'reading discussion' on Yoo Jae-seok's wish list. The identity of the book was the original version of the movie 'Oppenheimer', which Haha was familiar with, and was over a thousand pages long. Haha, who encountered the book again after 'Infinite Challenge', expressed his friendliness, saying, "(Oppenheimer) is like a relative now." Haha asked an odd question, "What is Oppenheimer's constellation?" and the members engaged in a 'knowledge battle', mentioning only what they had read and seen. Eventually, voices grew louder and a 'Street Debate Fighter' broke out. As the discussion became a mess, Yoo Jae-seok interrupted the discussion by saying, "I will be happy if you read with me again," causing laughter.
Second on Haha's wish list was 'Eat a meal at a restaurant about to close', and the members had to find their way to their destination without a navigation system. Yoo Jae-seok, who always showed a confident driving attitude, arrived last, and with 9 seconds left in the time limit, everyone gathered together and Haha's wish list came true. However, Haha had to fast before the health checkup. Joo Woo-jae said, "Unusually, I am really hungry today. "I've been starving since last night," he said, declaring a mukbang. Joo Woo-jae's mukbang, which started with a noisy noodle cut, brought laughter in an unabated amount without substance. Not to be outdone by Lee Mi-joo, who was praised, Joo Woo-jae showed off his mukbang while singing Haha, but was scolded by the members, saying, "I have lost my appetite because of you."
Lee Yi-kyung's 'Challenge Mukbang' was selected as the next wish list. The members were given a quest to 'turn off the power', and pictures containing the members' dark history began to appear one after another on TV. The members struggled to hide their dark side in the mission of turning off the TV with a remote control. At this time, Joo Woo-jae pressed the power button on the TV instead of the remote control to turn it off, and the production team said, "Since you broke the rule, the 'power off' will be invalid." The members locked Joo Woo-jae in a 'praise prison' with consolation rather than punishment, and Joo Woo-jae eventually admitted his mistake.
Next, the next quest was carried out to fulfill Lee Mi-joo's wish list, 'Taking an MZ reel'. The mission was successful if the participants wore blindfolds, put their hands on each other's shoulders, and passed 70 meters without letting go or sitting down. At the beginning, zombies appeared and the 'Zombie Train Quest' unfolded. Yoo Jae-seok, who knew nothing, put his hand on the zombie's shoulder and walked away, and the quest ended in failure as Lee Mi-joo's hand, which had been placed on Yoo Jae-seok's shoulder, fell amidst the zombies' combing and spray attacks. The members' eye patches were removed, and the members showed various reactions as they faced the zombies in front of them. Meanwhile, Joo Woo-jae said, "Why are you scared? "They are actors," he said, making everyone laugh by showing his calm demeanor even in front of zombies.
Ten Asia Reporter Kim Seo-yoon seogugu@tenasia.co.kr