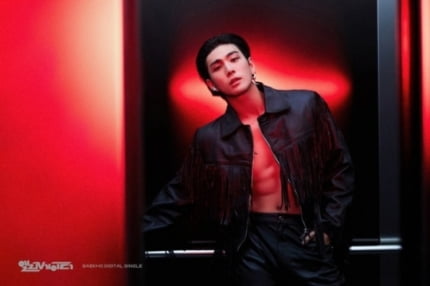 Singer Baekho raised expectations for a comeback with his sexy charm.
On the 24th, the agency Pledis Entertainment announced, "Today at 0:00, the second official photo of the digital single 'Elevator' was released through Baekho's official SNS."
In the published photo, Baekho exudes a unique sexy aura in a closed space called an elevator, creating a fatal atmosphere.
Baekho stares straight ahead with charismatic eyes under red lighting, or looks to the side with his arm leaning on the elevator door, and makes a mysterious expression through the crack in the elevator door that is about to close. In particular, Baekho's neatly swept all-back hairstyle and bold outfit that reveals his strong abs catches the eye.
According to the agency, Baekho's new digital single 'Elevator' is a remake of Park Jin-young's song released in 1995, and will be released on the 31st at 6pm. Baekho reinterprets the original song depicting the secret emotional exchange between men and women in an elevator in his own style and introduces a new 2023 version of 'Elevator'. Expect a song as strong as the sexy visuals in the official photo.
Meanwhile, 'Elevator' is the first released song of Baekho's digital single project 'the [bæd] time'. 'the [bæd] time', which refers to the time with Baekho, is 'the bad time', a time to feel Baekho's mature charm, and 'the bed time', a time to confirm the emotional inner side that contradicts the strong exterior. have meaning at the same time. Through this project, Baekho plans to show an unlimited musical spectrum.
Reporter Ryu Yae-ji and Ten Asia ryuperstar@tenasia.co.kr