ENTERTAINMENT
Shin Ye-eun, who was like a 'star in the night sky', reached the height of splendor with a dress worth 11.3 million won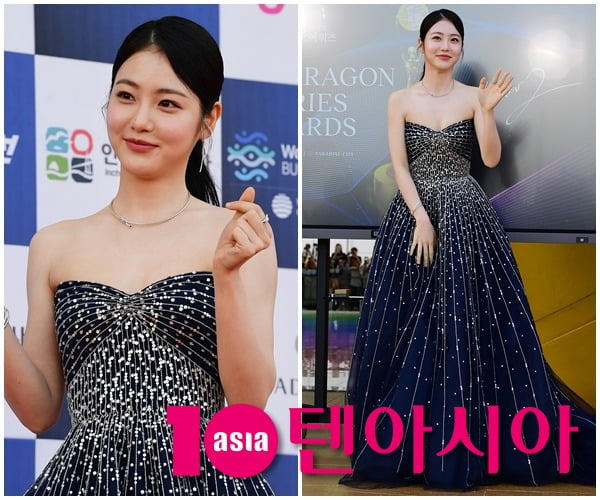 Actress Shin Ye-eun stepped on the red carpet with a beautiful figure.
Shin Ye-eun won the Rookie of the Year Award for her role in 'Third Person Revenge' at the Blue Dragon Series Awards held in Paradise City, Incheon on the afternoon of the 19th. Shin Ye-eun delicately portrayed the character of Chan-mi, who went in search of the truth about her twin brother's death.
On this day, Shin Ye-eun drew attention by choosing an M company off-shoulder dress. From the chest line to the tips of the toes, the densely studded beads made Shin Ye-eun's face even brighter. The dress, reminiscent of the stars in the night sky, costs 11.3 million won.
▲ List of winners of the 2nd Blue Dragon Series Awards below
Daesang = 'The Glory' Song Hye-kyo
Top Excellence Award for Drama = 'Casino'
Best Actor in a Drama: Jung-Woo Ha ('Suriname')
Best Actress in a Drama: Suzy for 'Anna'
Best Supporting Actor in a Drama Category = Lee Dong-hwi from 'Casino'
Best Supporting Actress in a Drama: Lim Ji-yeon ('The Glory')
Best New Actor in Drama = 'Weak Hero Class 1' Park Ji-hoon
Best New Actress in Drama = Shin Ye-eun for 'Third Person Revenge'
Top Excellence Award for Entertainment and Culture = 'Siren: Island of Fire'
Male Entertainer Award for Entertainment and Culture = 'Play U Level Up: A World Where Villains Live' Yoo Jae-seok
Female Entertainer Award for Entertainment and Culture = 'SNL Korea Season 3' Joo Hyun-young
New Male Entertainer Award in the Arts and Culture category = 'Game of Blood 2' Dex
New Female Entertainer Award for Entertainment and Education = Kim Ah-young of 'SNL Korea Season 3'
OST Popularity Award = Jaechan Park
Tirtir Popular Star Award = Park Jae-chan, Kim Yeon-kyung, Lee Kwang-soo, Cha Eun-woo
Why Not Award = 'Weak Hero Class 1' Choi Hyun-wook
Reporter Ryu Ye-ji and Ten Asia ryuperstar@tenasia.co.kr