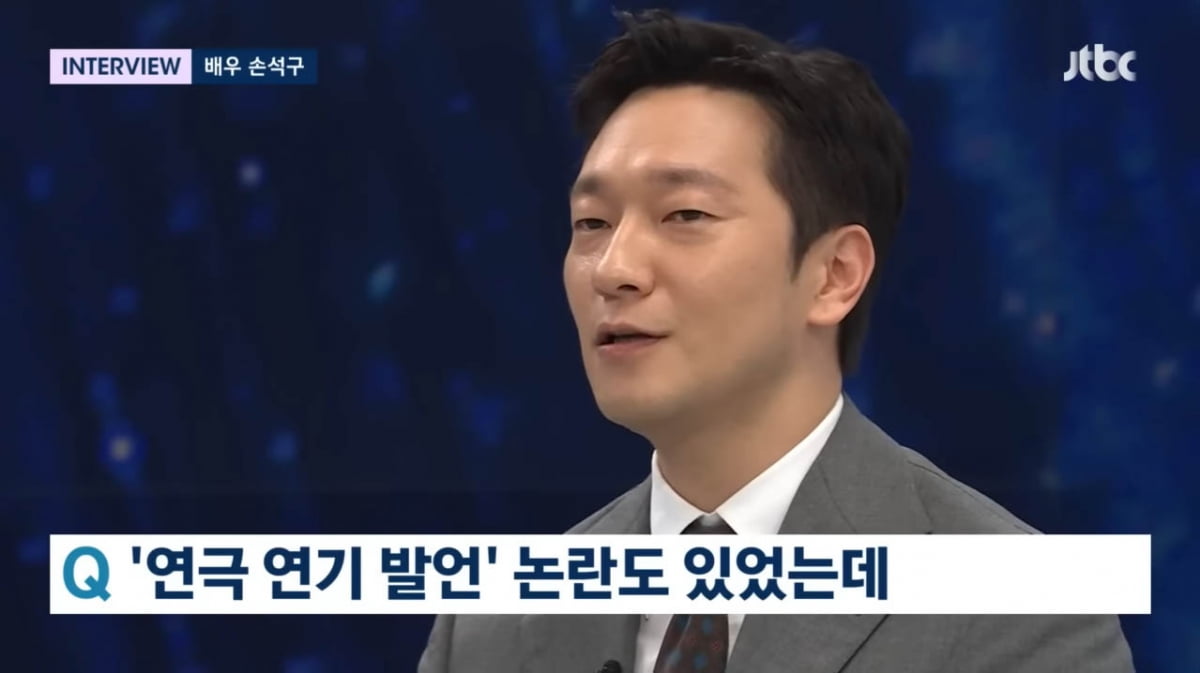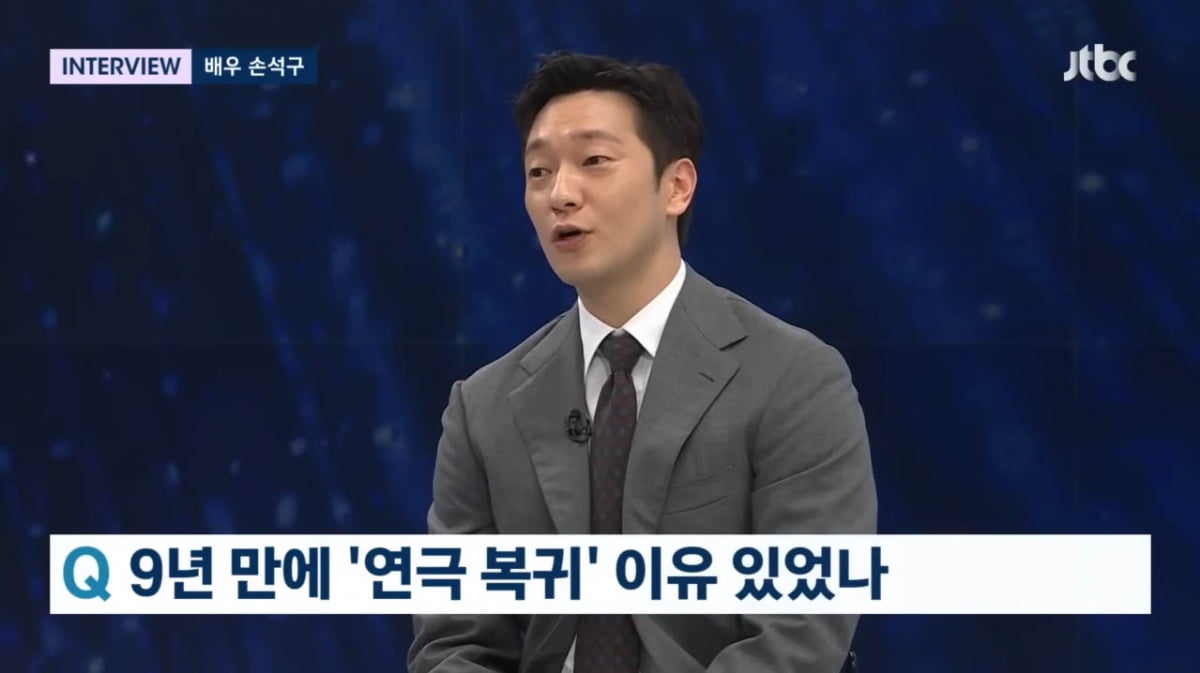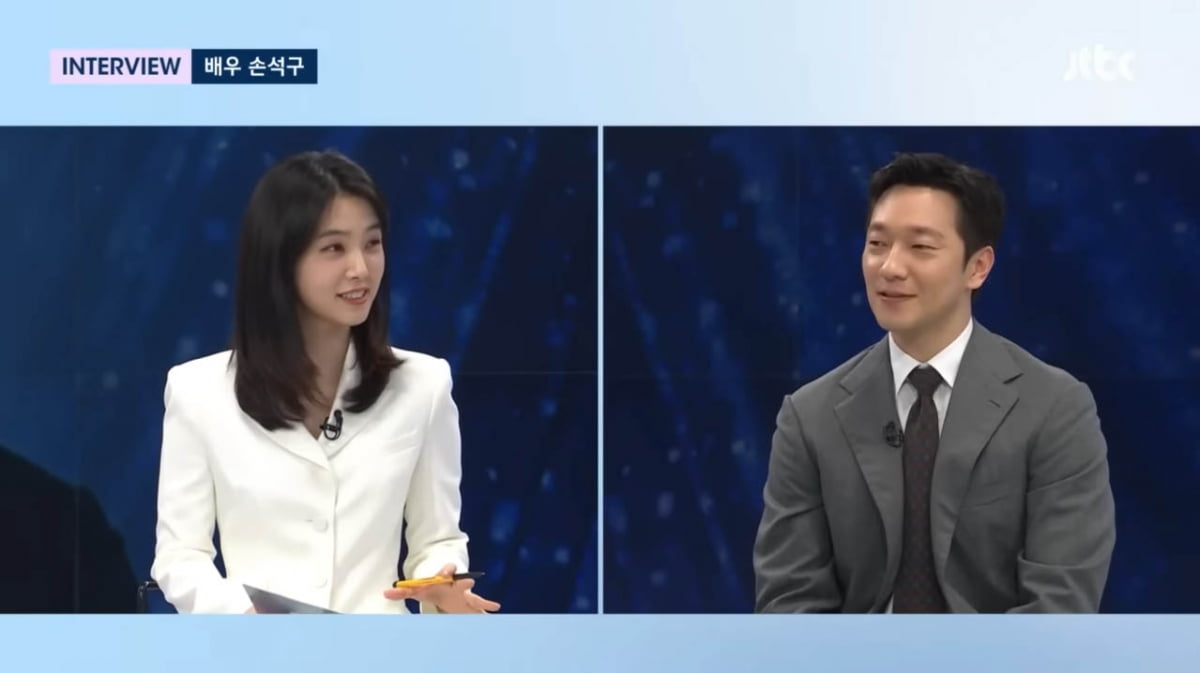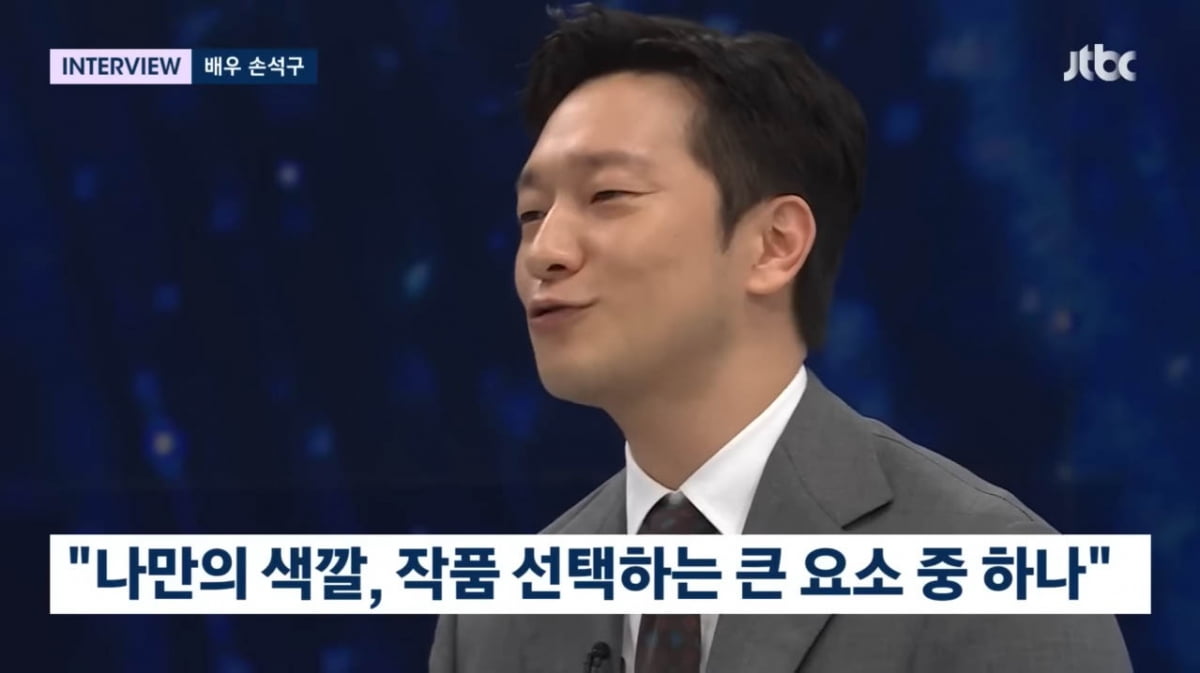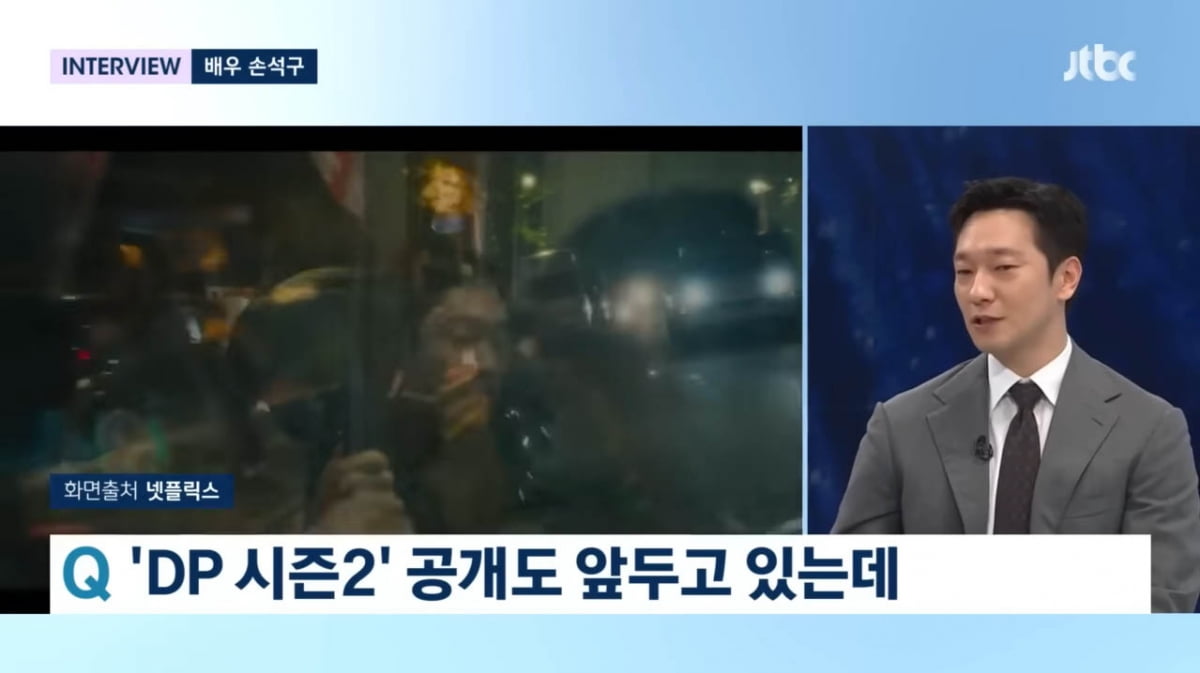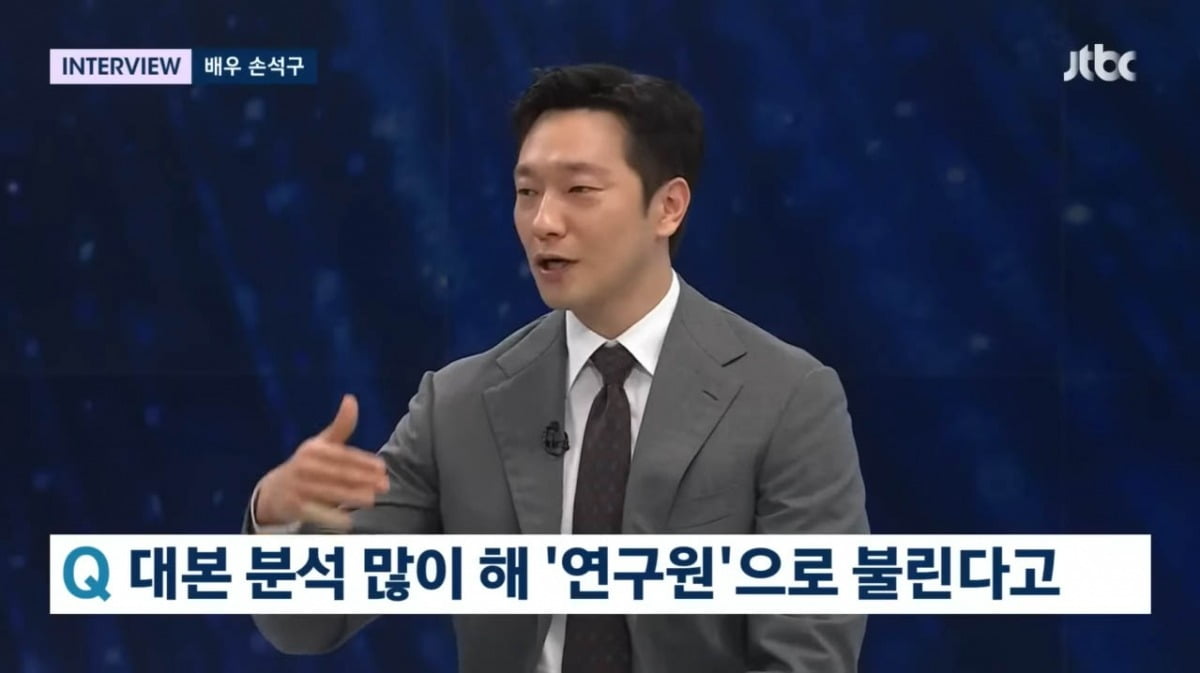 Son Seok-gu explained the remarks of 'fake acting'.
Son Seok-gu appeared in JTBC's 'News Room', which aired on the 23rd.
When asked if he felt the intense interest in each of the dramas 'My Liberation Diary', 'Casino', the movie 'Crime City 2', and the upcoming 'DP2', Son Seok-gu said, "One year after 'My Liberation Diary', Seeing that he is so busy that there are almost no days when he does not stand in front of the camera for half of the time, he seems to be in his prime."
Son Seok-gu is currently meeting the audience with the play 'Army on the Tree'. Regarding the reason for returning to the theater stage after 9 years, Son Seok-gu said, "Actually, I wanted to continue doing theater long before that. Then, when I read the script for the performance I am currently doing called 'Army on' Tree', this is my time. I thought I had to do it at least by making "". And I think the timing was right. When I think about it, it's rather late. I wanted to do it sooner."
When asked why he chose this work, Son Seok-gu said, "I think it is a play that examines beliefs and beliefs. Sometimes there are parts that need to be questioned, and I thought it was a play that touches on those parts.
Son Seok-gu plays the role of a recruit in the play. Son Seok-gu said, "When I see a phenomenon, I first doubt it and try to interpret it a lot on my own how I should accept it. In the case of a recruit, he doesn't ask what beliefs he should believe like this, and it's his motto. He said, "I am a person who goes straight ahead by taking it as a role. I'm not like that. And the age in the actual play is probably in the late teens or early 20s. I'm almost 40, so I think it's a bit difficult to do it, but I really wanted to try it." .
When asked if it was his will to appear as a one-cast for nearly two months, Son Seok-gu replied, "There are two main reasons why I insisted on it." He said, "First, when I act like this, when I repeat the same dialogue, the same fingerprint, and the same movement, it doesn't dull it, but rather I feel a bit freer as an actor. I wanted to feel it first," he said. "The second is actually the biggest reason. So, when you come to the theater, I wanted to create an atmosphere where you can enter the world where the new recruit is Son Seok-gu and Son Seok-gu is the new recruit. ' Today, this actor is playing this role. It's not like 'guna', it's just a rookie."
Son Seok-gu recently received strong criticism from senior actor Nam Myung-ryeol for 'arrogant' for his remarks on 'fake acting'. Regarding this, Son Seok-gu said, "When I first started acting about 10 years ago, while working hard to become a good actor, I sometimes felt that I was being forced into acting that was close to one standardized answer. Was that really so?But I don't think it was At the time, I felt that way because of my intolerance and my stubbornness But now, with that as an opportunity, it was also the driving force that made me think that I should have my own color since I was young." "Even now, when I choose a work, I think a lot about that part. When I put my color in this work like this, what kind of picture will come out. This kind of excitement is one of the big factors that make me choose a work. Just one example, And the somewhat immature language that I usually spit out easily when I'm just talking with my actor friends. 'Hey, why are you acting so fake?' I personally wrote a handwritten letter to my senior and apologized. The senior also saw it, understood my feelings, replied to me, and will come to see the play."
When asked what kind of comments he would make, Son Seok-gu said, "I'm also very curious. There may be good comments or negative comments, but that's what nourishes me. Our concert still has about a month left, so I 'm accepting those things. I will now sprinkle water that can develop again, senior."
In 'DP2', Son Seok-gu continued to play the role of Captain Lim Ji-seop from season 1. Son Seok-gu said, "It seems that the effort of a person who changes to take responsibility is important. In season 1, Captain Lim Ji-seop was a person who avoided that a lot, so on the contrary, I thought that it would be a good drama to move towards that responsibility now. did," he said.
Son Seok-gu's nickname among his colleagues is 'researcher'. It's a nickname given to me because I studied the character script too much when I was acting. It was said that during the filming of 'Casino', even Choi Min-sik said, "Leave the script and play for now." Son Seok-gu said, "I don't like to play. I read the script, act on the spot, have meetings with people, and enjoy these things. In fact, for me, that's play. I took an example for this work and, to put it numerically, as much as 50 If I put in effort, I feel like I'm not doing anything if I don't put in more effort than 60 or 70. I think this is also a kind of addiction .I have to increase the amount of time I put in to be satisfied again." When asked if he had the style of whipping himself, he replied, "Yes, but that whipping isn't so painful. If it was, I wouldn't have done it."
When asked if his usual acting motto is reality, Son Seok-gu said, "Yes." He said, "If there is one belief or something I have to save reality, I will try to be myself. I don't hide my usual habits or this way of speaking, but rather when I reveal more of those things, I think the reality goes up. 'You really are. Rather than 'You looked like a different person this time', 'It was just like you' was the best compliment to me."
Reporter Kim Ji-won, Ten Asia bella@tenasia.co.kr