ENTERTAINMENT
Ok Taecyeon and Won Jian begin romance with a heartfelt kiss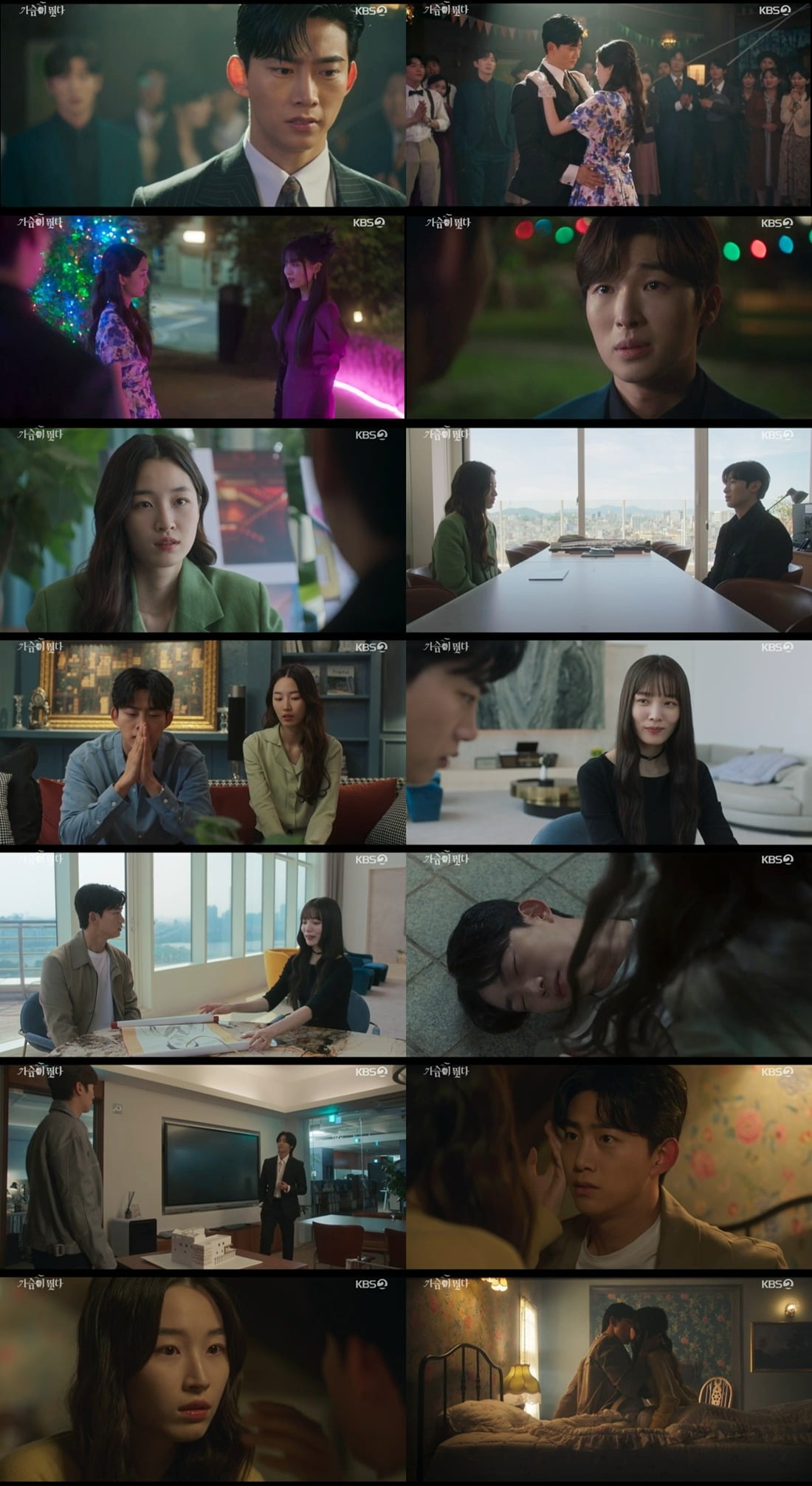 Taecyeon Ok and Jian Won confirmed their feelings for each other with a kiss.
In the 11th episode of KBS 2TV's Monday & Tuesday drama, 'My Heart Beats', which aired on the 31st, Joo Hae (Won Ji-an) confessed her feelings to Seon Woo-hyeol (Ok Taek-yeon) and showed a closer relationship.
On this day, the broadcast opened with a scene where Woohyeol and In-in danced together at a 'one-sided' party. The two felt strange feelings for each other through warm eye contact, and Na Hae-won (played by Yoon So-hee), who intuited the unusual atmosphere between them, surprised everyone by overturning the wine glasses and messing up the party.
Hae-won, who wanted to do well with Woo-hyeol, asked In-eun about his feelings for Woo-hyeol, but he couldn't answer. As Hae-Hyeol's actions towards In-Hwan became more intense, Shin Do-Sik (Park Kang-Hyun) refrained from Hae-Hyeol, tried to talk to Woo-Hyeol, who he thought was the cause of the current situation, and finally issued a warning, and the relationship between the four gradually began to crack.
Afterwards, Do-shik showed In-eun a black box containing an unrealistic image of hemorrhage and informed him of his identity. However, In-in said, "I'm not as dangerous as you think," and instead covered Woo-hyeol, and Sik-shik did not understand her and was angry.
Meanwhile, Woo-hyeol was deeply saddened to learn that Yoon Hae-seon (played by Yoon So-hee) had lost his hanging scroll. Upon seeing him, In-eun said to Woo-hyeol, "I don't know if these words will comfort you, but the hanging scroll is just a picture. What Seon Woo-hyeol is looking for is the person who made her dream of a heart-pounding love."
A drunken Hae-Won calls Woo-Hyeol, who is frantic because the scroll is missing, and he can't ignore it. Haewon had the hanging scroll she had been searching for. To make matters worse, Hae-won showed the opposite of Hae-seon by handing a hanging scroll to Woo-hyeol and forcing him to expel In-eun from the mansion where he currently lives. set fire to
Shocked by the fact that Hae-won is not Hae-seon, Woo-hyeol wanders aimlessly on the streets and collapses in front of In-hee who runs to find her. The half-human vampire's body deteriorated and an abnormal reaction appeared. Lee Sang-hae (played by Yoon Byeong-hee) and Park Dong-seop (played by Ko Kyu-pil), who happened to pass by the road, discovered the appearance of bloodshed and human blood, and the sudden fainting of bloodshed caused regret in the home theater.
In-eun kept by the side of the fallen Woo-hyeol and carefully looked after him, and his feelings for him deepened, such as being afraid of losing Woo-hyeol. Eventually, at the end of the broadcast, In-in conveyed his heart to Woo-hyeol, who came to his senses, by confessing, "I think I like Woo-hyeol Seon." The streets were thrilling.
On the other hand, Li Man-hui (played by Baek Seo-hu) found out that Do-sik was looking for another vampire who could deal with Woo-hyeol. In response, he went to Scheme and offered a deal to catch the half-human vampire, and the tension on the eve of the storm lingered in the figure of Scheme staring at him.
Not only that, but Shanghai and Dong-seob started to learn about Dong-il's future and sensed something suspicious.
Kim Seo-yoon, staff reporter seogugu@tenasia.co.kr