ENTERTAINMENT
'Trot singer' Ahn Seong-hoon, the secret to his tall height is insoles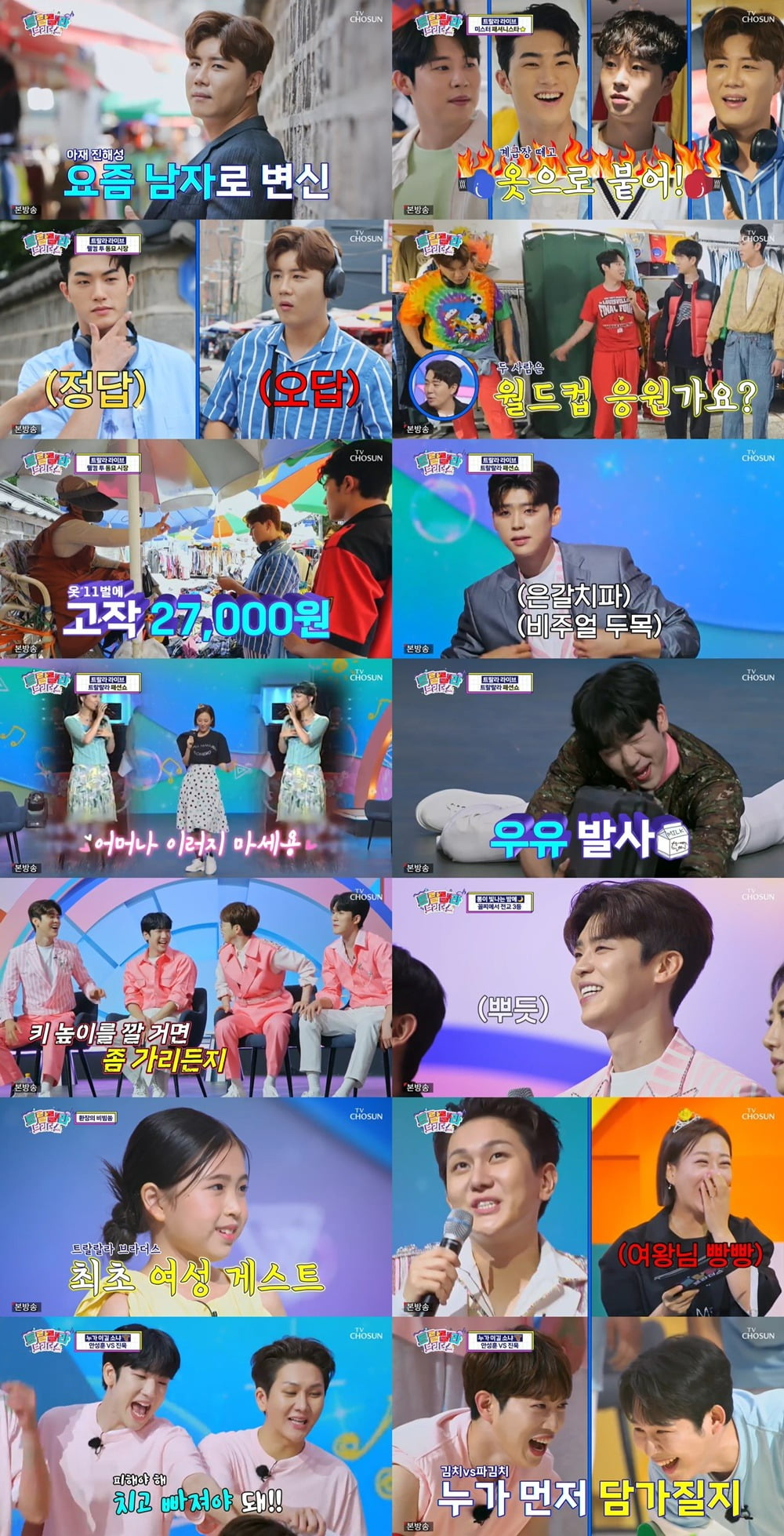 Trot singer Ahn Seong-hoon's tall insoles have been exposed.
According to Nielsen Korea, a ratings research company on the 27th, TV CHOSUN's 'Tralala Brothers', which aired the previous day, recorded a nationwide rating of 4.745%, up from the previous week. This corresponds to the highest viewer ratings for all channels in the same time zone, including terrestrial, general, and cable channels, and the highest viewer rating per minute rose to 5.6%. On this day's broadcast, a day was drawn of the Trot Brothers who visited Dongmyo, the holy land of second-hand clothing. Self-proclaimed trot fashionistas Song Min-jun and Yoon Jun-hyeop transformed fashion terrorist Jin Hae-seong into a handsome boyfriend, giving viewers surprise and laughter.
On this day, Song Min-jun and Yoon Jun-hyeop visited Dongmyo to transform the plain clothes fashion terrorist Jin Hae-seong and Jin-wook. They couldn't hide their surprise at the enormous size of the Dongmyo. Of course, the lineup that had everything except for the second-hand clothes drew attention. In particular, the discovery of the album 'Ugi's Trot Diary', released by Jin-wook in elementary school, surprised viewers. Upon discovering a rare item, Jinwook exclaimed, "This is here!" Jin Hae-seong also found the album in the early days, and was surprised by the enormous scale of Dongmyo.
The Trot Brothers set out to excavate treasures from piles of second-hand clothes piled up like a mountain. Those who went on a treasure hunt with hawk eyes picked 11 pairs and were once again amazed at the simple price of 27,000 won. Then, the four of them went on a fashion show in Dongmyo, where they could get a glimpse of their fashion sense. Yoon Joon-hyeop found a luxury item in a pile of clothes and showed off his model-born sense, while Song Min-jun drew attention with his Y2K fashion.
Song Min-jun and Yoon Jun-hyeop transformed Jin Hae-seong into a handsome man on a blind date. Even Jin Hae-seong himself is satisfied with the neat and dandy fashion completed with second-hand clothes. Along with this, a surprise fashion show continued in the studio with the used clothes selected by the Trot Brothers. In particular, MC Jang Yoon-jung drew the attention of viewers by perfectly digesting the dot pattern relief skirt that reminded her of the days of 'Oh My God'. In the meantime, Ahn Seong-hoon's insoles were exposed, causing laughter. Ahn Seong-hoon was taken aback when several tall insoles poured out of his shoes, and the brothers couldn't hide their laughter, saying, "How many did you put in!"
The story of the fans that can only be met in 'Tralala Brothers' was also touching. First, the story of a fan who went from the last place in the school to the 3rd place in the whole school was revealed with a single determination to become a PD and see Park Ji-hyun up close. In addition, the mother of a father who is suffering from a brain tumor stimulates the tear glands by conveying her desire to see Jin Hae-seong for a long time. The story of a fan who forgot his dream after becoming a head of household early and gained courage in life by seeing Choi Soo-ho touched the hearts of not only the Trot Brothers but also the viewers.
Kim Seo-yoon, staff reporter seogugu@tenasia.co.kr