TV
Ji Chang-wook and Shin Hye-sun first meeting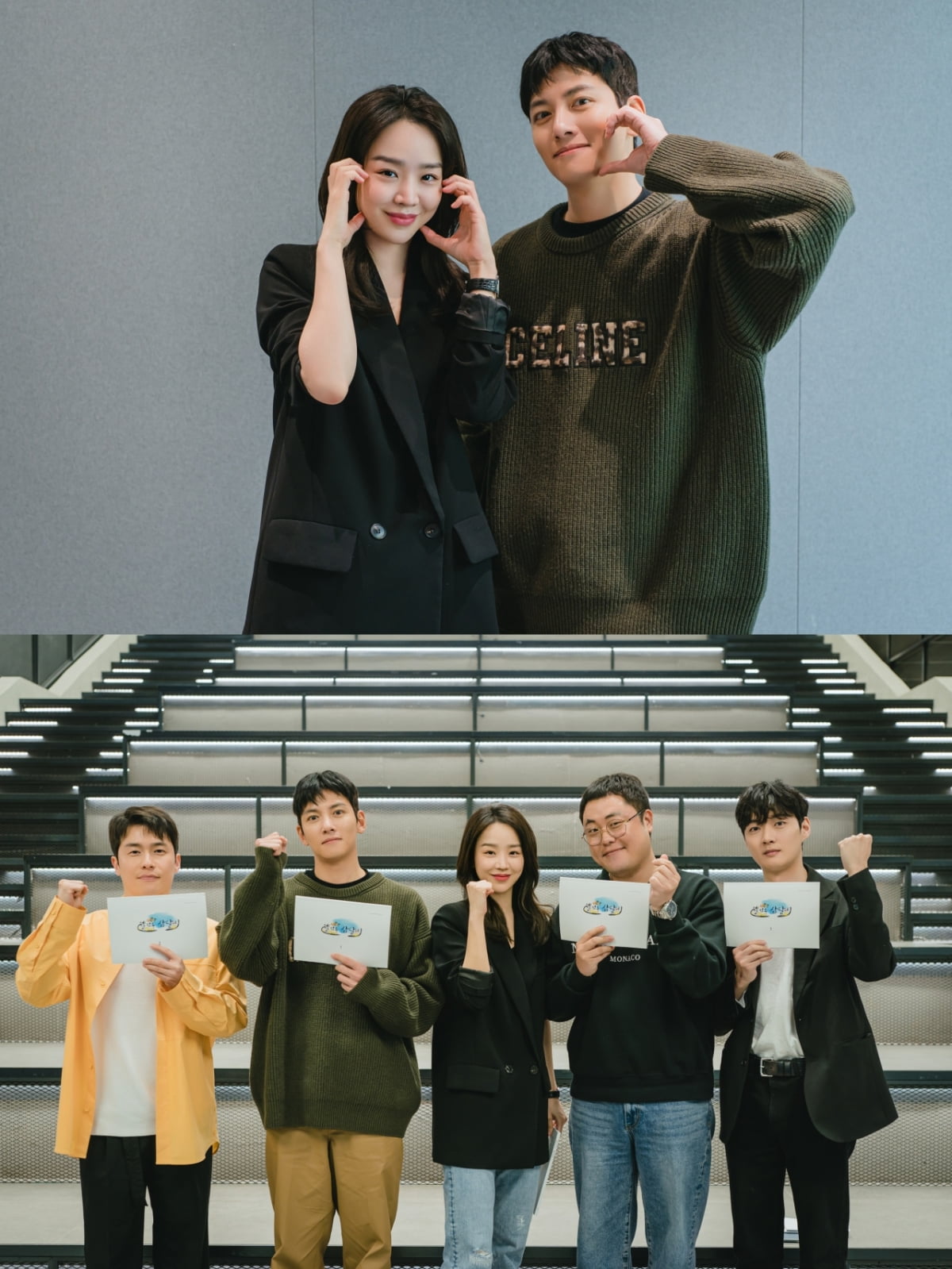 The script for JTBC's new Saturday-Sunday drama 'Welcome to Samdali' has been revealed.
On the 13th, 'Welcome to Samdali' revealed the script practice site that took place in Sangam-dong last April. At this event, led by director Cha Young-hoon and writer Kwon Hye-joo, Ji Chang-wook, Shin Hye-sun, Kim Mi-kyung, Seo Hyun-cheol, Yoo Oh-seong, Shin Dong-mi, Yang Kyung-won, Lee Jae-won, Bae Myung-jin, Kang Young-seok, Kang Mina, Baek Hyeon-ju, Yoon Jin-seong, Kim Mi-hwa, Jo Yoon-seo, Kim A-young, Lee Do-hye, and Kim Do-eun etc. attended and graced the occasion.
As expected from a drama featuring a large number of talented actors, the atmosphere on this day became heated with flawless acting. Above all, the work's warmth and energy of laughter combined with the actors' passionate performances created a synergy.
Director Cha Young-hoon, who was in charge of directing before the full-scale rehearsal, said, "'Welcome to Samdali' is a story about love, friendship, and healing. Although it is lonely and exhausting, in fact, when I look around me, I realize that there are people in all of us who will support us without any cost in return. He introduced the work saying, "It contains it." He continued, "That's why I hope that when you turn around and leave after filming, it becomes a scene where you can fully receive that warm energy. And I hope that you feel like you have become a better person after filming. With that realization, you can help your friends, family, and people around you. "I think we can treat them with a slightly different attitude," he added.
Ji Chang-wook plays the role of Cho Yong-pil, a forecaster at the Jeju Island Meteorological Administration who wants to be the guardian of the three months. Yongpil, who has been with Samdal for 30 years and has written the history of a couple full of joys and sorrows, is a friend who knows how to truly love someone. That's why he listens to Samdal's words, stays by his partner's side, and insists on accurate weather forecasts to protect his loved ones.
Shin Hye-sun, who could not hide her nervousness during her first practice, entered passionate acting mode as soon as the reading began. He dreamed of being a dragon, but fell into the abyss in an instant, and then went back to Gaecheon, where he did not want to return, and became possessed by Jo Eun-hye, a top photographer working under a stage name in Seoul. In particular, Shin Hye-sun, who returned to Gaecheon's embrace, threw off the mask of an adult, and returned to the proud Samdal alley leader Jo Sam-dal, who was confident at the time, made the scene laugh, cry, and shake.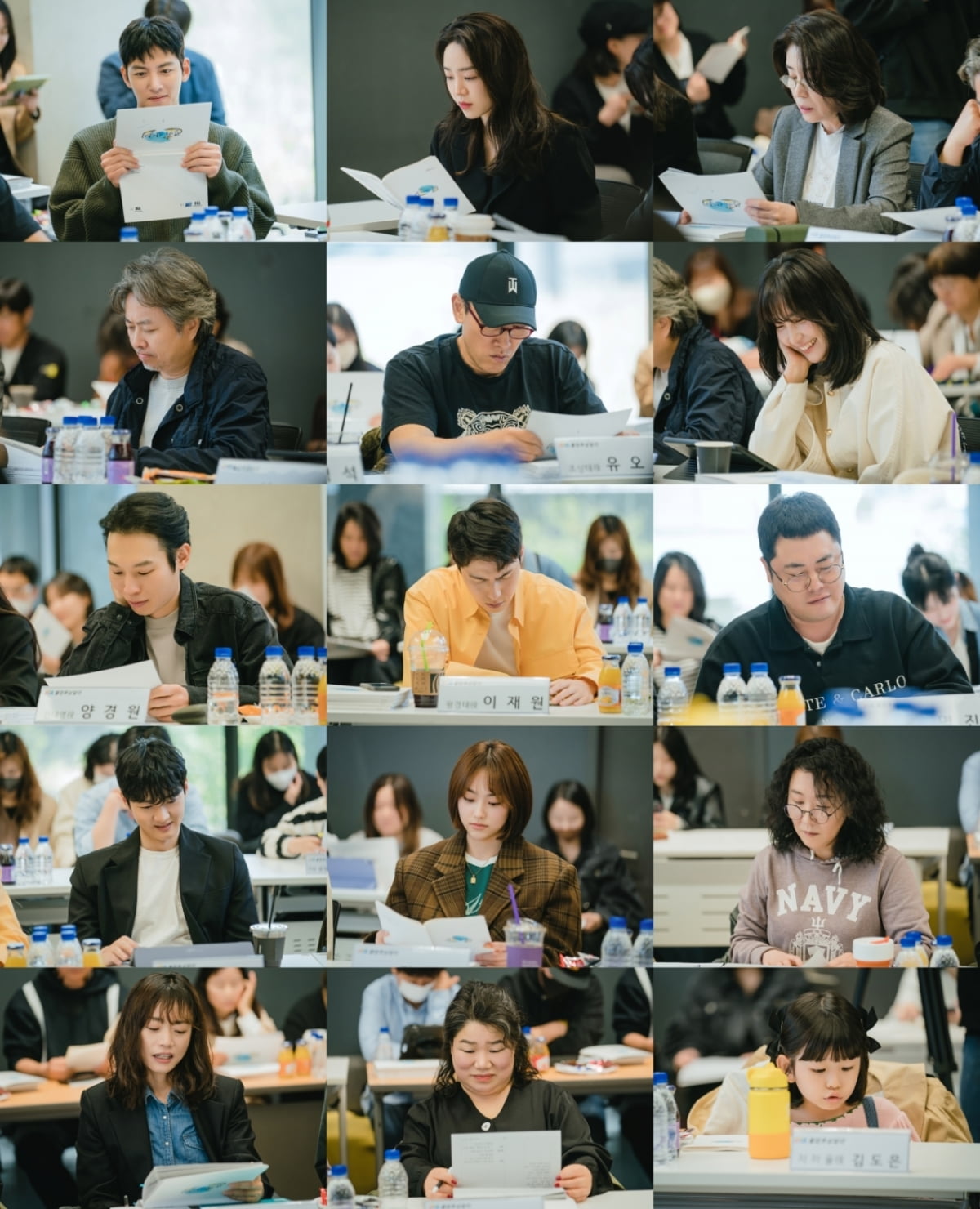 Above all, on this day, the relationship between Grandmother Samsin and the history of friendship between Yongpil and Samdal attracted attention. The 30-year history of these people who are happy and sad, excited and heartbroken, and heartbroken even when they fight, and the new history they are writing when they meet again on Jeju Island as time goes by, shows its true value as a true romantic comedy craftsman, drawing reactions from the scene. It exploded. This was the reason why viewers reacted to each video and poster released.
The real-life sister chemistry between Samdal and the Three Moon Sisters, Jindal and Sea Otter, made us laugh with a sense of realism as if we were looking at our own home. When they fight, it is reminiscent of a battlefield, but when they are on their side, they are invincible. Their potential was revealed through the passionate performances of Shin Dong-mi and Kang Mina, whose acting skills caught the public's attention. Added to this was the performance of Kim Do-eun, who played the role of Ha-yul Cha, the daughter of the sea otter.
The energy of the Samdali neighborhood friends also shined. The five Eagle brothers, including Yongpil and Samdal, played by Sangdo, Wang Gyeongtae, and Cha Eunwoo were played by Kang Youngseok, Lee Jaewon, and Bae Myungjin, showing off their eye-catching chemistry. They warmly welcome Captain Jo Sam-dal, who has returned to Samdali, and plan to apply the medicine of friendship to her, who is covered in wounds.
Kim Mi-kyung, Seo Hyeon-cheol, and Yoo Oh-seong play the roles of Samdal's mother and father, Go Mi-ja, Jo Pan-sik, and Yong-pil's father, Jo Sang-tae, respectively, depicting the story of a family. This is a part that raises curiosity about what kind of story the partners' parents will tell. In addition, a variety of actors who caught the eye with their diverse charms appeared in large numbers, delighting the eyes and ears. Baek Hyun-joo, Kim Mi-hwa, and Yoon Jin-seong, who will play the three female divers who follow Mija, the head of the Haenyeo Association, and the mother of Gyeong-tae, Eun-woo, and Sang-do; 3moon studio assistants Bang Eun-joo; Go Eun-bi; Yang Kyung-won, who plays the role of Jeon Dae-yeong, filled the play without any gaps with her energetic performance.
The production team said, "The strengths of 'Welcome to Samdali' were maximized as the script, which exuded human warmth and affection just by writing, was added to the excellent acting and perfect chemistry of actors with various charms. The warm fun felt on set was also reflected in the video. "So that we can capture 200% of the drama, we will present a drama that will be full of fun and warm hearts for viewers at the end of this year. Please give us a lot of love."
Meanwhile, 'Welcome to Samdali' is a clean couple romance in which Samdal, a dragon born in a stream at the foot of Hallasan Mountain, loses everything and falls, and Yongpil, who cherishes the stream, returns to his hometown to catch his breath and find love. It will be aired for the first time on December 2nd as a follow-up to 'Strong Woman Gangnam Soon'.
Kang Min-kyung, Ten Asia reporter kkk39@tenasia.co.kr