TV
Choo Sung-hoon announced his retirement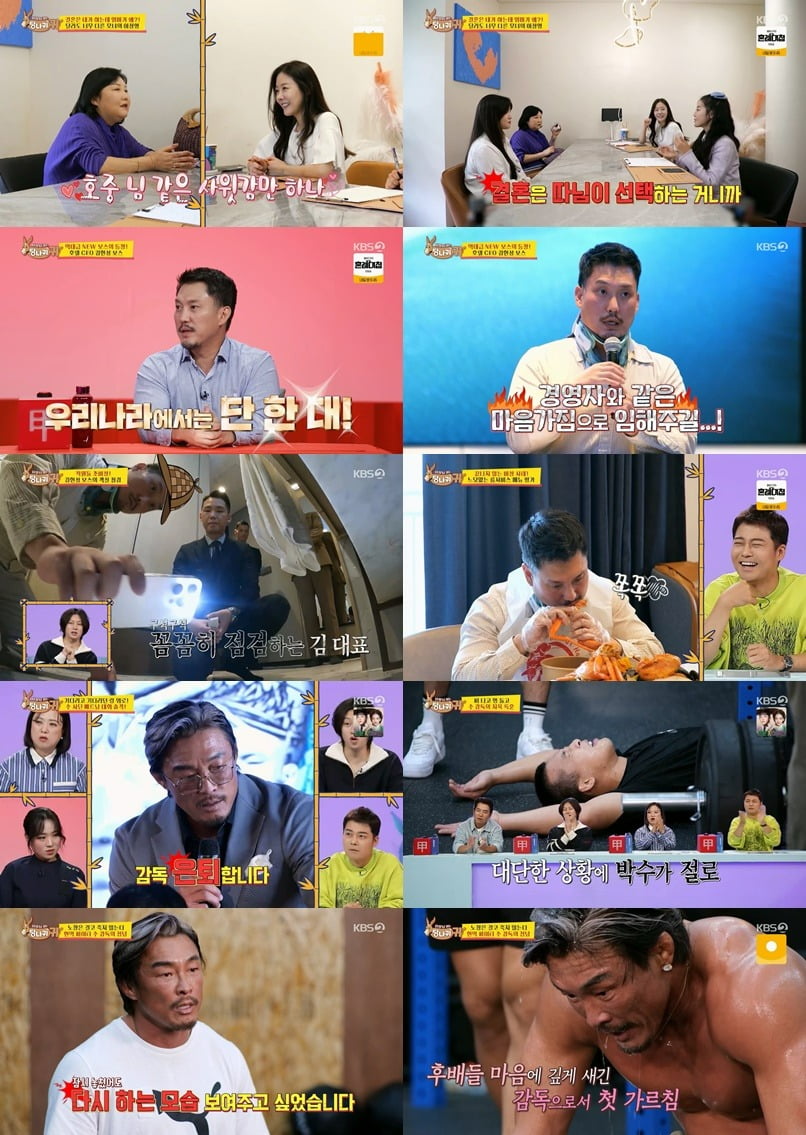 KBS2's 'The Boss Has Donkey Ears' Choo Sung-hoon, who debuted as a martial arts coach for the first time in his career, did not spare any sincere advice to younger fighters.
Episode 229 of KBS2's entertainment show 'The Boss Has Donkey Ears', which aired on the 29th, recorded a viewer rating of 4.8% nationwide and 4.4% in the metropolitan area, and 2049 also accounted for 1.5%, ranking first in its time slot in all figures. achieved. Accordingly, 'Sadangwi' set a record of being '#1 in viewership ratings in its same time slot for 78 consecutive weeks.' (Based on Nielsen Korea)
First, Boss Seong Ji-in, CEO of a marriage information company, began consulting with mother and daughter customers with MZ intern Kim Yu-rim. A mother customer wearing purple all over her body confirmed that she was a big fan of singer Kim Ho-joong and asked to find "a handsome and dependable man like Kim Ho-joong" as her son-in-law. Seong Ji-in successfully negotiated a contract by skillfully reconciling the differences between the mother and daughter customers. Afterwards, I had a meal with the head of the finance department and a conversation began about how to deal with a lover who asks to borrow business funds. Seong Ji-in said, "I will immediately refuse and break up," but confessed, "But I also borrowed money when paying taxes," making people laugh. Seong Ji-in asked the head of the finance department, who was about to get married, to borrow 5 million won. Jae-kyung's girlfriend suspected voice phishing and refused outright, embarrassing Jae-kyung. Jae-kyung burst into laughter at Jae-kyung's response, saying, "It cost over 5 million won to propose (and they won't lend it to you)..." and couldn't continue speaking.
Kim Heon-seong, CEO of Gangneung 4-star hotel, which boasts a value of hundreds of billions of won, has joined as the new boss. Kim Heon-seong, who has brought a young wind to the hotel industry just 5 years after its establishment, and his close friend, actor Joo Sang-wook, are together as special MCs. Kim Heon-seong drives the only car in Korea to work. A scene from a drama where employees lined up on both sides of the door and waited to greet each other was created, drawing boos from MCs. Kim Heon-seong introduced the hotel as "Heonseong Land, where everything happens as I say," but the employees made people laugh by describing Kim Heon-seong as a ghost, a weirdo, and a meddling king. At an employee general meeting attended by about 100 employees, Kim Heon-seong, who questioned the reason for the sluggish sales, said, "Please have a managerial mindset when working." At the second general meeting, where only the department heads were left, Kim Heon-seong continued to hold the guest room team responsible for its poor performance in an angry voice. Kim Heon-seong called in the guest room team manager Kim Seong-gyun and the food and beverage team manager Lee Seung-hyuk and began a surprise inspection of the guest rooms. Even Chef Jeong Ji-seon, who was watching the VCR, was impressed by the meticulousness of checking the dust under the bed by turning on the flashlight on his cell phone, and when he defended Kim Heon-seong, the MCs burst out laughing. Kim Heon-seong, who checked foreign substances under the baby bed mattress in the kids room, said, "I am obsessed with finding the problem." Next, instructions were given to the food and beverage team to prepare room service food within 30 minutes. Lee Seung-hyuk could not hide his nervousness in the cold atmosphere of Kim Heon-seong, who was measuring time and waiting for his food. Kim Heon-seong, who tasted the hastily prepared steamed red crab and assorted raw fish, complimented the previous situation by saying, "The quantity, taste, and appearance are all excellent," which lightened the mood. Kim Heon-seong, who started a full-fledged mukbang with boiled crab as the last menu item, made the MCs laugh.
Choo Seong-hoon stepped in as coach for martial arts juniors Ko Seok-hyun, Kim Sang-wook, and Song Young-jae, who were scheduled to compete in Vietnam in December. While encouraging the nervous juniors and strengthening their resolve, whenever the juniors called him "Coach Seong-Hoon Choo," the corner of his mouth twitched and the sight of Choo Seong-Hoon, who liked them, made him burst into laughter. When the host asked about his determination as a coach, Choo Seong-hoon's explosive declaration, "I will retire if all three fighters do not win by KO within one round," shook the field and heightened expectations.
Choo Seong-hoon, who started preparing for the competition in earnest, ordered his juniors to complete 210 deadlifts and 210 push-ups with a 100kg barbell, a total of 420, within 20 minutes. Song Young-jae shook his head and said, "It's not at a level that a human can do." Unlike Song Young-jae, who gave up midway, Ko Seok-hyun and Kim Sang-wook gritted their teeth and succeeded in completing the goal of 420 runs, receiving applause despite sweating like rain. After the training ended, Choo Seong-hoon advised Song Young-jae, "Even if it takes a long time, you must not give up and continue until the end." He challenged deadlifts and push-ups with Dong-Hyun Kim and succeeded in completing 420. In response, Go Seok-hyun expressed his respect for Choo Seong-hoon, saying, "I thought he was not there for no reason." Choo Seong-hoon, who finished the race, once again said to Song Young-jae, "Next time, don't give up. He showed off his warm senior charm by saying, "I'll work hard too, so follow me hard." Afterwards, Choo Sung-hoon concluded the training by raising the morale of his juniors by promising a prize of 1 million won if they achieved a KO victory within one round.
Kim Ji-won, Ten Asia reporter bella@tenasia.co.kr