TV
U-ie and Hajun's skinship was captured in a taxi they were riding in after a drinking date.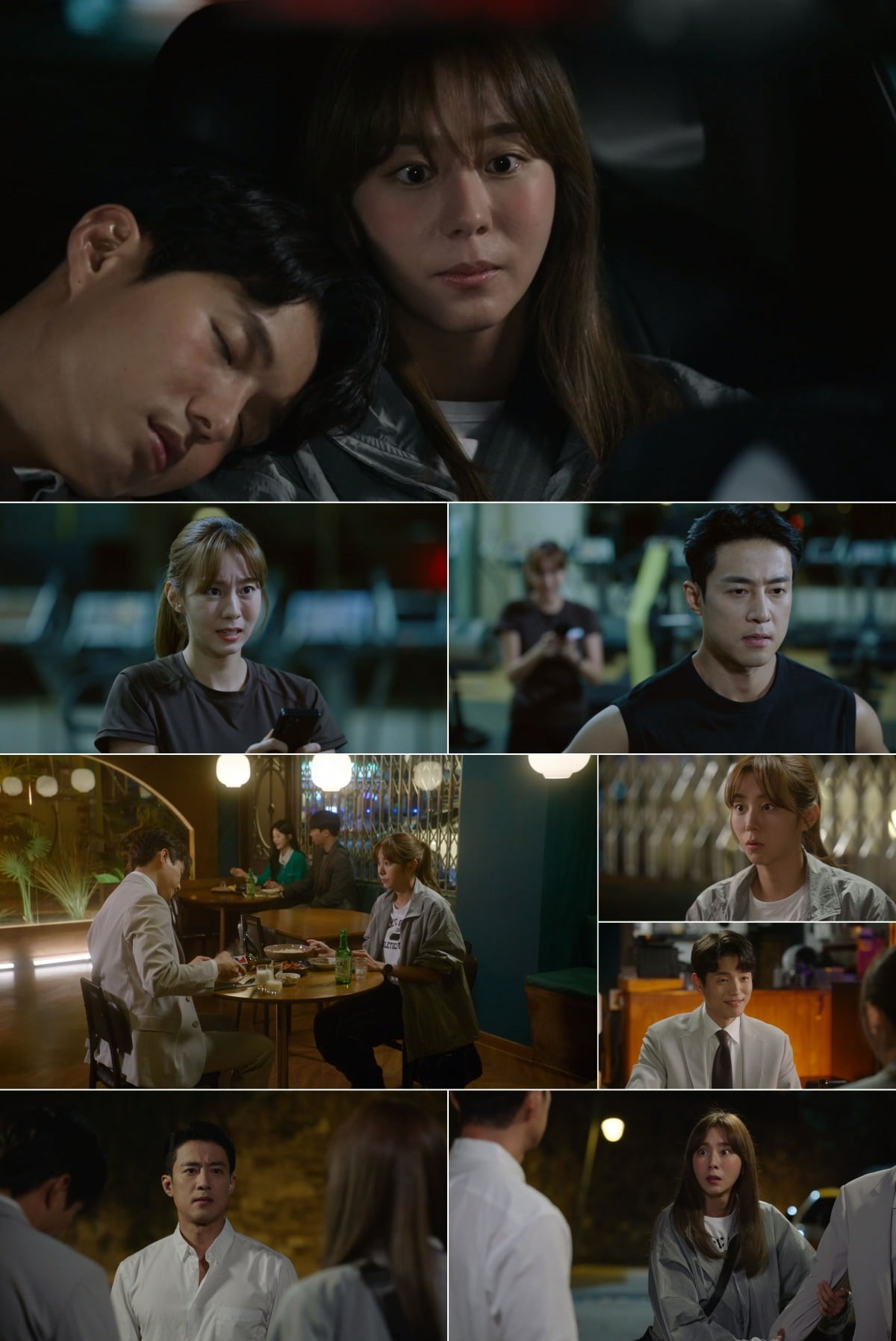 'Hyosim, Each Life' U-ie and Hajun enjoyed a drinking date and activated their pink modes. Among them, Go Joo-won's jealousy exploded after witnessing the two people becoming extremely close. Hyosim's romance became more exciting as the love triangle ignited in earnest.
In the 11th episode of KBS 2TV's weekend drama 'Hyoshim's Own Life', which aired on the 29th, Hyosim (played by Uee) sold her younger brother Hyodo's (played by Kim Do-yeon) foreign car to settle private loan debt. As I found some relief from the overwhelming reality, I put an end to the things that had been bothering me. He firmly drew a line against Taemin (played by Ko Joo-won), who aggressively went straight ahead. He expressed his discomfort and said, "I no longer have dinner with the manager. He clearly refused, saying, "I will not meet you personally." But Taemin did not give up. Hyosim accidentally called Taemin Taeho (played by Ha Jun) as an excuse, and turned around coolly, hiding her disappointment, saying, "I understand that I said that to Taeho when I said I wouldn't eat dinner or meet in person."
However, unexpectedly, it was Tae-ho who resolved the private loan debt and consoled Hyo-shim, who felt relieved and empty at the same time. Taeho suggested to Hyosim, whom he met on the banks of the Han River in the evening, "Let's have a drink together." Hyosim also readily agreed. Taeho playfully teased Hyosim, who is good at making bombs, and comfortably led what could have been an awkward atmosphere.
Then he confessed his true feelings. Taeho said, "I didn't mean to be picky on purpose. "It was because I was too sensitive when I came to Korea," he said, apologizing for his rude attitude. He also confessed that his paternal grandmother went missing three years ago and that his parents passed away. Hyosim encouraged Taeho to come to the fitness center again, saying, "It's best to exercise when you're feeling tired." Taeho responded, "Is it because you missed me?" Hyo-shim was innocently embarrassed by Tae-ho's cute prank, and the corners of the viewers' mouths curled up at the unusual pink mode of the two people.
Perhaps because of the comfortable atmosphere where jokes and sincerity came and went, the two ended up getting very drunk. Hyosim refused, saying that she would have to write a condolence letter if the members saw her, but Taeho said he would take her home and took a taxi with her. However, when he got into the taxi, the person who fell asleep was Tae-ho. Tae-ho, who had been dozing off, fell on Hyo-shim's shoulder, and Hyo-shim, who was startled awake by the wind, turned the car and headed toward Tae-ho's house. Hyo-shim helped Tae-ho, who was drunk and unable to control himself, and brought him to the front of the house. However, Taemin, who had been wandering around the garden lost in thought, came out as if drawn by Hyosim's voice and witnessed the scene. It was the moment when Taemin's jealousy, which he had been trying so hard to ignore and suppress, exploded, and it was the ending where the flame of the love triangle burned brightly.
Sook-hyang (played by Hwi-hyang Lee) secretly met with Jeon-mu Yeom (played by Gwang-gi Lee), her closest associate, and plotted a plan to make her mother-in-law Myeong-hee (played by Yeong-sook Jeong) disappear. Tae-ho is getting more and more angry, and when Tae-min learns the secret of Myung-hee being imprisoned, his anxiety rises to the extreme. This time, she firmly told her that she had to do it without her husband, Jin-beom (played by Kim Gyu-cheol), knowing what he would say when he was drunk. As Yeom Jeon-mu warned, "There may be an unimaginable backlash," Sook-hyang took increasingly dangerous paths to hide her secret. Meanwhile, Tae-hee (Kim Bi-joo), the youngest daughter who can make even the world's Sook-hyang stand still, accidentally sees her grandmother Myeong-hee on the street. Taehee, who couldn't believe her own eyes and even took pictures with her cell phone, amplified curiosity about what kind of unimaginable variable she would be in the mystery of Taesanga.
Kim Ji-won, Ten Asia reporter bella@tenasia.co.kr