TV
Baek Jong-won reveals the strategy that saved the failing store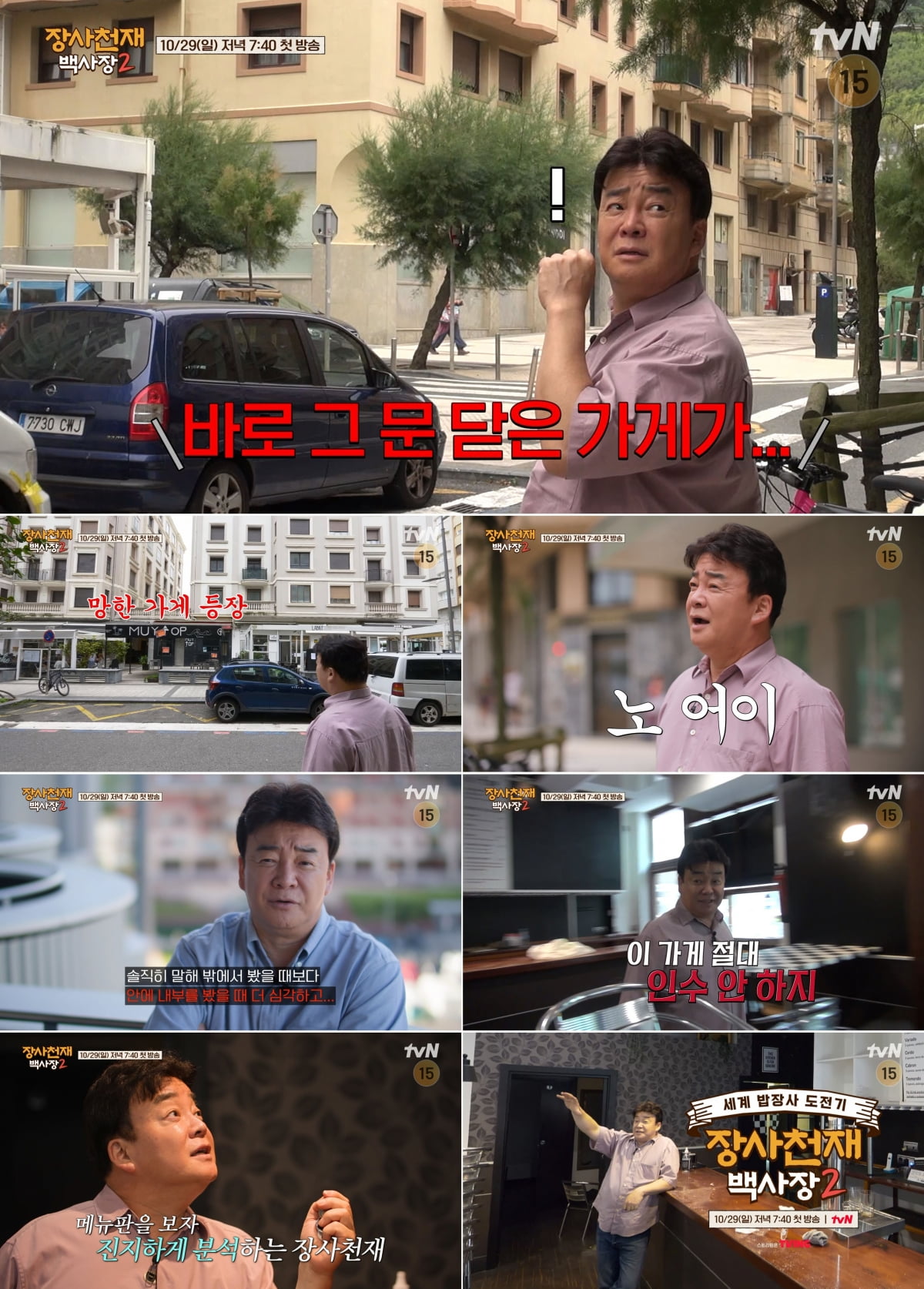 With tvN's 'Business Genius Baeksajang 2' set to air its first episode today (29th), Baek Jong-won's special strategy was announced.
Baek Jong-won received the mission to "revive a closed restaurant" in the food alley of San Sebastian, Spain, which is lined with Michelin restaurants. Expectations are soaring over the performance of the 'business genius', as to what kind of wit and know-how Baek Jong-won will use to save the failed store, and whether he will be able to gain an upper hand in sales in competition with prominent restaurants.
tvN's 'Business Genius Baeksajang 2' (directed by Lee Woo-hyung) is 'Baek Jong-won's challenge to the world of rice business' in which Baek Jong-won, Korea's best restaurant management expert, starts a business and runs it in a wasteland of Korean food. This time, we are starting a Korean restaurant in San Sebastian, Spain, a famous gourmet city.
San Sebastian is a city with the largest number of Michelin restaurants per unit area in the world, where every other house has earned a Michelin star, making it a place where fierce competition in sales takes place. This is a famous vacation spot for Europeans, and is also famous for being a city where many tourists come solely for the food.
The production team, who had truly confirmed Baek Jong-won's genius business ability in Season 1, seems determined to bring out a difficult mission card from the beginning. Unlike season 1, which prepared candidates for stores located in various locations and allowed Baek Jong-won to select the store location, this time the production team notifies the stores that have already been selected. Even that store is a closed store in the San Sebastian food alley.
In a pre-released video ahead of the first broadcast today (29th), Baek Jong-won was captured in shock and unable to keep his mouth shut as he faced the store he was about to open. While looking around San Sebastián's food alley, he found the only store that was closed due to being out of business and confidently said, "This won't be the place to do business."
However, coincidentally, the closed store was the Spanish store where the 'Business Genius' was going to challenge, and Baek Jong-won, who was given an unexpectedly difficult mission, froze in place. Barely able to hold on to his escaping soul, he soon began to look around the store himself, explaining, "The store itself is narrow and there is a large pillar supporting it in the center, so the conditions are not good for running a store," and "If it were me, this would be the store." He diagnosed, "We will never take over." Then, after looking at the menu and analyzing it for a while, he carefully opened up about the reason why the restaurant he previously ran went bankrupt.
While raising curiosity about what the analysis results of 'business genius' Baek Jong-won will be, the production team said, "Baek Jong-won is, after all, Baek Jong-won. Considering the abilities shown in Season 1, we planned more difficult missions this season. "It's about starting a business in a closed store," he explained, adding, "But Baek Jong-won, who had already looked around the streets and understood the surrounding commercial area, looked at the menu of the closed store and pinpointed the reason for its failure. All the staff at the scene were surprised. "As the mission becomes more difficult, 'business genius' Baek Jong-won plans to pour out more diverse start-up know-how," he said, stoking anticipation.
Meanwhile, 'interesting' viewing points that would be good to know in advance ahead of the first broadcast were also revealed. At the production presentation held online on the 27th (Friday), "It seems like the production team studied how to bully people. Baek Jong-won, who said, "I had a lot more trouble than I thought," confessed, "As a real restaurant business owner, I didn't want to disappoint the owners who had expectations of me, and I felt a lot of pressure not to fail." Despite this, Season 2 He cited reliable employees as a factor in being able to run a business.
Although he could not have done it alone, he was able to take on the challenge of operating the second store thanks to the teamwork he worked with his employees. In that respect, "If I were Baek Jong-won or John Park, it would be more interesting to watch it while possessing the role under this assumption." There are many decisions to be made in each field and situation. Depending on the decision, a situation arises like a game in which an accident may or may not occur. "If you watch it while thinking about what you would do if you were me, you can really enjoy it," he said, pointing out the highlights of 'Business Genius White Sand Beach 2'.
Lee Jang-woo, who was promoted to 'store manager' this season, said, "It is a program that lies between entertainment and documentary. He said, "The business was so real that it could be described as 'hyper real,'" and appealed that he strongly recommends it to those in the restaurant industry who are planning to expand overseas.
Hall manager John Park, who revealed that he learned Spanish in high school and once again raised expectations for the performance of a 'linguistic genius', emphasized the upgraded fun compared to season 1. "There are a lot more events than season 1. "There are a lot of things to see, events, and twists and turns, but I hope you'll focus on how the president overcomes them and how our members unite."
Lastly, Kwon Yuri, who announced that she will act as a chef in place of Lee Jang-woo, who was promoted to store manager, also expressed strong confidence, saying, "It will be more fun than dramas or movies." "There were too many moments of crisis. He raised expectations by adding, "If you watch how the abilities to cope with the crisis were, it will be much more dramatic than the drama."
tvN's 'Business Genius White Sand Beach 2' will be aired for the first time today (29th) Sunday at 7:40 PM.
Kim Se-ah, Ten Asia reporter haesmik@tenasia.co.kr