TV
Soccer player Lee Cheon-soo "No. 1 in fines in Korea's soccer world, net fine of 86 million won"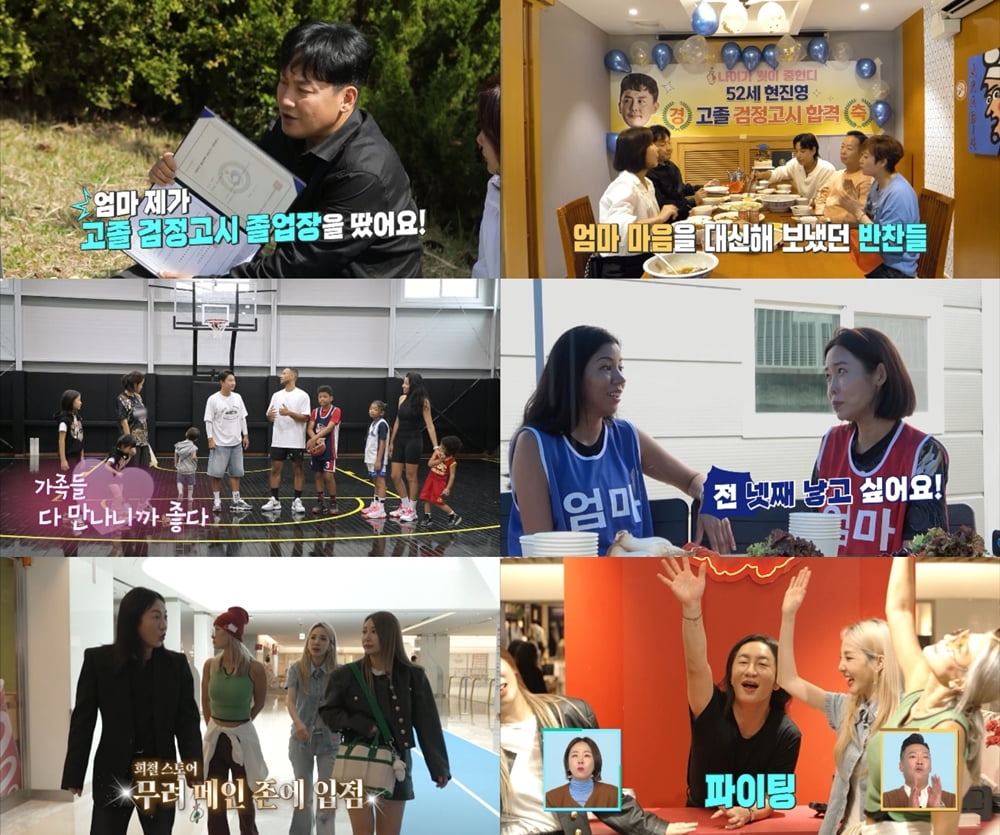 'Salimnam' revealed the daily lives of Hyun Jin-young, Lee Cheon-soo, and Lee Hee-cheol.
In KBS 2TV's 'Men Who Do Housework Season 2' (hereinafter referred to as 'Housekeepers'), which aired on the 28th, episodes of Hyun Jin-young's qualification exam passing party, the meeting between Lee Cheon-soo and Jeon Tae-poong's family, and Lee Hee-cheol's day at work were revealed. The viewership rating recorded 4.2% nationwide according to Nielsen Korea.
Hyun Jin-young, who had previously attempted to take the qualification exam after being stimulated by malicious comments, passed the test in the first attempt and earned the title of high school graduate. Hyun Jin-young's wife said, "I wasn't expecting it, but I was surprised and also had a wonderful feeling," and the two visited Hyun Jin-young's mother's grave with the certificate of acceptance. Hyun Jin-young's mother fought stomach cancer for eight years and passed away when Hyun Jin-young was 14. Hyun Jin-young was proud as he showed his certificate of acceptance in front of his mother's grave, but eventually shed tears.
Afterwards, Kim Hak-rae, Lim Mi-sook, and their son Kim Dong-young gathered to celebrate Hyun Jin-young's passing the qualification exam. The three prepared a graduation cap and a congratulatory performance on behalf of Hyun Jin-young's parents, who passed away, and presented special memories. On this day, Lim Mi-sook said, "I think I understand the feelings of Jinyoung's late mother," and her eyes were filled with tears as she confessed her regret and inner feelings for not being able to properly support her son, who was studying abroad due to severe panic disorder in the past. Hyun Jin-young also shed tears as she reminisced about her memories with her mother when she was alive and said her final goodbye.
Meanwhile, Lee Cheon-soo said he dreams of becoming a coach after retirement and met Jeon Tae-poong, a former basketball player who is on his way to becoming a coach, and asked for advice. Lee Cheon-soo's family and Jeon Tae-poong's family, who are similar in many ways, including an athlete father, a mother who is the queen of domestic affairs, and three siblings, talked about various things. Among them, Lee Cheon-soo said to Jeon Tae-poong, "I am very angry as a leader. You paid a lot of fines, right?" After asking, he said, "The fines I paid during my time as a player were the highest in the Korean soccer world. I paid 86 million won in pure fines alone." Jeon Tae-pung also said, "It's about 30 million won."
Lee Cheon-soo and Jeon Tae-poong then engaged in a match that put their pride as soccer and basketball players on the line. Lee Cheon-soo and Jeon Tae-poong's wife prepared a meal together and had a deep conversation, confiding in each other's concerns. In particular, Lee Cheon-soo and Jeon Tae-poong at home sympathized with each other, saying they were very similar. At this time, Lee Cheon-soo's wife Shim Ha-eun said, "I'm thinking of having a fourth child," which embarrassed Lee Cheon-soo, and Jeon Tae-poong's wife confessed, "We were afraid that we would have a fourth child, so my husband had a vasectomy."
Meanwhile, Lee Hee-chul opened a pop-up store in a large shopping mall in the middle of Seoul. Hwangbo, JeA, and Sandara Park, who are known as 'Emperor Santo', made a surprise appearance to help Heechul prepare for the opening of the pop-up store, attracting attention by giving them strong support. Among them, it was surprising to learn that Hwangbo, JeA, and Sandara Park were all older sisters than Lee Hee-chul.
Lee Hee-chul, Hwangbo, Je-A, and Sandara Park have been spending Christmas together every year for the past 7 years. Those who boast such a close friendship went to Lee Hee-cheol's pop-up store to promote the 4-person, 4-color group, and JeA in particular expressed special affection, saying, "I was touched and proud." Lee Hee-cheol, who returned home exhausted after working hard, finished his busy day by doing housework and taking care of his pet without resting for a moment.
'Men Who Do Housework Season 2' airs every Saturday at 9:25 PM.
Kim Se-ah, Ten Asia reporter haesmik@tenasia.co.kr