TV
Cha Eun-woo and Lee Hyun-woo, a bromance that captivates women's hearts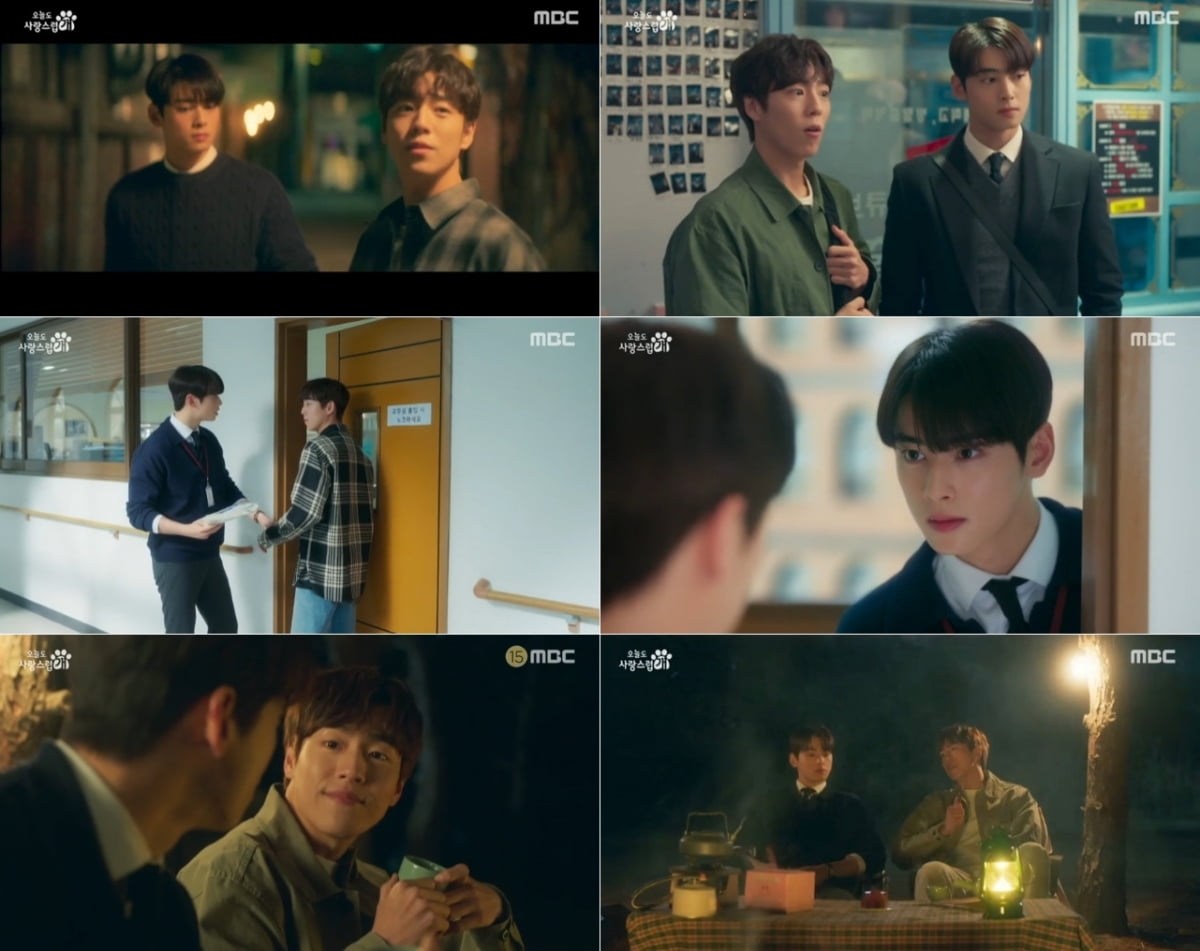 Cha Eun-woo and Lee Hyun-woo's special bromance chemistry is making MBC's Wednesday drama 'A Lovely Dog Today Too' even more fun.
'A Lovely Dog Today Too' combines the fresh concept of the main character who turns into a dog when he kisses the opposite sex, an unpredictable story that goes back and forth between the present and his past life, thrilling directing, and the acting of the actors to provide a precious time like a comprehensive gift set. I'm doing it.
At the center of it all is the performance of actors Cha Eun-woo, Park Gyu-young, and Lee Hyun-woo, who boast their ability to digest things well. Among them, the combination of Jin Seo-won (played by Cha Eun-woo) and Lee Bo-gyeom (played by Lee Hyun-woo), who boast extraordinary chemistry, brings smiles just by their presence, and we looked into the bromance between the two that continues to capture women's hearts as the episode goes on.
An extraordinary fellow teacher who does everything together
Seowon and Bogyeom, fellow high school teachers and popular idols(?) in the school, boast a close friendship, like real brothers. If Seowon is a chic, arrogant, and cool-headed man, Bogyeom is a friendly atmosphere maker who takes special care of his people. Seowon and Bogyeom, who have polar opposite tendencies, are attracting attention by doing everything together, both inside and outside of school.
In the play, Seo-won becomes jealous when Han Hae-na (played by Park Gyu-young), whom he has a crush on from their first meeting, only looks at Bo-gyeom. At the beginning of the second episode, after barely escaping from Gae-na (Gae + Hae-na) who is approaching him, Seo-won shows his surprise towards his older brother Bo-gyeom. I expressed my emotions. Seowon's charming tone, as if he was relieved by the appearance of his older brother Bogyeom, as he expressed his feelings, gave an unexpected charm and disarmed the corners of the viewers' mouths.
Infinite affection offensive
Seowon, who suffered from dog trauma, was unable to go in and out of the teacher's office comfortably when the dog brought by the vice principal (played by Yoo Seung-Mok) appeared in the teacher's office. In response, he handed Bogyeom his textbook and asked him to put it on the desk. When he refused, she persuaded him by saying, "I'll buy you a cake," and started acting cute by saying, "Hyung, you know me~ Won." In the end, Bogyeom succumbed to Seowon's infinite affection, and the two's cute tiki-taka made viewers laugh.
A meaningful word
Seowon and Bogyeom met separately outside of school and spent time together, and their unique atmosphere of comfort conveyed an unknown excitement. However, their conversation, which was soon revealed, created a strange tension. Seowon asked him, who was wandering around aimlessly, "Why do you live in a place like this? Do you have a house?" Bogyeom replied, "I have a house. I don't know what I was like in my past life, but I just like living with nature like this. If I see all the work, I'll go back."
Also, while drinking tea, Bogyeom said to Seowon that the teacup looked old, saying, "You can't even imagine how old that is," making him feel suspicious, arousing curiosity as to what kind of story he had.
In this way, Cha Eun-woo and Lee Hyun-woo not only provide visuals that purify the eyes, but also add exciting developments in the play to entertain the eyes and ears of viewers. It made me look forward to further developments as to what kind of narrative is hidden between the two people.
Kang Min-kyung, Ten Asia reporter kkk39@tenasia.co.kr